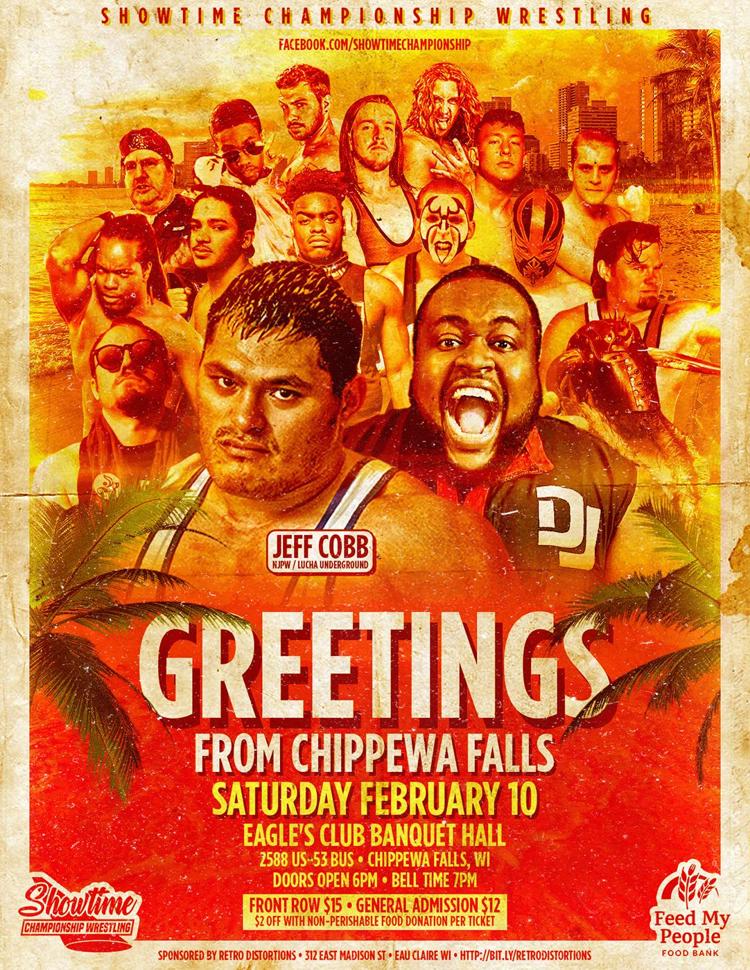 The last time Showtime Championship Wrestling had a charity event for Eau Claire's Feed My People Food Bank, the organization received more than 194 pounds of food.
Promoter and wrestler Troy Brostrom – who's better known as Red Lightning in the ring – is hoping the number is just as high when the wrestling group comes to the Eagles Club Banquet Hall in Chippewa Falls, Feb. 10.
"That was really cool," Brostrom said. "We're hoping to match that or even get more this time."
Similar to a World Wrestling Entertainment (WWE) style, Showtime Championship Wrestling will be hosting matches at the club at 7 p.m. Saturday, Feb. 10.
For wrestling newbies unsure about what they would be attending on Feb. 10, Brostrom compared Showtime Championship Wrestling to that of minor league baseball. While it's not WWE or Ring of Honor, it's still a professional experience, Brostrom said.
"It's just that our wrestlers aren't signed to a national promotion or company under contract anywhere," Brostrom said. "We're still professional wrestling; we do the exact same thing."
Offering a night of wrestling entertainment as a charity event isn't new for Brostrom or his business partner Josh Calisto, who began fundraising events in the Chippewa Falls area in May 2016, Calisto said, beginning with a fundraiser for Eau Claire's Adult Special Olympics. Showtime Championship Wrestling has gone on to have fundraising events for veterans at the Lake Hallie Block Party and the food bank.
Brostrom and Calisto have been friends for 15 years, including a stint in 2003 when Brostrom trained Calisto to wrestle, Calisto said.
Showtime Championship Wrestling also hosts bouts in St. Paul, Minn., Brostrom said, but being from Chippewa Falls, Brostrom said he feels a connection to giving back to his community whenever he can bring the wrestling events to town.
"I like the idea of helping, doing something for the community," Brostrom said.
The company has been fairly local, staying within either Chippewa Falls or St. Paul, but the wrestlers that come to the event can vary, Calisto said, adding that February's event will feature wrestlers from the east and west coasts.
The organization is now planning 15 to 16 shows in 2018, Calisto said, and looking to possibly even double that number in 2019.
Calisto, who has since taken a break from wrestling due to related injuries, said running their own wrestling company has been a mix of exciting and stressful, especially as he navigates the organization outside of the ring.
For those not sold on watching a night of wrestling, Calisto said the event has something for everyone, with what Brostrom said was a low price for a three-hour show.
"It's going to be action-packed, exciting show," Calisto said. "Pretty much the whole family can enjoy it, whether they're casual or die-hards."
The night will feature a women's tag team match, a six-man tag event that includes a mystery wrestler, a four corners elimination tag team match, a future clash championship and more matches. The main event of the night boasts "The Big Hurt" DeAndre Jackson versus "Mr. Athletic" Jeff Cobb, who represented Guam as a freestyle wrestler in the 2004 Olympics.
Tickets are $15 for the front row and $12 general admission, but attendees can receive $2 off the admission price with a non-perishable food item donation for Feed My People Food Bank.