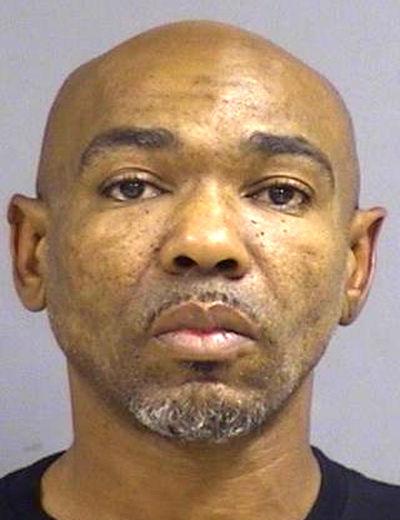 The man who allegedly threatened a woman with a rifle in Chippewa Falls last Tuesday, Oct. 3 before a SWAT team was deployed to the residence has been charged with first-degree recklessly endangering safety, disorderly conduct and threatening injury or harm via computer message.
Royce T. McKinney, 45, of St. Louis Park, Minn. will face Judge Steven Gibbs in an initial appearance in Chippewa County Court on Tuesday at 1:30 p.m.
Further details of the incident, in which five people were arrested, were released in court records filed Monday.
According to a criminal complaint:
On Oct. 3, 2017, Officers Dan Downey and Lee Hakes responded to the 800 block of E. Grand Avenue in Chippewa Falls for report of a female who was crying and stated she had been threatened with a gun by a man named "Royce."
The female was identified as Amanda Berman. Based on prior contacts with residence, officers believed Berman was referring to Royce McKinney.
Berman stated she had been on the porch and wanted to get her things and go back to Eau Claire. Berman stated McKinney was mad and would not let her in the residence and got a "gun."
She stated McKinney pointed the gun at her two different times and did something like "cocking it" and described that "bullets came out." Based on Berman's description of the "gun", officers determined what she was describing was some sort of rifle.
Berman stated Terrance Newcomb had to push McKinney away from her both times McKinney had pointed the gun at her. Berman advised that McKinney had a "strap" attached to the gun that carried additional bullets.
During the interview Berman received a Facebook message from McKinney that stated "Anybody come here with some **** getting blasted and that's on the real".
Berman received additional messages from McKinney asking Berman to return to the residence.
Newcomb was detained leaving the residence and confirmed McKinney had a firearm in the residence. Newcomb stated there was an argument between Berman and McKinney, and he had observed McKinney holding a black hunting rifle and eject ammunition multiple times.
Newcomb stated he heard McKinney threaten Berman multiple times. Newcomb advised he had talked McKinney into putting down the gun, and he and Berman were able to leave the residence.
McKinney was eventually arrested after the SWAT team was called in to assist.
In a post-Miranda interview, McKinney advised he had grabbed an air soft rifle, but denied he had pointed it at Berman.
As of Monday afternoon, no other charges had been filed for the four other arrests made that night: John P. Lovgren, 58, arrested for maintaining a drug trafficking place; Sheila M. Harel, 49, felony bail jumping; Terrance D. Newcomb, 47, misdemeanor and felony bail jumping and possession of methamphetamine; and Andrew R. Sovereign, 40, obstructing an officer and an Eau Claire County warrant over child support, according to a police log item.