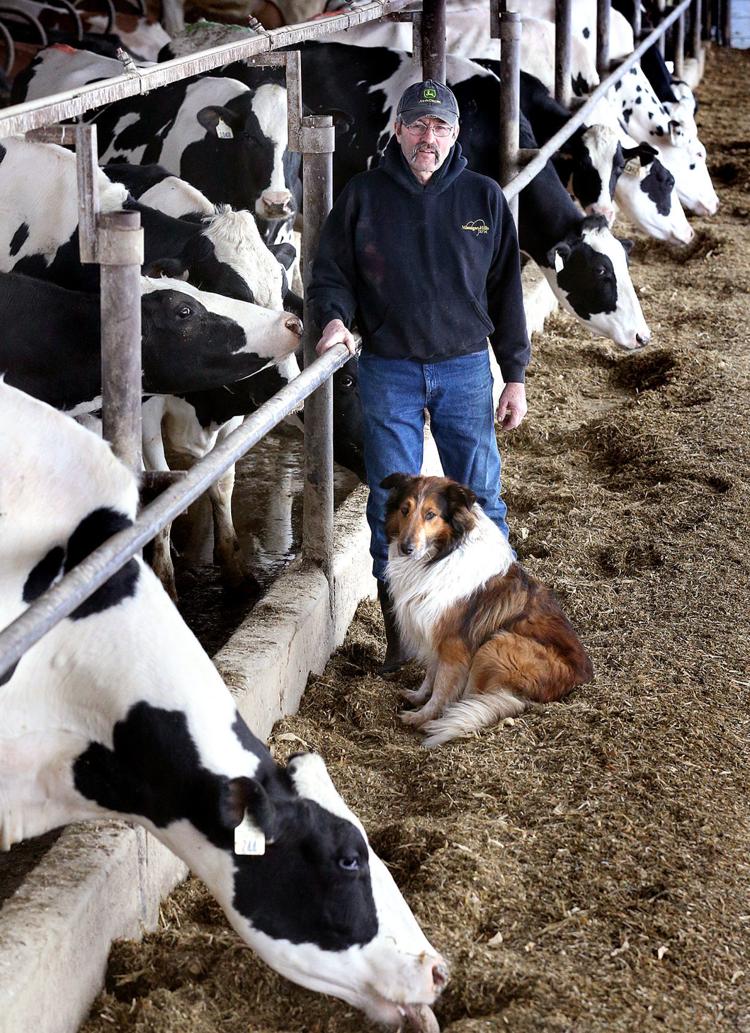 Dairy farmers will experience their fourth consecutive year of low milk prices in 2018, predicts Robert Cropp, professor emeritus with University of Wisconsin-Extension and UW-Madison.
With increases in U.S. and world milk production, some growth in domestic sales and limited growth in dairy exports, milk prices in 2018 will run below 2017 levels, Cropp said.
Another year of low prices doesn't surprise John Diersen, who with his wife Karyl and sons Josh and Jason milks about 150 cows at the family's Minnigan Hills Farm near Caledonia, Minn. It's mainly a dairy farm, although the Diersens also raise and sell some corn and soybeans.
"As you've probably heard, it's tough," Diersen said in an interview at his farm, while asked for his outlook for dairy farmers in 2018. "You hear a lot of things out there about what's going on." Milk stocks are high "and they don't know what to do with it," he said.
"Dairy farmers faced relatively low milk prices in 2015 and 2016 with some improvement in 2017 but not enough to really strengthen their financial position from the low milk prices in 2015 and 2016," Cropp said. "Milk prices in 2018 may fall back to about where they were in 2016," he said.
"This will be the fourth straight year where, for most dairy farmers, milk prices will not enable them to fully cover their cost of production," Cropp said.
The Wisconsin average all-milk price was $18.10 per hundredweight in 2017, compared with $16.45 in 2016, $17.80 in 2015 and the record high average of $24.56 in 2014. The most recent published all-milk price was $16.30 for January, which was down from $19.30 in January 2017, Cropp said. "Milk prices fell further in February so we could see the February all-milk price near $15.60 compared to $19.00 in 2017," he said. "Prices should slowly improve some starting in March."
As for what the Wisconsin all-milk price might average for the entire year 2018, Cropp said, "It is early in the year, so a lot can change as we move through the year. But if crop conditions are good and weather is favorable for milk production, the average all-milk price for 2018 may end up somewhere around $17.00.
"The U.S. is starting the year with relatively high stocks of dairy products that need to be worked off for higher milk prices" to occur, Cropp said.
Milk production in European Union nations is running well above year-ago levels "to the point that world milk production will increase," Cropp said. "The U.S. will face strong competition from the EU for markets, which will impact the growth in U.S. exports in 2018."
Butter and cheese sales grew last year but at a slower rate than in recent years, Cropp said. And beverage milk sales continue to decline, he added.
"For many dairy farmers, expected milk prices will not allow them to cover their cost or production, particularly for the first half of the year, with some improvement (in prices expected) for the second half," Cropp said. As a result, dairy farmers may need to borrow more money or delay needed capital purchases and repairs, he said. "The problem is many dairy farmers have been doing this for the past three years and can't keep on doing this and stay in business," he said.
Wisconsin lost 430 dairy farms last year and in the past five years has lost 1,770 dairy farms, Cropp said. The state had 9,090 dairy farms in 2017, down from 13,750 in 2008.
"We've just got this glut of milk on the market," Diersen said of his own outlook for 2018. "We've got to figure out a way to get rid of some milk."
Diersen, who is president of the Houston County Holstein Association, said dairy farmers have had to be frugal to cope with low milk prices. "You just don't make any big improvements," he said. "If something needs to be fixed, you fix it. If you want to trade something off, you've got to put that on hold."
Diersen is concerned about talk of a possible international trade war breaking out, and what that could mean for U.S. agricultural exports and commodity prices. "We'll have to wait and see how this all turns out," he said. "We've been treated unfairly in the world" with foreign trade, he said. "If they could get that straightened out without hurting agriculture, that's fine. If (other countries) stop buying from us that wouldn't be good."