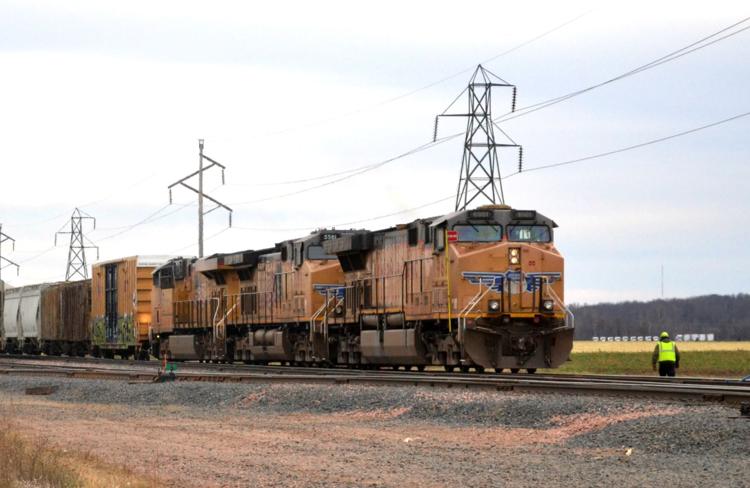 The town of Eagle Point is putting up a fight to prevent 95th Avenue from closing. The town's insistence on a traffic analysis before signing a road closure agreement means the issue may face a public hearing in 2018.
95th Avenue is just short of a mile long, running from east to west and connecting Highways 178 and 124. A railroad crossing bisects it, though the road only has a simple railroad sign, instead of an active, flashing sign.
However, this road also sits on an opportunity: land that could accommodate railroad tracks.
The Wisconsin Northern Railroad (WNR), a division of Progressive Rail, moved quickly in September. It filed a request with the state's railroad commissioner to close the road so it could build more tracks over 95th Avenue — new tracks that would let railroad workers assemble trains without having to close down crossings and block traffic on Highway S, WNR is arguing.
95th Avenue is "redundant," WNR said, since there are similar east-west roads within a mile north and south of 95th.
However, the town's government is concerned. This isn't the first time WNR and the town have had a run-in. The railroad requested Eagle Point close the road in 2015, and agreed to conduct a traffic analysis on 95th Avenue before moving forward.
WNR began the analysis but eventually abandoned it. Two years later, WNR is appealing to a higher power: the state's Commissioner of Railroads.
The railroad did not notify the town before it filed the petition, Eagle Point town chairman Dennis Ferstenou said.
WNR eventually offered the town a proposal: It would give Eagle Point $7,500 — which would be matched with another $7,500 by the Wisconsin Department of Transportation, its proposal said — to compensate for the road's closure.
WNR met with the town on Nov. 14. Ferstenou said he expected the railroad to offer a better incentive at the meeting, but that hope was dashed.
"$15,000 doesn't meet our expenses for (closing the road)," he said. "We came out of that meeting that we felt the traffic analysis was required. (The railroad) didn't want to go with that. They wanted to have us sign the voluntary closure agreement."
Eagle Point has the support of the city of Chippewa Falls, Chippewa County and the West Central Wisconsin Regional Planning Commission, Ferstenou said. "You can't just close the road and walk away from it. That only benefits Progressive Rail. … It doesn't address emergency issues, traffic flow."
In response to Eagle Point's refusal, the railroad brought forth a crossing closure study on 95th Avenue, done in July for WNR. Motorists and emergency vehicles might be delayed by the road's closing, the study said, but alternate routes were available via Highways 124 or 178.
Ultimately, the study concluded, the road "could be safely eliminated."
Ferstenou has his doubts. "They claim by (closing 95th), they'd release the number of blockages on County S. We haven't verified that. We have our doubts if it'd prevent blockages on County S for a great length of time," he said.
The railroad gave up their plans in 2015 due to a downturn in the frac sand business, Ferstenou said. He's heard concerns that it could happen again.
"With 105th Avenue, there's a major campground, there's several subdivisions that access 105th; the road has curves and elevation changes. To put more traffic on that road would be a great safety risk," he said. "The (traffic analysis) would analyze all of this and recommend the best solution. … We'd hoped they would agree to that."
The railroad does not agree to the analysis, records show; it only agreed to the analysis in 2015 because then, it was planning to acquire land on which to build new track. "The current closing would allow for connecting existing track," said Jason Culotta, the railroad's director of public affairs, in testimony filed with the Commissioner's office.
At a Monday, Nov. 20, Eagle Point town board meeting, the board decided to stay firm on asking for a traffic analysis.
The problem is gaining county-wide attention. Ann Z. Schell, director of the Chippewa-Eau Claire Metropolitan Planning organization, filed testimony on Oct. 31, calling the PGR's decision to move forward without a TIA "irresponsible."
Eagle Point and Chippewa County have until Dec. 11 to file rebuttal testimony, Ferstenou said. The railroad will have eight days after that to file additional rebuttal; finally, a public hearing will be held at a future date, most likely after Jan. 1, 2018.
Eagle Point must have a space for public comment on the day of the hearing.
This story will be updated with comments from Wisconsin Northwestern Railroad on Monday, Nov. 27.