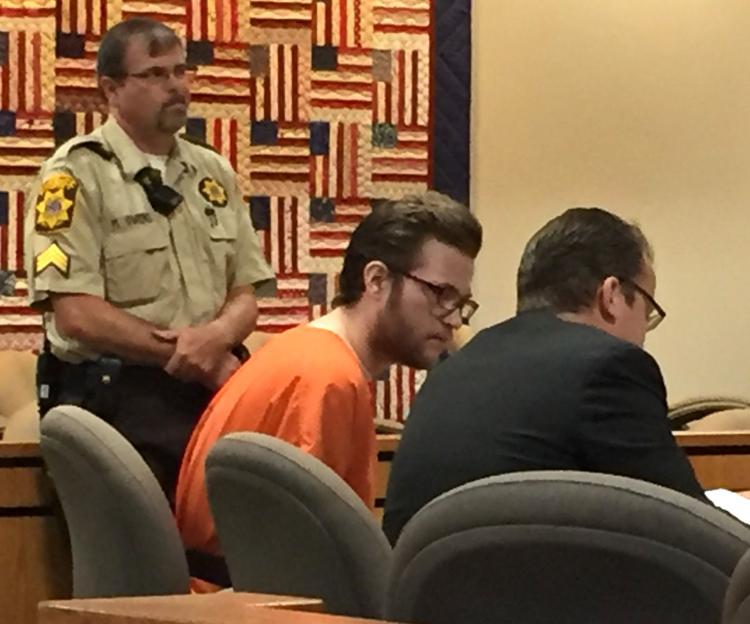 The trial of the Minnesota man charged in the death of a University of Wisconsin-Stout international student is underway at last.
In their opening statements early Tuesday afternoon, Dunn County District Attorney Andrea Nodolf and defense attorney Christopher Zipko of St. Paul presented markedly different versions of what took place during a reported altercation between Hussain Saeed Alnahdi and Cullen Osburn on Menomonie's Main Street in the early morning hours of Oct. 30, 2016.
But both emphatically urged a jury of six woman and eight men to pay very close to the evidence that would be presented over the course of what could be an eight-day trial.
In custody at the Dunn County Jail since February 2017 on a $25,000 cash bond, Osburn, 29, faces charges of felony murder and aggravated battery resulting from an altercation involving Alnahdi that took place outside a pizza restaurant in downtown Menomonie. Alnahdi died in an Eau Claire hospital the following day as a result of traumatic brain injuries.
Opening salvos
Calling what took place a violent and needless loss of life, Nodolf told the jury that Osburn's girlfriend was vacationing in Florida and refusing to talk with him. "He specifically told her 'you don't answer my calls, I'm going to beat someone up.' Unfortunately for Hussain Alnahdi ... that is exactly what happened."
"He was angry and he had something to prove. He was looking to party and looking for a fight," Nodolf added, noting that when he came to Menomonie, "Who the fight was with didn't really matter."
Predicting that the defense would depict Alnahdi as the aggressor, Nodolf said that the Stout junior was described by his family and friends as a "bright light" who loved living life, a hard worker with a great sense of humor.
According to Zipko, what actually took place was a matter of self defense on Osburn's part. Characterizing Nodolf's version "distilled" and "myopic", he asked the jury to focus on the testimony of the witnesses, the bartender and bouncer from the nearby Abbey bar, and the students who saw Alnahdi that night.
"Mr. Alnahdi had a .280 blood alcohol content," Zipko said. "He was so drunk that when he went to the hospital, they classified him as suffering from acute alcohol intoxication."
Having hosted a small pre-Halloween party on the night Oct. 29 at the home he shared with roommates, Alnahdi decided to go downtown to The Abbey bar on Main Street, Nodolf said.
Zipko said when Alnahdi got to The Abbey, video evidence show that he drank so much he passed out, unable to stay on his feet. The bouncer escorted him from the premises and propped him on a ledge outside the bar.
Moments later, Zipko said, "He falls down hard for what appears to be about two minutes. ... When Mr. Alnahdi fell down, he injured his face and started bleeding."
Until he walked out of video range toward Topper's Pizza, Zipko noted that Alnahdi was seen holding a napkin to his nose with his head tipped back.
Scene of the altercation
Calling Alnahdi a "vulnerable target" as he walked down the sidewalk toward the Topper's, Nodolf said, "He came face to face with the defendant. Within a matter of moments, the defendant punches Hussain who falls back, never to get up again."
Witness Nina Simonette said she walked past the two men in front of Topper's, then heard a man say in an aggressive tone, "What did you say?" Turning back, she said she saw Alnahdi shaking his head and holding both hands in the air as if to indicate he didn't want a problem.
"She sees the defendant punch Hussain, he falls back. She hears a loud crack as the back of his head hits the wall. And she sees Hussain lying on the sidewalk, unconscious and bloody," Nodolf recounted. "And then she sees the defendant flee before law enforcement can arrive."
According to Zipko, Simonette's statements about Alnahdi's encounter with Osburn outside Toppers are varied, vague and don't match the surveillance video. He called Alnahdi's friend, Evan Walters, the real witness in the case, but pointed out his stories showed myriad inconsistencies.
Zipko claims that the people who were with Osburn and witnessed what took place from inside the restaurant tell a different tale. His brother, Deonte Hughes, and Joshua Sims said they saw Alnahdi pushing Osburn and that Walters' hand was on Osburn's collar. When Hughes exited the restaurant to separate the men, Osburn's necklace was pulled off.
Following the fight
Wanting to "hole up" at Motel Six but without a ride to get there, Nodolf said Osburn encountered a teen at the Kwik Trip (on South Broadway): "He said, 'I just punched somebody and he's bleeding out, and if you don't give me a ride, I'll [expletive] punch you, too.'"
Meanwhile, Alnahdi was transported by Mayo Clinic Health System-Red Cedar in Menomonie, then transferred by helicopter to Mayo in Eau Claire where he was found to have a fracture of the occipital bone on the back of his skull. After Alnahdi suffered a seizure, surgery was performed to relieve the pressure. But his injuries were too great and he was declared brain dead.
About the death report, Zipko said, the forensics show that there was no anatomical or physical proof that Alnahdi was in a fight. "Mr. Osburn, on the street in front of Toppers, was confronted by Mr. Alnahdi and Mr. Walters — both who were drunk," Zipko told the jury. "There's no evidence that there was a fight.
Nodolf said that having returned to Minnesota, Osburn was following the case, searching on his phone information about traumatic brain injury, how to get a rush passport, and what countries don't extradite to the United States. Osburn was taken into custody on Jan. 12, 2017.
"The defendant's weapon of choice is violence," Nodolf said. "Even more disturbing, he brags about it. You'll be able to watch a video from Motel Six from later that night when Hussain was attacked."
The D.A. said there would be testimony of the motel's receptionist about Osburn boasting about how he got into a fight with a bouncer when he was talking about Alnahdi. "If you watch that video closely, you'll see the defendant reenact what happens."
'Final' instructions
Nodolf told the jury she wanted them to listen for three things throughout the trial. In addition to first paying close attention to the evidence, she said, "I want you to listen to the law ... what Judge Smeltzer tells you it is."
And thirdly, she asked them to use their common sense: "When you're listening to people testify on the stand, I want you to assess their credibility. You can think about who has an interest in the outcome of this case ... possible motives for falsifying testimony."
Zipko acknowledged that Alnahdi's death was a senseless loss of someone with a lot of potential. But he warned the jury that the kind of person the prosecution would portray to them was not the same person who died on the street outside Topper's.
"The Mr. Alnahdi that was on the site was drunk, was aggressive, was yelling at my client," Zipko said. "My client only tried to get away, and Mr. Alnahdi, who had already fallen once — and been down for two minutes — fell again and suffered his injury. As tragic as this is, it is not a crime. My client didn't assault him, he didn't do anything but try to defend himself."
He predicted that the evidence presented by the state would be aimed at making the jury dislike Osburn. "The fact is, it doesn't matter," Zipko concluded. "He did not hit him, he did not provoke him, he did not do anything but act in self defense in trying to get away from two people who were drunk."