Meet Skylar Grey, the Wisconsin native who stole the stage from Eminem on SNL and Macklemore at the AMAs this weekend
If you were watching television this weekend, there's a decent chance you saw Skylar Grey.
The multitalented musician, a native of Mazomanie, performed with Eminem on Saturday Night Live and then with Macklemore live at the 2017 American Music Awards (AMAs) the next night.
Grey's big weekend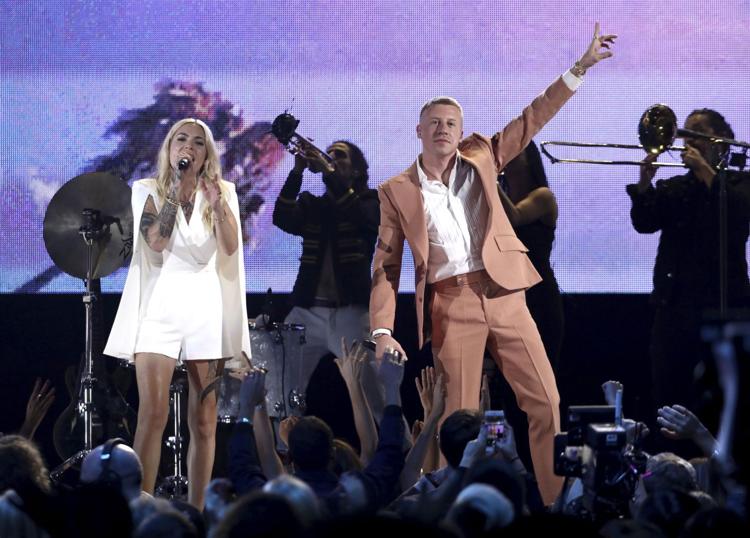 Eminem and Skylar Grey perform "Walk on Water," "Stan," and "Love the Way You Lie" on Saturday Night Live (Nov. 18)
Macklemore & Skylar Grey talk "Glorious" on the red carpet at the 2017 AMAs (Nov. 19)
Macklemore featuring Skylar Grey - "Glorious" (2017)
Earlier work
Grey began performing in Madison professionally with her mom Candy Kreitlow at age 6. The duo went by the name Generations and independently recorded three albums.
Known then as Holly Brook, Grey started performing solo at 15. She dropped out of Wisconsin Heights High School at 17 to move to Los Angeles.
In 2006, Brook got her first big break and put out a major label album. Things didn't work out as she planned and she left Warner Bros. Records, she said, spending time in the Pacific Northwest.
"I kind of retreated into the woods because I was feeling like I was failing or something. I didn't know what to do anymore. I was trying so hard," she said in a 2011 interview. "It's kind of abusive to be in a relationship with the music industry, to be quite honest."
Grey said she went through a dark period but recently had a metamorphosis, emerging as Skylar Grey.
She wrote "Love the Way You Lie," with Alexander Grant and Eminem, who recorded it with Rihanna. Grey said it was inspired by her struggle with the music industry.
Keep scrolling to see more videos from Grey's career in music.
Skylar Grey - "Wreak Havoc" (live at Lincoln Hall in Chicago, Oct 6, 2016)
Skylar Grey - "Lemonade" (2016)
Nicki Minaj featuring Skylar Grey - "Bed Of Lies" (live on the Today Show in 2014)
Skylar Grey featuring Eminem - "C'mon Let Me Ride" (2012)
Dr. Dre featuring Eminem & Skylar Grey - "I Need A Doctor" (2011)
Eminem featuring Rihanna - "Love The Way You Lie" (cowriter, 2010)
Skylar Grey - "Coming Home" (2010)
Fort Minor feat. Holly Brook & Jonah Matranga - "Where'd You Go" (2006)