Wisconsin State Journal reporter Jason Galloway collected some of the best tweets from the Wisconsin Badgers' 38-14 victory over the Iowa Hawkeyes on Saturday at Camp Randall Stadium in Madison.
Here's what fans were saying on Twitter on Saturday:
"Hornibrook INT? Check. Taylor fumble? Check. Great defense? Check. Enough for 10-0? Check."
— University and State (@UnivAndState)
"Was this the single most dominant defensive performance in Badgers history? W-O-W!"
— wisconsinsane (@wisconsinsane)
"Best win of the year. Defense is elite and frankly it doesn't matter how our offense plays, that D will keep us in every single game."
— Matthew B. Anderson (@mbanderson83)
"If I was the Badger D, I would be mad, no shut-out."
— E Man Farness (@LuckydogEman)
"Pick-sixes aside, an absolute battering."
"Look out Lameis, we gotta whole buffet of WWWWWWWWWW for you. #OnWisconsin"
— Dan D. (@One_Punch_Dan)
"Badger may not get to the CFB Championship but that is definitely a championship defense."
— Russ Evansen (@waunaruss)
"Good win, great defense, could use a little more consistency on offense, but bottom line 10-0 and we still have a chance!"
— Derek Heimerl (@dheims09)
"Crazy fun to watch that defense dominate!"
— David Roelke (@DavidRoelke)
"The defense and run game balled out. Need to take care of the turnovers. Especially against better competition."
— Zach Stratton (@Zach_Stratton29)
"Can someone teach #12 to be more decisive?"
— Snarky Moose (@s2000_moose)
"Same as always. Lost years from my life overall. Cringed every time UW dropped back to pass and cackled like a maniac watching the championship-worthy defense."
— Paul Kilgas (@PaulKilgas)
"Dominating D. Solid win but need to stop turning the ball over. Don't let Hornibrook throw short passes to the boundary."
— Brian Logan (@BrianLogan12)
"1.32 yards per play while giving up 4 turnovers. Nuff said."
— Bryan Kayl (@kayl_bryan)
"Thought Iowa was due for a down performance after last wk but wow did UW play lights out on D and very well on O (except for the turnovers). I'm so happy for the team and coach. Despite all the injuries, they kicked (butt)."
— Jeff Grabowski (@Brewcitygymratt)
"Defensive totally dominated, offense put up points, but TO's & penalties slowed them down. Look out when we play a clean game and protect the ball. Big win today #Badgers"
— Marty Steindl (@M_Steindl)
"Crazy anxiety whenever we have to throw but defense was story of the game. Offense has to get out of their own way and this would have been a shutout. Young WRs stepped up big. Danny Davis and Pryor were fun to watch! #OnWisconsin"
— Jeremy Wojtecki (@jwojPAC)
— Justin Lepinski (@JustinLepinski)
"Defense is a force. 0/13 on 3rd downs, 0 points. Hornibrook needs to keep better care of football. Dominant win."
"Hornibrook is going to lose us a game."
— Michael Eberle (@ebo245)
"Suffocating defense, domination of the 4th quarter, and Hornibrook INTs (unfortunately) are all becoming routine for this #Badgers team."
— Chris Birke (@chris_birke)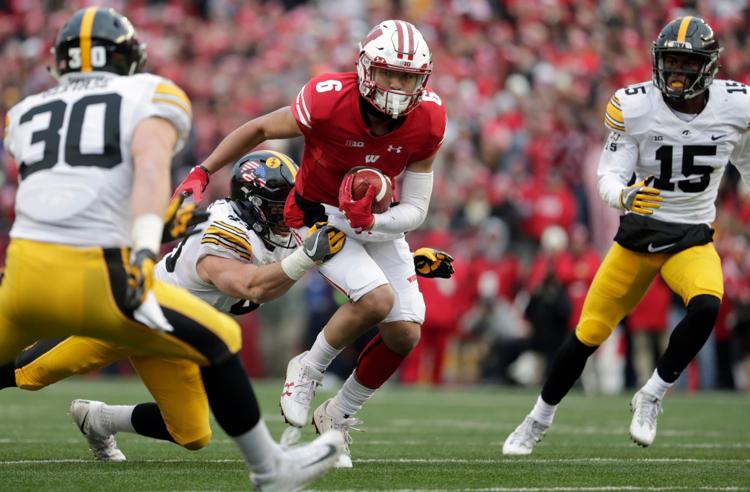 "Receivers really stepped up today. Made some plays. Too many turnovers for QB1 and RB1. And defense was dominant. Wish that was also the case on Sundays."
— Todd Larson (@todoubledog)
"Really good team, just a QB away from being special."
"Happy to hear the Camp alive and well against quality Big Ten team."
— Noah Ballweg (@NoahBagoa)
"Typical Badger game this year. Dig a hole and let the defense dig them out!"
— Rich Hellenbrand (@RichE66)