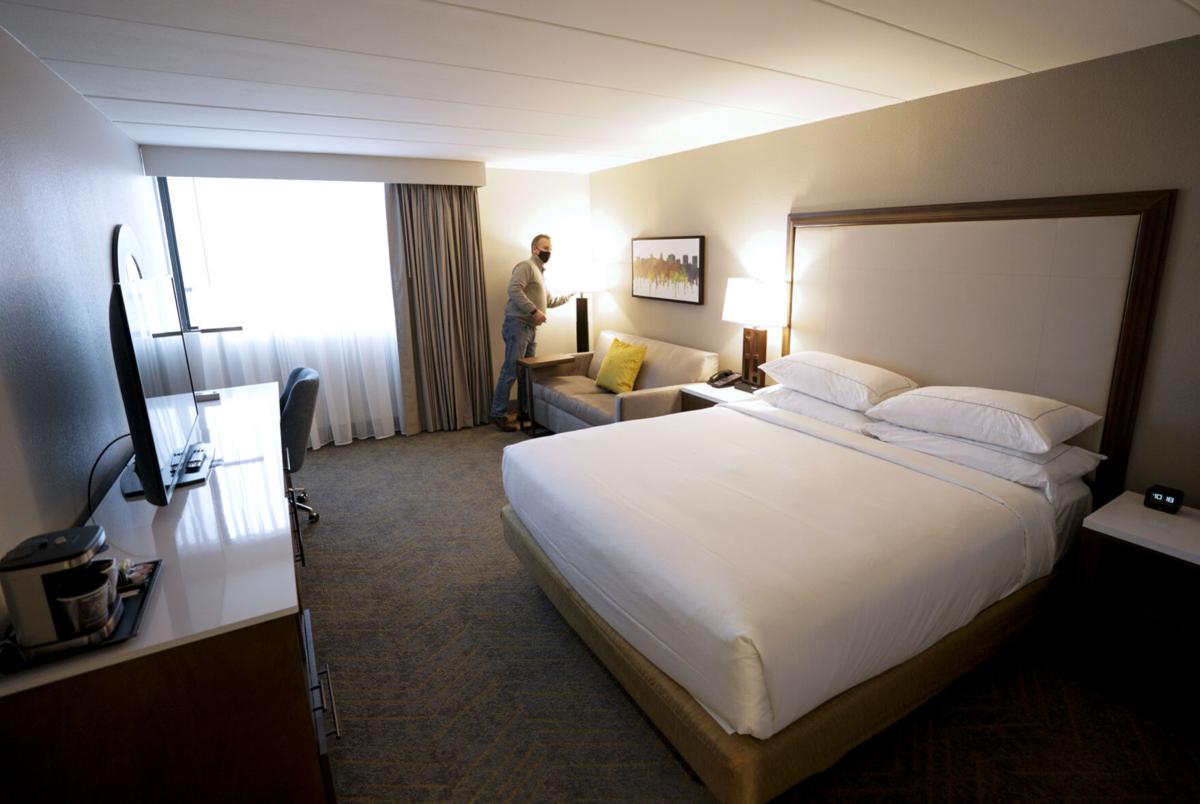 Lynette Knutson was here when over 1,000 people would show up for brunch on Easter and Mother's Day, jazz music was a staple, Pearl's Night Club hopped with dancing to Top 40 music and Friday night fish fries drew hundreds of customers.
This was the late 1980s when the Holiday Inn East was one of the shining hotel properties on Madison's Far East Side and Knutson was just beginning her career in hospitality as a part-time bartender. She would go into management roles before leaving the company while the hotel became a Crowne Plaza in 1996.
But the hotel and Knutson's career have both evolved in major ways.
Time, wear and increasing competition with new and remodeled hotels in the Madison area had left the hotel across from East Towne Mall in sorry shape. Foreclosure marked the final gasp for the property at 4402 E. Washington Ave.
Only now there is a new look, life and future for the 226-room hotel after a more than eight-month renovation by North Central Group, a Middleton-based hotel management and development company that has rebranded the property into a DoubleTree by Hilton Madison East.
Knutson, who joined NCG in 2007 to help manage its growing roster of hotel properties after a stint managing the food and beverage program for the Sacramento Kings, is now the DoubleTree's general manager.
"I can't even explain the excitement I have to be here with the fact that I started here so many years ago and have come full circle and I have the opportunity to bring this back to really what it was in its prime," Knutson said. "I'm excited. I just think it's really going to stand out. We put a lot of time and energy into this."
Complete makeover
Every inch of the six-story property has been touched by the multimillion-dollar renovation:
Rooms have new bathrooms and fixtures, 55-inch televisions, Madison-themed artwork, built-in charging stations and a modern look;
The 9,500 square feet of convention and event space, which includes a 4,600-square-foot ballroom, has been given a makeover;
The lobby has been redesigned and includes a coffee and pastry bar that serves up cups of Starbucks;
The bar and restaurant has been transformed into Tailwinds, which includes 20 seats at the bar, 38 at tables and soft chairs and couches around a fireplace with a Frank Lloyd Wright-inspired design;
The pool remains, but was given a makeover.
The timing of the project came just as COVID-19 began leaving most hotels with skeleton staffs, canceled bookings and decreased occupancy and room rates. The plan all along for NCG, which purchased the Crowne Plaza out of foreclosure in late February, had been to close the hotel for the extensive renovation. It reopened in late November.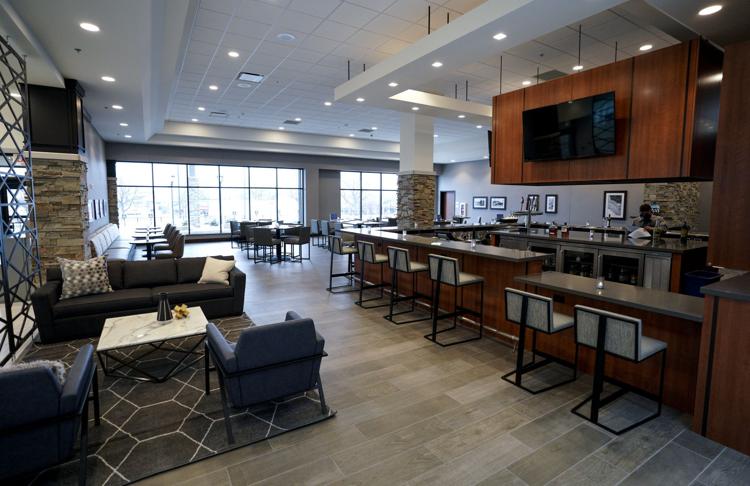 Jeff Lenz, NCG's president and chief development officer, said the hotel will "create a lasting impression for even more guests as they travel to Madison" and called the project "transformational." NCG, founded in 1981, operates more than 30 properties in Wisconsin, Illinois, Minnesota, Colorado and Arizona.
Other holdings
In 2019, NCG opened the Home2Suites by Hilton and Liberty Station American Tavern & Smokehouse at the Beltline and Rimrock Road. The site will also get a stand-alone Starbucks with a groundbreaking last month and the coffee shop scheduled to open in June.
NCG also opened last month a Tru by Hilton in Glendale, Arizona, and in 2018 opened a Tru next to the Hampton Inn & Suites and Homewood Suites on Madison's Far West Side. NCG is also the company behind the European-style, 165-room AC Hotel Madison that opened in 2017 a block off Capitol Square at the corner of East Washington Avenue and Webster Street.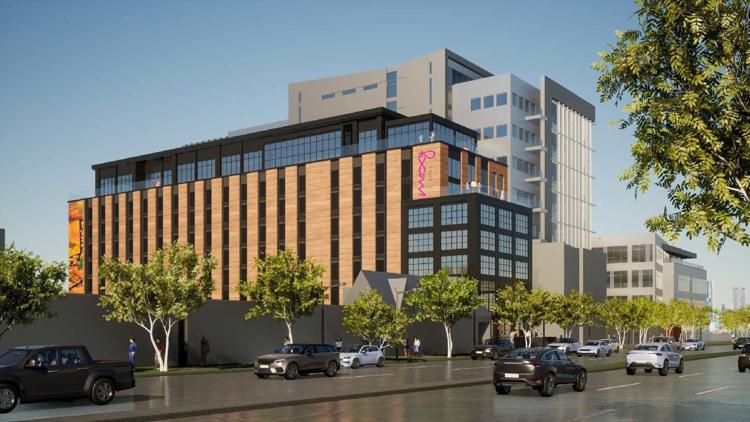 The conversion of the Crowne Plaza into a DoubleTree by Hilton is another major notch for NCG that has been diligently increasing its portfolio of properties.
It has proposed the construction of the millennial-focused 156-room Moxy at 825 E. Washington Ave., which is a half-block from Breese Stevens Field and in the midst of a growing development corridor that includes upscale apartments, offices, restaurants and entertainment venues like High Noon Saloon and The Sylvee. Ground for the Moxy will likely be broken later this year.
In September, the Milwaukee Bucks announced that it is partnering with NCG for the construction of a 200-room, boutique-style hotel to be constructed in the 30-acre Deer District in downtown Milwaukee. The hotel, part of Marriott International's Autograph Collection of independently owned upscale and luxury hotels, will be located just north of Fiserv Forum and built and operated by NCG, which is leasing the land from the Bucks.
"It definitely evokes a lot of excitement in our company," said Katie Marron, NCG's vice president of marketing and communications. "We're definitely growing and choosing brands that we partner with for the long term that we feel fit our guests and clientele and where they want to stay."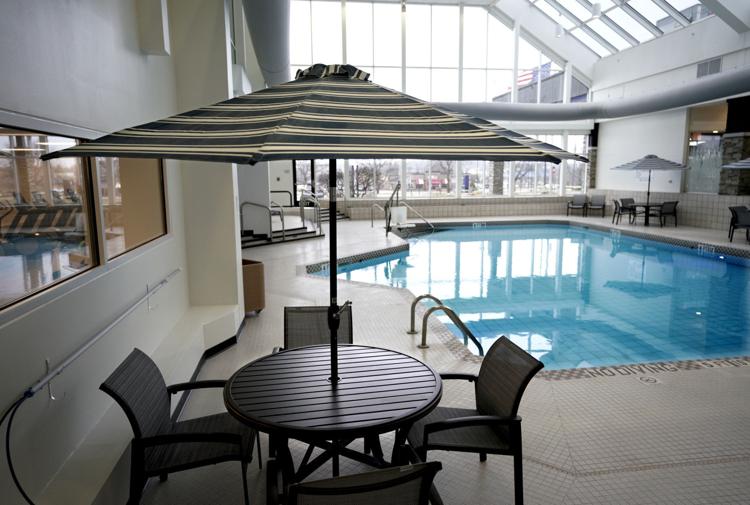 DoubleTree by Hilton has 580 upscale hotels with nearly 135,000 rooms in 46 countries. In Madison, there's also a 163-room DoubleTree, at 525 W. Johnson St., that was converted in 2004 from a Howard Johnson's.
East Wash site
The DoubleTree on East Washington Avenue is in a building constructed in 1987 for the Holiday Inn East and which underwent a $2 million renovation in 1996 when it was converted to the Crowne Plaza. The bones of the building were solid, its location ideal and the price attractive for NCG to take the building to the next level.
"We saw the potential," said Andy Inman, NCG's vice president of development. "This really provides an opportunity for meeting space and a more upscale scale experience that doesn't really exist on the Far East Side. We saw an opportunity to come in and reposition the property to fill a demand that was unmatched."
Rooms have either king or queen beds and for now are going on average for between $109 and $119 per night. Post-pandemic rates are predicted to be from $139 to $159 on weekends and $189 to $229 for weekday travelers.
Guests can opt to access their room with Digital Key technology, available through the Hilton Honors mobile app, which allows for a contact-free check-in and check-out while the hotel is also part of the Hilton CleanStay with Lysol protection program that provides a series of cleaning protocols, before, during and after a stay.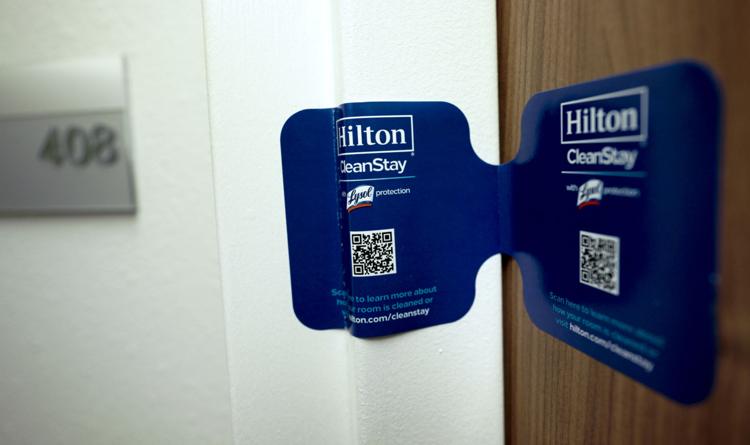 The presence of meeting and restaurant space and its close proximity to the interstate also drew NCG to the property, where company officials expect many of their guests to come from those flying in an out of the Dane County Regional Airport, those involved with the adjacent Truax Field and travelers looking for a more robust hotel experience.
"This is a full-service hotel with all of the amenities," Inman said. "With 226 rooms we can accommodate weddings and other group business, both during the week and weekends. We're well positioned, in a good spot that's easy to get to."