"Retail Apocalypse" is an attention-seizing phrase, reliable clickbait on cyber-news sites, but it's hyperbole. Sure, some brick and mortar stores, like Sears, are adapting by shrinking and narrowing their product line and others, like Woolworths, are mere memories, but this has always been the way of capitalism, once described as a "gale of creative destruction."
About 90% of the Fortune 500 companies from 1955 are gone, merged, or contracted. Yes, Amazon is a titan today, leaving UPS and FedEx drivers breathless, but it operates on razor-thin margins, as did many defunct airlines, which sold countless tickets below cost to fill airplanes.
Meanwhile, there is data suggesting more revival than apocalypse, with more retail brick and mortar stores opening than closing for eight straight years and retail sales rising a robust 4.6% last year, with a comparable forecast for this year in the making. Other numbers are just as heartening, with 71% of consumers under 30 years reporting that they prefer shopping for clothing in person. Meanwhile, e-retailers have their own unique challenges. For example, those selling women's shoes report return rates ranging from 25% to 50%.
So, how are the Valley's brick and mortar stores faring? Charles Dickens began a "Tale of Two Cities" with, "It was the best of times, it was the worst of times." Brick and mortar in the Valley doesn't generally ricochet between these extremes, but these are challenging times, met by assets ranging from old relationships to new approaches.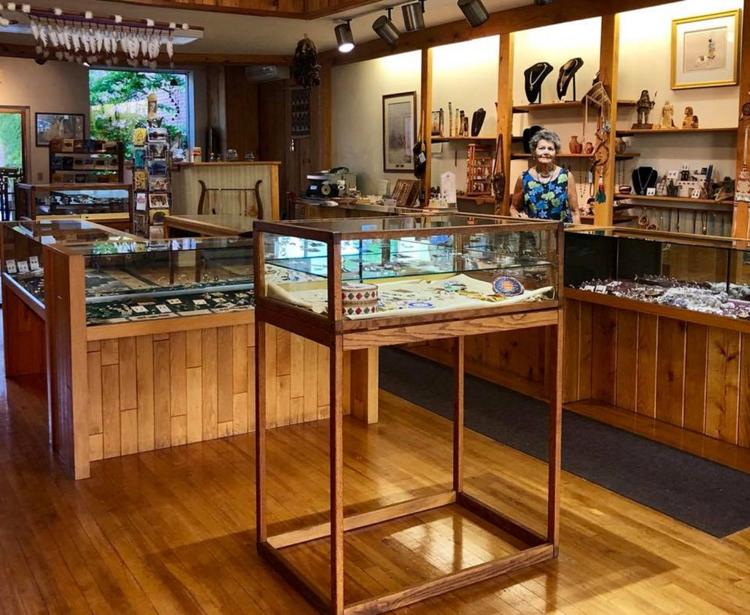 Silver Feather
Jane Wolf is the owner of Silver Feather in Eau Claire, which sells handcrafted American Indian jewelry, local beadwork, dreamcatchers, katsina dolls, sculptures, pottery, and more. At Amazon, you can access thousands of sellers and read millions of reviews, but you can't see how the jewelry looks on your skin or assay the interplay of light and a particular piece of turquoise.
Wolf said, "My customers can come in and try things on, see the beauty of real turquoise and other stones and shells."
This might be one reason that Wolf has seen an increase in foot traffic over the last two years. The resurgence of Eau Claire's downtown might be another, from Phoenix Park to the Pablo Center at the Confluence.
"We finally have a beautiful downtown and I'm encouraged by the growing number of visitors. I feel my biggest challenge is getting people to find our downtown and support the small businesses."
Wolf meets that challenge by having developed relationships with both the artists who make her jewelry and her customers over a more than 30-year period.
"I offer one-of-a-kind handcrafted American Indian jewelry. I can tell them about many of the artists and assure that they are buying the real thing. I give my personal attention and develop personal relationships."
Wolf also uses the internet to alert her customers of new arrivals.
"I do use Facebook with pictures of recent purchases."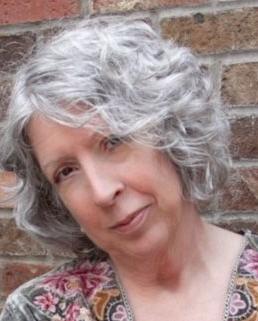 Tangled up in Hue
Four blocks down Barstow Street is Tangled Up in Hue, a wittily, accurately named store, for it's as colorful as Van Gogh's palette and like Silver Feather, it sells an array of handmade and locally-produced arts and crafts.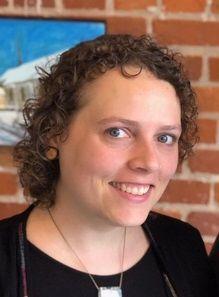 "Our selection is unique in that we offer goods that are handmade locally. For people that care about supporting local artists, we are a convenient spot as our selection is inspiring. With art, home goods, jewelry, apparel and more, our shop is a place where you can find something for anyone including a few treasures for yourself."
Also like Silver Feather, its co-owners, Jamie Kyser and Erin Klaus, and have seen an uptick in foot traffic.
"With a location in downtown Eau Claire and the revitalization that is happening in our community, we have seen an increase in foot traffic rather than a decrease. Our downtown is becoming a destination for people to explore."
It is widely reported that millennials are into experiences and clicking your mouse at Amazon doesn't deliver, but Tangled Up in Hue does.
"We believe that in order to remain relevant in this time, we need to offer an experience. In this way, our customers can not just come shopping, but walk away with a memory. We offer Pop-Up shops that have interactive elements such as 'Create your own succulent planter' and 'Needle felt your own ornament.' Coming up is a Pop-Up for our featured artist who intends to have customers participate in a collaborative art piece using mixed media."
However, Kyser and Klaus also leverage the Internet.
"We use social media to promote our artists, events, and individual products. We also send out email blasts with special happenings and use our website to showcase our shop and the many facets that is our business."
And Kyser and Klaus will do e-retail too.
"We are currently expanding our website to include the many handmade items that we personally make and sell in the shop. We are building a products page on our website to allow people to shop and add items to their cart to place an order."
One advantage they have is that they're not simply sellers. They create much of their product too.
"Not many people know that in addition to supporting over 100 local artists, the owners and staff make many of the items sold in our shop. We hope to be able to supply other shops like ours across the state and country with our handmade items."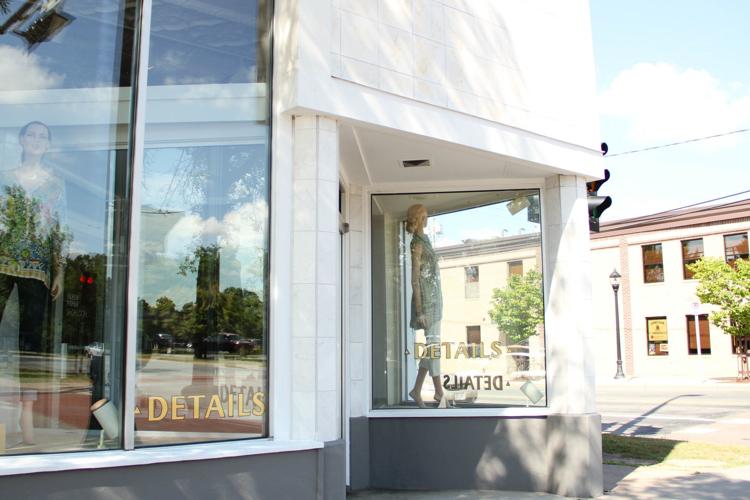 Details
Another Eau Claire brick and mortar store is Details, located on Water Street. It's a seller of fine apparel and accessories and like the prior two stores, it has an advantage over strictly e-commerce sellers of letting its customers run their fingers over fabric and try on tops and dresses.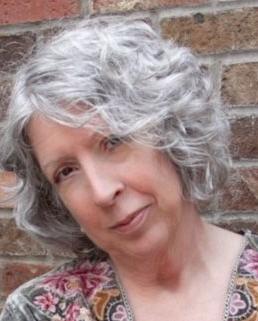 Mickey Judkins, CEO of Details Fine Apparel & Accessories, acknowledges that e-commerce also has its advantages: "In recent years, one of the challenges for bricks and mortar retail has been traffic in the stores. Online shopping offers the convenience of shopping in the comfort of your home and have your selections delivered directly to your door."
Thus, Judkins was quick to adapt: "We have had an e-commerce site, detailsdirect.com, since 1995. We were an early adopter of this technology as I recognized the potentially disruptive nature the Internet would eventually have on commerce. E-commerce has the potential to revolutionize the way people shop for goods and services."
An e-commerce can be especially important when weather precludes shopping by foot.
"Retail business in Wisconsin is weather dependent and this past winter, with the snow and the freezing rain, it was impossible to safely walk on the glare ice that covered the streets and sidewalks and this greatly decreased our traffic. Without the website, it would have been a very difficult winter season."
However, once the ice melts, shopping by foot delivers an experience.
"We work hard to make Details a fun and informative experience and this is an important competitive advantage over the ease of shopping online. We just started offering a Details party where you can schedule a time to shop when the store is only open to you and your friends!"
The social experience is also a sensual one.
"Many customers like to touch fabrics and try things on with the help of a trained staff person. Many women want knowledgeable staff to help them put their wardrobe together. They also enjoy the endorphins or feel good hormones that flow with a shopping trip to Details."
In the end, Judkins sees the advantages of both in-store and online shopping and thus offers both.
"As more people are comfortable ordering online, it is essential to have a strong e-commerce site. A well-designed website is a vital part of a modern retail business. Often, we have customers who visit Eau Claire once or twice and then shop with us online over the years."
Details continues to build its online clientele.
"Our online business has been growing over the past few years and is becoming a more important part of the business. Building an online business is expensive and it requires continuous investment, but it opens your business up to a wider audience. I need to continue to add computer savvy staff to my team to continuously improve our e-commerce site and our social media presence."
Although she wants to get customers everywhere, she knows how important is for to be there for the local community ... and how important the local community is for a store like hers.
"Many business owners invest in the community and support local charities," Judkins said. "If you want a community with diverse goods and services, it is important to frequent local businesses so they will continue to buy goods and services, hire employees and help build an interesting community. As the money circulates through the community, it strengthens all that it touches. This is a direct way to help stabilize our local economy."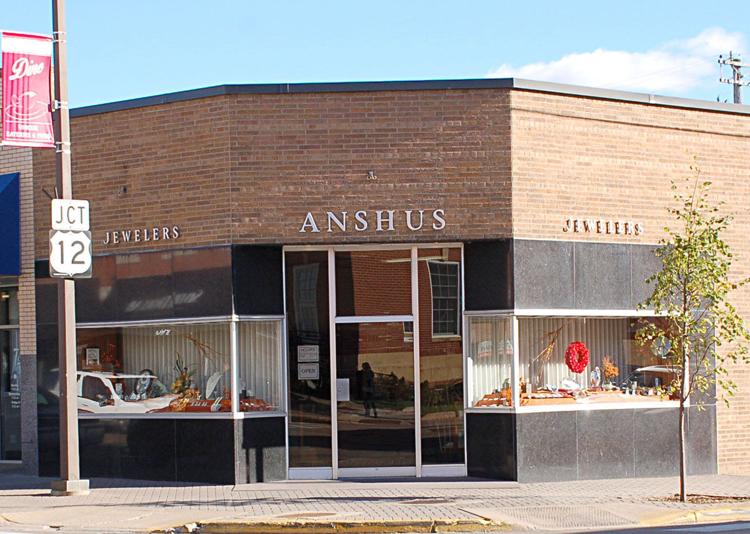 Anshus Jewelers
Lisa Anshus Frank, owner of Anshus Jewelers in Menomonie, uses Facebook to disseminate her sparkling stock.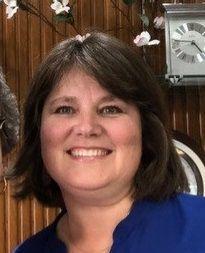 "We can show our broad spectrum of jewelry in custom pieces, diamonds, and designer name pieces."
Whereas she reports a decrease in foot traffic, beginning in 2015 to 2016, she also parlays old school relationships to counter e-commerce.
"Our reputation offsets the convenience of the internet. It's been 103 years in the making and third generation. There's also the satisfaction of our customers."
However, Frank keeps a vigilant eye on purchasers' proclivities.
"I need to keep up to date regarding how shoppers prefer to shop."
And Frank plans to expand her Internet usage.
"I'll use the Internet to keep on top of the needs of the internet shoppers and to showcase our jewelry."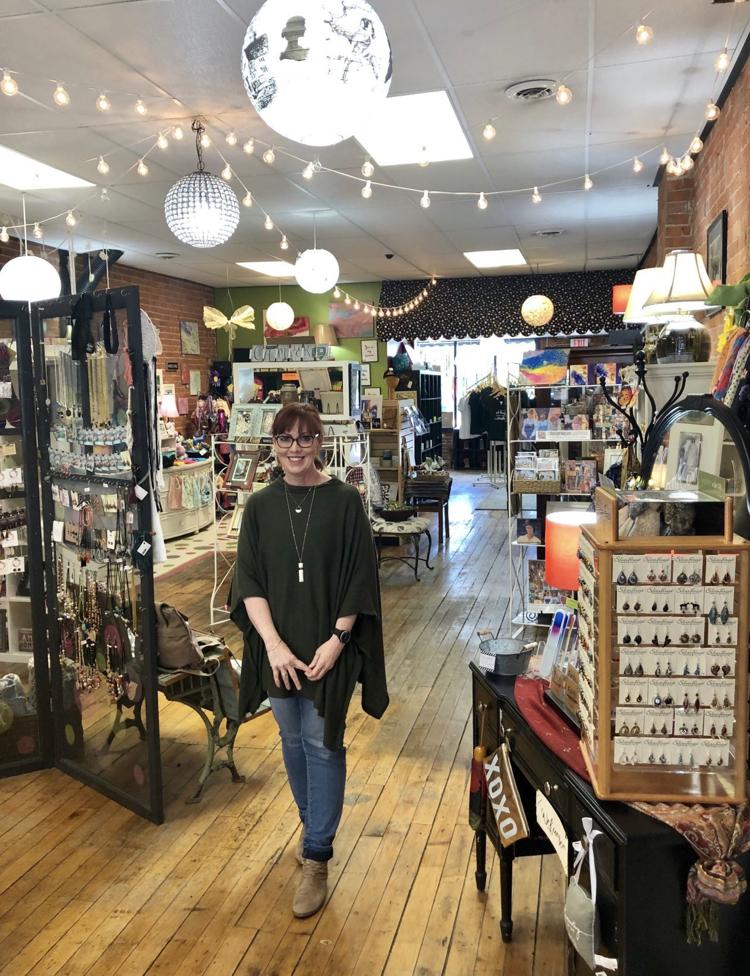 La dee dah
Located across the street from Anshus Jewelers is La dee dah, a "fun, funky, and fabulous" gift shop owned by Karen Hurtgen. Hurtgen has also observed a decline in foot traffic, starting in 2009 and just declining through the years." Rather than simply submit to the internet sellers, she has joined them.
"Facebook has most definitely been an asset for my business. I love when customers mention that they saw the item on Facebook and that is what brought them into my store."
However, Hurtgen recognizes that she'll have to increase her cyber-presence.
"I know that it is only going to get more challenging trying to compete with prices, shipping rates, and availability of items on the internet versus brick and mortar stores. I know that I am going to have to increase my presence on the internet. Encouraging and obtaining web sales is the only way I am going to be able to keep the doors of my store open."
She intends to diversify her web retailing.
"I need to look at several different avenues of web sales. 'You can never put all your eggs in one basket,' my mother used to say. Etsy, Ebay, Amazon, Facebook and Ladeedahgiftshop.com will all need to be considered and reconsidered."
Hurtgen has an advantage over cyber-competitors, in that many of the things she sells are one-of-a-kind, but that generates more work for her.
"I used to work for a business that depended on products they received from China to then sell on their web site. Items were just duplicated. I have over seventy local artists that contribute to my store. Items are not duplicated. This makes doing internet sales very difficult. Each product piece needs a new photo, description, etc."
The tales of five businesses
These five brick and mortar businesses tell five tales, some parlaying shopping experiences into foot traffic, some benefitting from the resurgence of a downtown and the uptick in foot traffic that that brings, some leveraging the Internet to varying degrees, some emphasizing local products that can't be purchased anywhere else, and some benefitting from long-standing relationships as opposed to cyber-relationships. If capitalism is indeed a "gale of creative destruction," the brick and mortar winners are likely to be the ones who best exercise their creative muscle in the winds of cyber-change.
The business news you need
With a weekly newsletter looking back at local history.