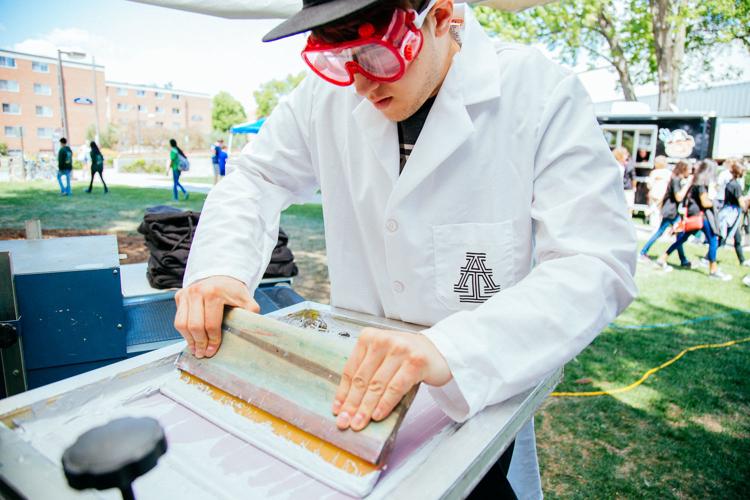 There's a garage in Los Altos, California, where Steve Jobs and Steve Wozniak kickstarted Apple Computer Inc.
There's also a garage in Palo Alto, California, where Bill Hewlett and David Packard created the Hewlett-Packard Company.
These four entrepreneurs are figurative rock stars in Silicon Valley and beyond, and both garages are historical sites.
There's a third garage (and adjacent basement) where a third business was founded, this one in Menomonie.The two men who began their business in Menomonie might not become figurative rock stars of entrepreneurship, but there are rock stars in their story and their success is considerable. Like many stories of entrepreneurs, their business was powered by a passion for the product — printing.
Brice, Brunner, a basement and garage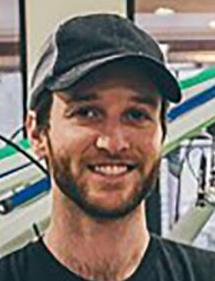 Aaron Brice and Tim Brunner are the founders and directors of Ambient Inks, a print shop located at 524 Water St. in Eau Claire. There are 24 employees today, with three working part time, but a decade ago, they were just two guys in a garage, printing for joy.
"I got into making T-shirts when I was at Memorial High School," Brice said. "I just fell in love with printing and design."
Brice met Brunner at UW-Stout.
"We had similar classes and lived on the same dorm floor. A mutual friend connected us, telling Tim, 'You've got to meet Aaron. You have so much in common.' We became friends right away."
Brice was majoring in graphic communications management and missing the act and action of printing. So, toward the end of their sophomore year, the two newly printed pals signed a lease to be roommates, got a barebones setup in Chicago and started printing.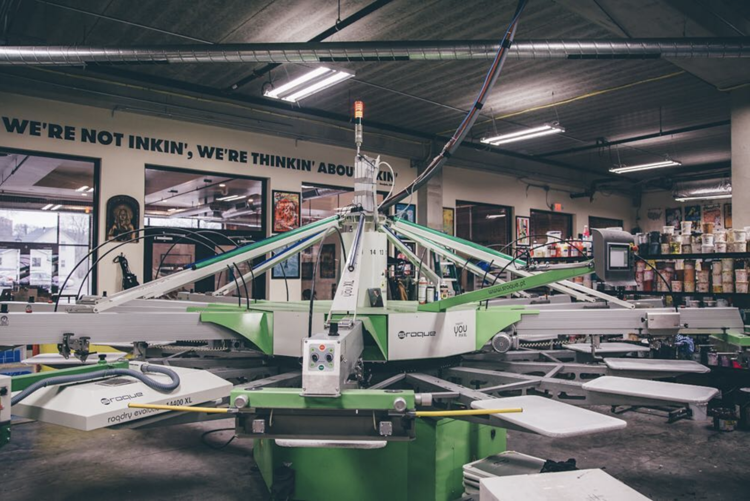 Brice said, "The business side of it was in the back of our mind. We did it for joy initially, just two college kids with a setup in their garage, but my brother had contacts in the local music scene and people started approaching us."
It wasn't comfy, but it was doable.
"We used the entire garage. It was not insulated at all. In summer, it was great, but in the winter, we hauled everything into our basement, which was even smaller. Just moving the equipment down there was a chore. We printed with our backs against the wall."
They were squeezed, but it was just a lark, a passing fancy, Brice said. "We never thought it was going to become our forever business."
Bon Iver comes callingThen came a big figurative knock on their door. It was the Grammy award-winning band Bon Iver, famous for its deep Wisconsin roots and loyalty.
"There were so many challenges after saying yes to printing for Bon Iver. I was just 20. That was a huge order. We had printed a few decent size owners, but nothing like what they asked us to print. Plus, it was finals week in our junior year. It was 2,500 shirts and we had 11 days."
It was two-color printing, which required 10,000 impressions. Brice and Brunner had to push the squeegee 10,000 times.
"That's all we did for 10 or 11 days."
The hard work paid off, Brice said. "That went well, so Bon Iver asked us to do their entire line of tour merch(andise). We couldn't do it all by hand."
Brice and Brunner drove to Grand Forks, North Dakota, where a printing company was going out of business, and moved their business to Banbury Place.
"We rented a 22-foot moving truck. We had to figure out how to disassemble and reassemble the machinery by ourselves. Then we had to teach ourselves to use it and do our first hires."
They had to learn on the fly while meeting orders.
"It was all new. We were doing stuff we'd never done before while fulfilling huge orders."
They also had to resist the typical temptations of college.
"Most of our friends were busy having parties and being carefree," Brunner said. "I remember a time that our housemates were throwing a party, but we had a screen printing deadline to finish. Aaron and I were in the basement printing away and every few minutes, someone would come down the stairs with a beer in hand and say, 'Hey, are you guys printing T-shirts? Cool.'"
Brice recognizes how unlikely a choice they were for Bon Iver. "On paper, we were not the right company for them to go with."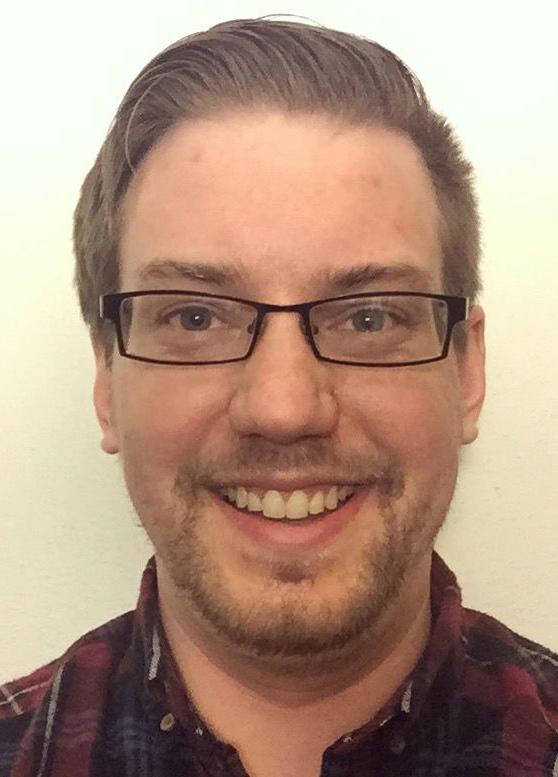 So, why did Josh Sundquist, manager of Bon Iver, choose the two college kids?
"We share a common background and upbringing. That was something that truly spoke to everyone involved at the time and was the foundation for this now 10+ year relationship."
Both Bon Iver and Ambient Inks produce with passion and expand boundaries.
"We have continued to work with Aaron and Ambient Inks because true partnership that has evolved. Aaron and the team at Ambient are excited about the same thing we are: How can we push the boundaries of our respective fields to make them better, more sustainable and equitable? These are the fabric of our daily interactions and what has led to the long-term success we have had working together."
The Bon Iver/Ambient Inks relationship has hatched many other relationships.
Brice said, "Justin has sung our praises and told so many about us and become my mentor and instilled so much confidence in me. We started working with more and more bands. We've done design and product development for about 140 bands."
Ambient Inks also prints for another 100 non-musical clients. Brice loves all those connections.
"I am constantly surprised by how this company has connected me to so many different people and created my own community," he said. "That makes the challenging times seem less so. It's great walking around town and seeing so many people I've met through this business."
Overcoming challengesAs Ambient Inks has expanded, there have been growing pains. One is staffing challenges.
Brice said, "This summer, we had a few staff members move on to other companies that were better suited for them. They were so crucial for Ambient. Their leaving was hard and bittersweet, but they left under the best of terms."
It was a little like their garage days again: too much work and not enough people power.
"That was challenging, hiring three positions one right after another right before our busy season. We were so understaffed."
So, Brice doffed one hat and donned another.
"My role changed overnight. I had to become our operations director almost instantly and got back into account management."
As it had in their Menomonie basement, working hard saved the day.
"For three or four months, while we hired and trained, we were stretched very thin."
The challenge transformed Brice.
"I attended a leadership conference and there was a talk about not clinging to your people, but helping them grow and perhaps setting them up to leave. Someone asked, 'But what if you put all this time and money in people and they leave?' I answered, 'But what if they don't and they stay?'"
Both Brice and Brunner are quite reflective about entrepreneurship.
"You have to make your business less significant in your own mind in some ways, which may sound counter-intuitive," Brice said. "Making it less significant makes it less stressful. You can burn out. If you're all in on your business all the time, your life will take a backseat and that will affect your business. Personal growth supports your business as it supports you."
For Brunner, entrepreneurship presented challenges from the physical to the psychological.
"After completing so many prints by hand pulling, I developed issues with the joints in my fingers. I wouldn't be physically able to print anymore if we didn't once again empty our bank account, drive to North Dakota, and learn something new. Making the leap into semi-automatic printing was an extremely necessary step."
To take chance after chance, Brunner had to believe in himself, a step scaffolded by others believing in him and Brice.
"When we got contacted by our first larger clients, it was more a question of do you believe in yourself and the product you are providing," Brunner said. "We had to purchase all of the supplies and produce a quality product that impressed the buyer before we got paid for the work we did. It was very humbling to know that so many people believed in us."
Like Brice, Brunner also had to learn how to strike a balance.
"I pushed myself to limits that I wouldn't wish on anyone. The hard work and sense of accomplishment was pretty addicting and to this day, I'm still figuring out a proper work life balance."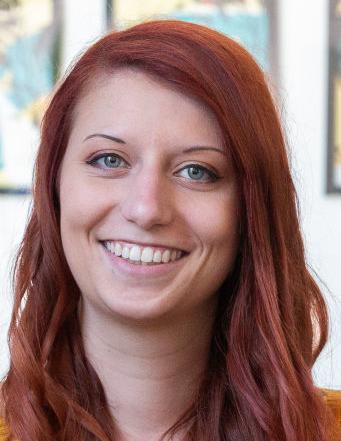 The employeesAmbient Ink's employees also got to ride the roller coaster of entrepreneurship. Mikala Dale, operations director, is one who's seen the company quadruple in size in just five years.
Dale said, "When I started at Ambient, there were just six of us. I started washing screens and folding shirts in production. I loved screen printing and this was my chance to do that every day as my job. We were all a bunch of kids, working all hours of the night, hanging out after our shift at the shop drinking beers together."
Colleagues became family.
"Those five coworkers grew to be my best friends," Dale said. "At that point, we all had to lean on one another and know that your role wasn't set in stone. One day, you'd be helping in production and the next in webstore. We were a family who all relied on one another to make this thing work."
Dale kept shifting roles.
"As the team grew bigger, so did my responsibilities within Ambient, and with that, Aaron and Tim's trust in me. I bounced around from running the webstore department to account management to production director, finally landing in my current role of operations director."
When Dale imagined her career, she never pictured music playing a central part.
"When I took a job in screen printing, I never imagined I'd be so involved with the music industry. I've always loved music, but as someone with no background in it, I didn't expect it to be such a huge part of my life. There are so many skills, industries and logistics that I've unexpectedly grown to learn. I think that's the nature of a small business; there's a lot of figuring it out as you go."
But there are also things that don't change, that serve as a foundation for growth.
"I think, at the end of the day, that you don't forget the closeness you have with your coworkers. You don't forget the late nights and the devotion to making Ambient thrive."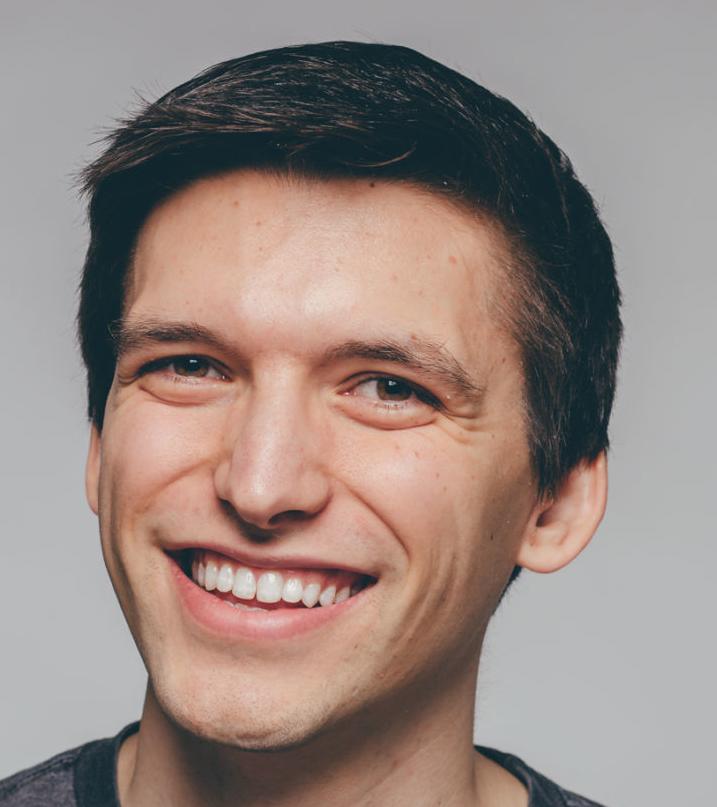 Justin Hertz, Ambient Ink's business director, was hired from a Fortune 500 company in 2013.
"It was a refreshing change of pace and I could tell there was something very special about Ambient Inks even back then," he said.
Hertz had a front-row seat to the blood, sweat and tears of fledgling entrepreneurship.
"Aaron and Tim would practically sleep at Banbury Place to make sure clients received the highest level of service possible," Hertz said. "It was easy to tell how much they cared about their clients, employees, and the community."
And Hertz directly experienced a business's growing pains.
"The business was still growing and not quite ready to support my position fully at that time. I reconnected with Aaron in late 2016 and was officially hired/re-hired in January of 2017."
So, why did Hertz return?
"I came back for the care and kindness that Aaron and Tim give to the people around them and their passion to make the world better through their business. They value each employees' efforts and are selfless leaders who fight for fairness and equality."
There's also their quality of focusing on quality.
"They take great pride in their craft of screen printing and it's an honor to work for and with them and continue to grow and learn with them here at Ambient Inks."
Like Brice, Hertz delights in meeting and serving the residents of the Chippewa Valley.
"Ambient Inks has absolutely changed me during my time with the company," he said. "It has shown me that there are a lot of amazing people in this world and in the Chippewa Valley community who are willing to sacrifice themselves to help the success of a small business whose values and vision align with their own."
And Hertz had learned that you achieve the old-fashioned way — you earn it.
"It's reiterated the fact that to make positive change you have to push yourself and take risks that aren't easy. It's always easy to get caught up in the day to day stress of the work, but I feel so grateful when I'm able to reflect at the impact we're making on the community and beyond!"
Two crazy kidsIn a decade, Ambient Inks grew from two to 24, from a garage where T-shirts were printed by hand to Water Street with machines humming.
"Ten years flew by in the blink of an eye," Brunner said. "Aaron and I were just two crazy kids with a passion for screen printing."
But Brunner remembers the toil and joys.
"With each expansion came extreme feelings of joy, excitement, and terror. I think the fact that we were so young and willing to take risks helped sway our decision making a bit."
And Brunner also remembers all who helped.
"The amount of support we had from our friends and family was so crucial," he said. "When we picked up our first screen printing setup, it was from a friend of a friend, so we didn't really know what to expect, but it was our best option at the time."
They drove to Chicago with not much more than hope in the tank.
"We spent basically all of the money we had on gas to make it to Chicago and back. We arrived and called the person with the equipment and he didn't answer. After trying again, they picked up and said that day wouldn't work for them. After a little persistence and negotiating, eventually got the equipment into the back of Aaron's brother's truck."
Hanging tough has made all the difference for these two entrepreneurs.
Brice said, "We realize that growth is complicated and brings evermore challenges and stress, but growth is how you make a profound impact."
The business news you need
With a weekly newsletter looking back at local history.