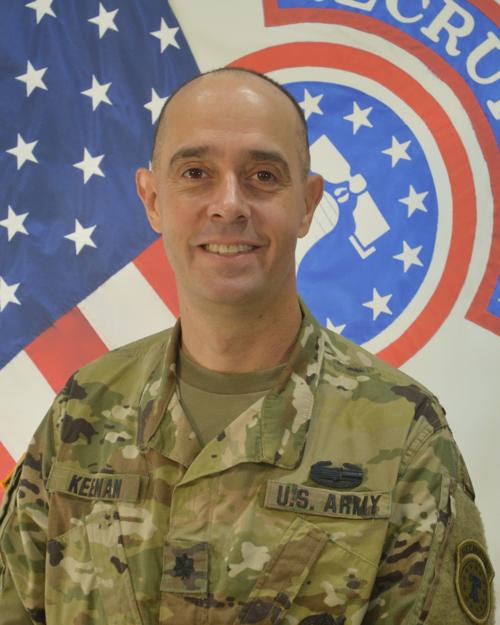 CVTC, the UW schools and the Chippewa Valley's public and private K-12 schools all graduate students with skill sets ranging from nursing to welding, from accounting to molecular biology, from pre-med to material science and engineering, and much, much more.
Think of these educational institutions as a three-legged stool, but the Valley gets the fourth educational leg from the military, turning the stool into a table that serves up even more learning opportunities to power area businesses.
Army
Lt. Col. Collin Keenan is the Milwaukee Recruiting Battalion Commander. In this role, he oversees western Wisconsin recruiting, but he is also homegrown, as a La Crosse Central High School and University of Wisconsin-La Crosse graduate.
Keenan is keen on education, with a Bachelor of Science in Political Science from UW-La Crosse, Master of Science in Environmental Management from Webster University, Master of Policy Management in Public Policy Administration from Georgetown University, and Master of Higher Education Administration from the University of Louisville. He was also the professor of Military Science at the University of Minnesota. When he talks about acquiring the skills for a successful career, he speaks behind a podium of degrees.
"The Army offers more than 150 careers for youth interested in enlisting," he said. "Enlistees can choose from careers in engineering, IT, law enforcement and aviation. While not every career in the Army has a direct correlation to employment opportunities in the Valley, enlistees are afforded the opportunity to take classes through colleges and tech schools to obtain the training they need for a career after their enlistment. Up to $4,500 in tuition assistance can be used each year to pay for that training while they serve and more than $71,000 is available for continued education after their enlistment."
Keenan and his Army colleagues have also partnered with business entities across the state to ease the transition from military service to civilian employment.
"The Army partners with several local companies to set enlistees up for success after their enlistment ends. The Partnership for Youth Success guarantees enlistees a job interview with partners locally and across the nation. Depending on the career an enlistee chooses, they are given a variety of PaYS partners to collaborate with."
The PaYS partners range from manufacturing to medicine to fitness.
"Some of the local partners are Indue Sales & Service, the La Crosse Area Family YMCA, Logistics Health Incorporated and Harley Davidson. Across the state, partners like Schneider National, Quad Graphics, Milwaukee Electric Tool Corporation, GE Healthcare, and Mercury Marine stand ready to welcome our soldiers to their companies."
These companies and others welcome soldiers because of the attitudes that the Army imparts.
"Loyalty, duty, respect, selfless service, honor, integrity and personal courage are the values the Army lives by and instills in its soldiers. Every soldier departing the Army does so with a solid work ethic, leadership skills, and the ability to clearly communicate under stressful situations. These traits, along with many others, set up our soldiers for future success."
As Wisconsin employers care about soldiers ending their service, so does the Army.
"The Army doesn't forget about its soldiers when their enlistment ends. There are multiple programs set up through the Soldier for Life program to help soldiers transition from Army service to a career in the civilian community. Veterans can always reach out to the Soldier for Life Program to gain assistance related to the transition process."
One of those programs correlates Army-acquired skills with civilian equivalents.
"Army Credentialing Opportunities Online provides information on civilian credentials related to careers in the Army."
However, COOL does more than merely correlate. It also converts credits.
"Colleges, universities and technical schools that are part of the Concurrent Admissions Program give veterans credit for their experience in the Army. These credits can be applied directly to their degrees or certificate programs."
This might be why there have been upticks in enlistments in the Valley.
"The Army and Army Reserve have seen an increase in enlistments this year. With stations in Eau Claire, Hudson and La Crosse, we have seen a rise of more than 30 enlistments this year as compared to last year. Our local recruiters continue to strive to tell the Army story to the youth in the area, connecting them careers in the Army that will set them up for future success when they return to the Chippewa Valley."
Navy
Future success in the Valley can also be cued up through the Navy.
Mass Communication Specialist 1st Class Christopher Lindahl, public affairs officer for Navy Talent Acquisition Group Northern Plains, said, "Within the Navy today, we have some of the most comprehensive technical schools you can find anywhere in the nation. Following basic training, our Sailors go to their advanced training, or 'A' school, where they receive their technical training and instruction."
Unlike CVTC, Eau Claire's Regis High School or UW-Stout, you're paid to learn.
"The best part about our schools is that you are getting full-time pay at your pay grade to go through your schools or any additional training required. This allows for our Sailors to have: a full-time job."
However, there's much more than a full-time job.
"There's also free room and board; full medical, dental and vision; 30 days of paid leave; National holidays off; all while learning and growing in their trade. I can't think of a single civilian position that gives that much."
When one trains in the Navy, one accrues work experience faster.
"The other primary advantage of joining the military today is world experience you will have. It is entirely possible that by the time someone in the civilian workforce has completed their two years of vocational training, they could have already been trained and been working in their field for a year and a half or more if they joined the Navy. By the time they finish their standard four-year commitment with the Navy, they would have nearly double the experience of a civilian counterpart."
One way the Navy differs from the Army is its focus on job titles.
"One of the unique things about the Navy is that our enlisted Sailors are addressed by their 'ratings.' A rating is that specific individual's job title, or specialty, and is used when you address them."
Whereas some of the Navy's ratings, like Missile Technician (Submarines) and Aviation Boatswain's Mate, Aircraft Handling, are Navy-specific skill sets, others, like Mass Communication Specialist, Electronics Technician, Information Systems Technician, Builder, Equipment Operator, Construction Electrician, Utilitiesman, and Machinery Repairman read like CVTC or UW-EC degrees. Where the Navy and Army absolutely overlap is their focus on values.
"The Navy's core values are honor, courage and commitment, and we try to instill all that those entail in all of our sailors, but the biggest thing that I think people get, in addition to those values, is the work ethic and accountability."
If you think of the end of enlistment as a kind of graduation, then the Navy graduates men and women prepared to complete one task after another.
"We have an incredibly talented and incredibly trained workforce who has been trained to know that no matter what happens, at the end of the day, the job needs to get done and it needs to be done right."
Some of the Navy's "graduates" might arrive to a civilian interview coming from unimaginable responsibility.
"If you were to go out to our aircraft carriers, submarines or any other ships, you would be amazed at what you see out there. The helmsman, the person who is actually driving a 97,000-ton aircraft carrier is likely a 19-22 year-old sailor. This applies to almost all of our ratings; It is a young person's Navy and these young sailors are incredibly capable and tremendously responsible."
Lindahl, as public affairs officer for Navy Talent Acquisition Group Northern Plains, which is responsible for enlisted and officer recruiting, covering 393,000 square miles inside the states of North Dakota, South Dakota, Nebraska, Iowa, Minnesota, nearly half of Wisconsin and parts of Illinois. sees his colleagues as serving America, the Navy, and its recruits all at once.
"We pride ourselves in finding some of the best talent out there and we do everything we can to provide a mutually beneficial relationship to both our sailors and our government. It is just as important to us to provide quality sailors to our government as it is to provide an incredible experience and quality of life to our future sailors."
Coming need in the Valley
One of the coming needs in the Chippewa Valley is for the construction workers who build the new apartment buildings, houses and businesses.
HTC Neil Boltik, Navy Talent Acquisition Group Northern Plains, Field Recruiting Western Wisconsin, said: "The projected shortages for construction workers over the next five years are bleak. In the Navy, you can learn these skills. We do so much more than combat."
However, Boltik emphasizes to all potential recruits that the Navy is about much more than simply preparing for a civilian career.
"Being a talent scout now, I think my biggest challenge is explaining to the kids of this generation, who are widely said to need a why, well, there's nothing more important to serving others and their country."
The business news you need
With a weekly newsletter looking back at local history.