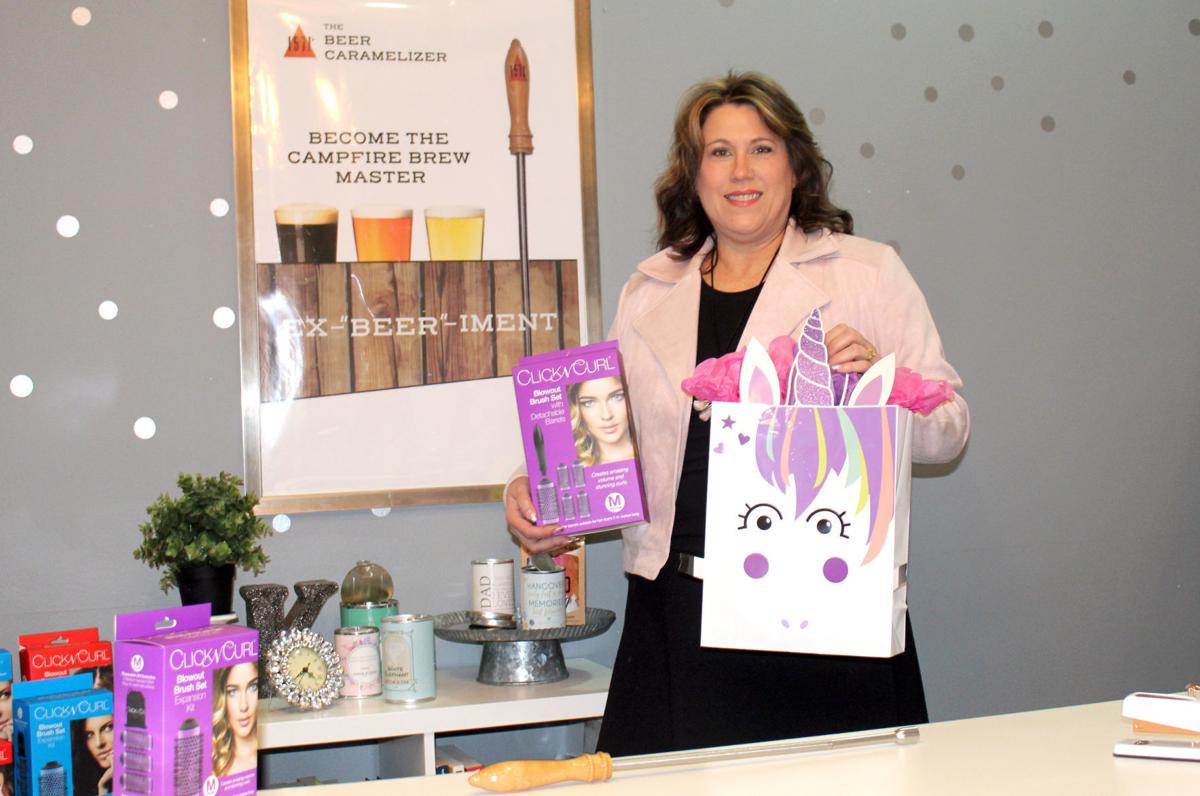 Kim Nimsgern didn't set out to be an inventor.
She couldn't find a product she was looking for, so she decided to make it.
The Menomonie inventor is the owner of Casual Panache Inc. and creator of the Click n Curl hair styling brush. Realizing there was a hole in the market, she decided to let her creative energy take over. After all, she had family members who achieved success with their own businesses.
"I was surrounded by people I saw being successful, so it was never something that I didn't think I could do," Nimsgern said about starting her own business. "I think it's almost contagious. When you see people working so hard for themselves and being able to implement their own ideas, it's like, 'Wow, that's really cool.'"
The accident that started it all
Using a round brush in her hair, the barrel would become detached from the handle as the hot air from her hair dryer melted glue on the product. By the time she set the hair dryer down and worked to get the brush out of her hair, Nimsgern said her hair had great volume. Shorty after Nimsgern, set out to find a product on the shelves that could create the same results intentionally.
Her search turned up empty, but she did find the use of round barrel brushes wasn't new. She discovered online hair stylist promoting photos of clients with multiple round hair brushes, handle and all, wrapped in their hair. That is when Nimsgern realized the product she set out to find didn't exist. After all, well-known stylists would be using it if it did, Nimsgern reasoned.
The process of creating Click n Curl didn't just happen overnight. It took years before Nimsgern was ready to take the plunge into its development.
For about eight years, Nimsgern continued in her work as a counselor.
Counseling is what brought Nimsgern to Menomonie. After earning a psychology degree from the University of Iowa, she enrolled at UW-Stout's clinical mental health counseling graduate program.
As Nimsgern enjoyed an episode of Kelly Ripa's "Homemade Millionaire" entrepreneurial show in 2010, a product similar to her concept was presented.
The product, like hers, used a barrel but it still didn't have a handle. Nimsgern said the judges were quite interested in the product, and it was then when Nimsgern decided now was the time to explore her idea. It had been nearly a decade and no round brush with detachable handle had yet to hit the market.
The Click n Curl detachable handle round hair brush finally hit the market in 2012, but it wouldn't have done so without help from so many others.
Support in the community
Nimsgern had no experience marketing, manufacturing, sourcing or selling, but she was ready to bring her idea to life. Luckily, she had support in the community.
Locally, Nimsgern found assistance with technical drawings, design and prototyping. She received small business administration and services educational support from UW-Stout and UW-Eau Claire, along with help from Western Dairyland Economic Opportunity Council.
Nimsgern said although there were days she questioned whether she could get the Click n Curl into the market and onto the store shelves.
"At times I say it's been way easier than it should," Nimsgern said. "Things just kind of kept falling into place, and other times I wake up in the morning and I'm like, 'What the heck am I thinking? Why do I think I can do this, am I ever going to?'"
When Nimsgern's Click n Curl was a featured product on the "Today" show, she said she couldn't reach out to enough people to thank them for their help. It was like having an acceptance speech for winning an Academy Award, Nimsgern said. Through the process of development of the product and learning all that goes into bringing it to the market, Nimsgern received so much advice and assistance from locals that she learned she wasn't on the journey alone. The support of the entrepreneurial community in the area was eye-opening, she said.
"Once you get into it, it's like you just start to see all these other people in our area doing such amazing things," Nimsgern said. "I think in particular the entrepreneurial community, which again has been so amazing, is that spirit — I know I certainly have it — of wanting to pay it forward. I wouldn't be here today if people hadn't answered my questions, if people hadn't offered resources and suggestions along the way and so it really has been very embracing."
The all-in moment
The Click n Curl was beginning to make waves with magazine features in The Oprah Magazine, Allure and Rachel Ray Every Day. Nimsgern realized her product may have a shelf life but she hadn't considered what was to follow.
At a meeting with buyers for Target, Nimsgern presented her pitch for Click n Curl to be placed on the shelves in the store but it was the response from group that left her with more questions than answers. Getting in front of someone willing to buy her supply of products was Nimsgern's goal. That moment was supposed to be the be-all and end-all of making it as an entrepreneur, she said. But instead, they asked: What's next?
At that time she hadn't thought about products beyond the Click n Curl, she was too focused on making it successful. Her only objective for the meeting was reaching a purchase order agreement with Target and nothing further.
"I guess at the time you're so caught up with trying to figure out how to get to the next step (with one product), I wasn't really thinking about what was next," Nimsgern said.
Nimsgern then realized she came to a fork in the road. It was either commit to her new business or return to a profession in counseling that she still misses from time to time. Nimsgern decided she needed to go all in.
Developing unique products
When Nimsgern decided she was all in she knew she had to commit to the business and not the Click n Curl.
She began hiring consultants to help her take the next step in her journey. Their advice was that now she needed to provide complementary products to the Click n Curl. Nimsgern understood why producing Click n Curl branded hair dryers or shampoos made sense, but it just didn't match the strategy that allowed the Click n Curl to flourish.
Her product found success because it was a unique product without direct competitors. There was no reason trying to compete with well established brands to get a hair dryer on the market, she said.
"I wasn't trying to prove that I was better than somebody else because there was nobody else," Nimsgern said.
Nimsgern develop a checklist of characteristics a new product would need to meet before she would continue. When you start asking what's next, everything becomes an answer, she said.
She stuck to her list of criteria and lessened the risk by being more intentional with new product designs. In late 2018 the 1571F beer caramelizer was introduced and shortly after in early 2019 Gifts of Gab hit the market.
The beer caramelizer idea was brought to Nimsgern by a friend who attended a beer festival and saw the process of caramelizing beer and set out to create his own homemade campfire accessory. Together they created the "alcohol version of roasting marshmallows." It works by flash heating the sugars found in craft beers and other alcoholic beverages. This is done by heating up the stainless steel tip in a campfire and then sticking it into your drink.
There is some risk in new concept as educating consumers on what a product is and why they might like it is can be more challenging. But new, unique products is what Nimsgern believed could work for her again.
Nimsgern's creative side made birthday parties for her children an extravagant process. When they reached ages where they simply wanted money or gift cards, Nimsgern set out to compromise. While there is gift box, bags and other party accessories, there's no gift bag embellishments or gift cans, Nimsgern said. When the gift inside isn't exciting at least the way it's presented can be.
"Think ribbons, bows and cards, but not ribbons, bows or cards," she said.
For now, Casual Panache is focused on its two new products as each has potential to grow and expand, Nimsgern said. Casual Panache also includes the Styl Styk, a two-pronged hair styling comb that creates a zigzag pattern. The product was developed by a women in Ohio and together they are working to promote and product the comb.
Giving back
Once Nimsgern had a business was established, she knew exactly the type of workplace culture she wanted to create. She could give back to the community that has supported her along the way by providing a workplace that has all the characteristics she would want in a company she worked for — a place that offers employees flexibility and work they can be proud of.
"I wanted to create a company that had the values and the atmosphere that I would want to work for," Nimsgern said. "I wanted to be able to create jobs for other people that offered flexibility, that gave them great experiences and opportunities to be involved in something that they were proud of."
With all the assistance Nimsgern received from the community, she knew that she needed to find more ways to give back. Casual Panache hosted a young entrepreneurs contest in 2017 and awarded a scholarship. This was a one-time event but Nimsgern said there have been talks of bringing the program back in a new way, in which the small staff can run the event by itself.
"I really wanted to try to draw that (great idea) out and encourage them and get my message out to them that it's possible," Nimsgern said of the young entrepreneur program.
Nimsgern has also spoken with students in an entrepreneurship course at UW-Stout about her journey. Entrepreneur and international business professor Dr. Mary Shepard Spaeth said it's important to bring individuals who have gotten real experience into her classroom. Nimsgern has a concrete message and she can speak about the lessons she's learned along the way, Spaeth said.
"It's essential, it's real," Spaeth said of Nimsgern's story.
Spaeth said it's essential students here the real story. Nimsgern hasn't forgotten how she got started and the work put into finding success, Spaeth said.
"A lot of (other speakers) they get into their third year and it's almost, 'I've always been successful.' They project a different kind of aurora." Spaeth said.
Through the Gifts of Gab product Casual Panache has found other ways to give back by creating the Giving Cans and Random Cans of Kindness programs.
Giving cans is a food drive program that for every single set of Can-o-Grams sold, one canned good will be donated to food pantries and food drives across the nation. Random Acts of Kindness is a program that put cans out into the public filled with small trinkets, gift cards and other surprises. Based off the concept of paying it forward, those that find the cans are asked to go online and request their own custom can that they are able to fill and put back into the public for others to receive.
Through her entire journey of becoming an entrepreneur, Nimsgern said although you have to be smart and calculated, ultimately you can't let the fear of failure stand in your way. If you're not afraid to jump in with both feet, you'll soon realized there are many others willing to help you along that journey.
"When you start putting it (your work) out there," Nimsgern said, "the resources, the help, the community — people want you to succeed."
The business news you need
With a weekly newsletter looking back at local history.