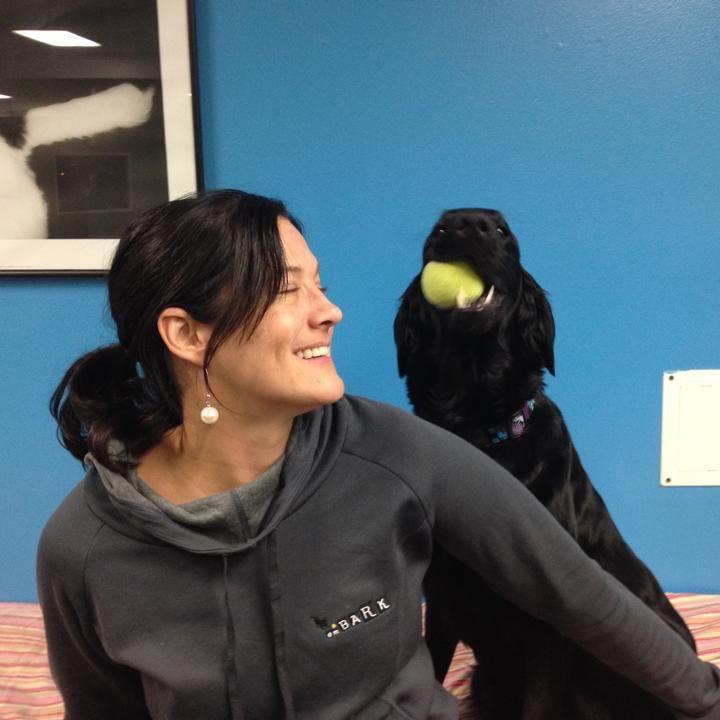 Eau Claire's emBARK, on Fairfax Street, is one-stop shop for dogs.
Puppy training? You bet. A therapy dog workshop? You betcha. Agility training? Oh, yeah.
Doggy daycare? Of course! Grooming? Roger that.
Canine massage to release tension, increase circulation, and decrease inflammation? Naturally.
All this is delivered by a highly trained team of 25 dog professionals. However, when Heather Mishefske, CPDT-KA, launched emBARK, it was just her and her dream in Banbury Place, where she operated from January 2006 to 2009. Mishefske left a steady career in health care to plunge into Lake Entrepreneur.
The big leapMishefske said, "I was educated in science and had no business background, so it was a leap that I had to learn the business end on the fly."
Mishefske worried about falling all the way back to her parents' home.
"I wanted to make sure I did not end up having to move back in with my parents! How on earth will I ever make money? Will people trust me?"
She did have an advantage not uncommon to fledgling entrepreneurs: a passion for her desired profession.
"I lost a dog very young to an autoimmune kidney disease and that was the impetus to realize that I didn't love my life in health care," she said. "Plus, I have shown/trained/worked with dogs since the age of 10 and worked professionally as a dog trainer since 1998, so it was a natural next step."
Mishefske was also savvy enough to rely on more than her longstanding love of dogs.
"I took the Entrepreneurial Training Class through the UWEC Continuing Education Department to write a business plan, and also took some SCORE courses. I also relied heavily upon my close network of dog professionals."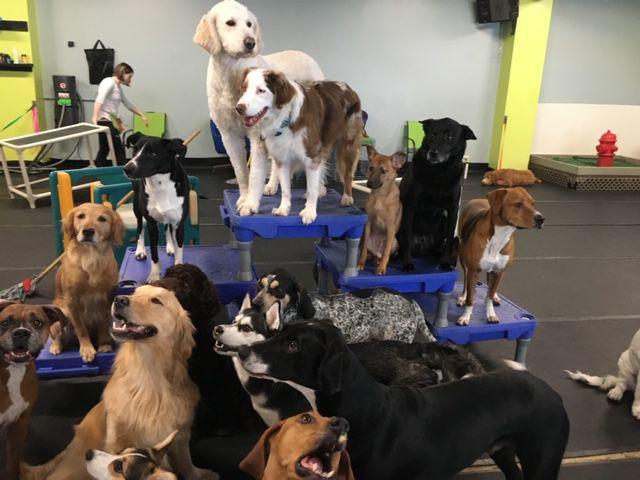 She also had a brother behind her back.
"My brother ran the Wisconsin Small Business Association both here in Eau Claire and then for a short time, at the state level."
However, Mishefske's brother and mentor lost his life to an unknown heart condition in 2014.
"He had a huge, giant impact on all that I do and was my biggest cheerleader. My work is dedicated to him every single day," she said.
Mishefske was also helped along by a history of tenacity.
"I once took an entrepreneur assessment tool about 'Can You Be A Business Owner?' and it asked, 'Can you easily work 12-14 hour days?'" she said. "My entire adult life, I have had two jobs. One was in some capacity in clinical nutrition and another as a dog trainer, so I was already accustomed to very long hours."
And Mishefske actually likes to burn the midnight oil.
"I am also a night owl and love coffee, so that combination allows me to rock out a lot of work at night."
EmBARK grows and growsMishefske added help. She also added to her workload, as emBARK grew bigger and added services.
"My workload today is pretty much the same, except I can do email from home most days. You are always working. Always," she said. "There are emails, training plans, answering questions from clients at the grocery store, gathering more knowledge about behavior, and simply just always looking ahead."
Mishefske is also forever looking to learn from other experts.
"I am a huge continuing education and behavior geek, and spend much of my time enrolled in education, listening to podcasts, reading and information gathering. I have an amazing staff of 24 people, which allows me to be away to do these things."
But Mishefske makes certain she has daily doses of her founding passion.
"I teach classes every night and spend most of my days doing behavior consulting and private lessons. I love teaching and showing people how ethical, relationship-based dog training can have such an impact on the lives they can live with their dog."

Mishefske also makes time to get very hands-on with dogs.
"I have done canine sports massage since 2006 and have a handful of clients every week both here and at the trials."
However, Mishefske doesn't have the luxury or desire to simply do what she loves best — the teaching and massage.
"I am also a coach, mentor, plumber, electrician, poop picker-upper, comedian, coffee maker, lunch picker-upper, cheerleader, emotional support human, vacuum technician, nail trimmer, assistant groomer, and expert Kong stuffer."
Whatever her role, her team has her back.
"The team of daycare staff, trainers and groomers have both passion and an incredible amount of dog knowledge all rolled into one," she said. "I love that no one is above anyone and that everyone understands that our roles all are so important to the success of this place."
Reflections on her journeyEven though Mishefske has succeeded at being entrepreneur, the word makes her as twitchy as a bloodhound with fleas.
"I actually don't really like the word, entrepreneur. It conjures up big houses, new cars and shiny things. I am content with my 11-year old truck and my small 100+ year old farmhouse."
Mishefske roots herself in her role.
"I am simply a dog trainer who enjoys people," she said. "I am not driven by doing this business, but I am driven by doing the craft that provides me the business. I am not sure that makes me a savvy businessperson or even a businessperson. I only know that I am good with dogs, and I like their people."
However, the entrepreneur who doesn't fashion herself an entrepreneur has encouragement for those who aspire to launch their own business someday.
"You will work so hard the first several years and no one will get why you spend so much time at this, but it will be worth it, I swear. Let the naysayers bounce off you and trudge forward with ridiculous enthusiasm!"
However, Michefske's enthusiasm comes with a caveat.
"Hands down, time is the hardest part of entrepreneurship. So much of your day is spent doing work. Always. That word, 'balance,' is the elusive unicorn that is hidden in the valley of four-leafed clovers. It just doesn't exist, but you can weave balance in and out of some days, so pay attention and grab it when you can."
Happy dogs, happy ownersMichefske might struggle to find that "elusive unicorn" of balance some days, but all days, cars with happy dogs and happy owners park at emBARK.
Rose Battalio, a professor in special education at UW-Eau Claire, is one of them. She's been using emBARK's services since January 2009 with two dogs. Her newly acquired puppy just took Puppy Einstein and is starting Real Life Rover, the first two classes in the sequence. And when Battalio needs some daycare, she leaves her dog without a care in the world.
Battalio said, "Everybody there loves dogs and gets dogs. You know your dog is in good hands. I know my dog is safe there. They're big on well-trained dogs and they use a lot of positive reinforcement."
Battalio has special praise for Michefske.
"I call Heather the dog whisperer. She just understands dogs. You can ask her any question about your dog and she'll have great ideas. She doesn't just get dogs to become good citizens. She takes them to their happy place, too."
And Battalio sees Michefske's passion.
"She's found her passion," she said. "Being an entrepreneur is hard. Having your own business is hard, but she loves dogs and they gets her through every challenge. People trust her and they should trust her. She's dedicated to every dog that comes through her door and she has the focus and drive to make emBARK what it is."
Shyre Mann, a school psychologist who's been using EmBark for 10 years with two dogs, concurs with Battalio.
Mann said, "Heather's so sincere in what she does. She wants to create the best space for people to bring their pets. She clearly cares about animals and people. She has created a service that people want. She does it very well because she's so real."
A big part of being real is being there in the sunny days and dark days.
"When Otis, our black lab mix, was sick, she still wanted him to come to emBARK and after he passed, she went out of her way to make sure we knew how much she and all of her staff loved and missed him," Mann said. "emBARK even gifts at Christmas. They don't have to do that. It's just one more thing for them to do, but they still do it."
Mann has also seen Michefske be there for the Chippewa Valley.
"She gives back to the community. Last year there was a Girl Scout troop that had an accident and she rallied therapy dogs to visit schools. She also does presentations at local schools. She's so accessible to kids and adults of all ages. She explains to kids and adults how to approach dogs and what to do when they encounter a therapy dog. You can just tell that she really loves and respects animals."
Creativity unleashedMichefske is an entrepreneur, but that's just a doorway to dogs.
"What's surprised me about entrepreneurship is how much I've loved working each and every day and how much my entire life is filled with talking about dogs, learning more about dogs, and working with dogs."
Entrepreneurship has also been a way for her to work out her creativity along with working out dogs.
"I like the flexibility and the ability to use my creativity and do whatever I think would be the next cool thing. This piece of what I yearned was so stagnant when I worked in healthcare."
Michefske's creativity is clear in the names of her training classes, such as Barks and Rec, Agility Stability, Focus Pocus, and Bottles and Bones. Through these classes, the Valley fills with four-legged solid citizens and Michefske and the dogs enjoy their heydays.
"I love to geek out about the how/what/why of behavior and share it with anyone who will listen," she said. "Dog training is such a holistic art of observation of your learner, understanding how you affect their behavior, good timing/feedback, and mechanical skills. Teaching all of this is simply so much fun."
The business news you need
With a weekly newsletter looking back at local history.