TOWN OF NORWAY — "The whole vineyard was covered in frost, it was like something out of the movie 'Frozen,' " said Cindee Henrichs, gesturing to the 2.5-acre front yard full of grapevines.
Just $5 gives you full access for 5 months to exclusive content from The Journal Times and journaltimes.com. The incredible deal won't last lo…
Henrichs and Randy Larson are the owners of the Spirits of Norway Vineyard, 2200 W. Six Mile Road. When temperatures dropped to 32 degrees Fahrenheit in mid-May, the vineyard experienced frost damage for the first time.
"In years past, the weather has dropped to 34 degrees and we've never had any problems," Larson said.
That one temperature drop could have long-term consequences.
According to Larson, the vineyard suffered 30% to 50% overall damage to crops: 25% to 30% of the Frontenac Blanc grapes could be lost, but more than half of the winery's Marquette grapes might be lost.
What the winery will be selling in 2021 won't be affected, since the fermentation process occurred over the past winter. This year's frost damage will cause problems for 2022.
Three bottles of Spirits of Norway Vineyard's best-selling wines. From left, Brianna, Leon Millot and Frontenac Blanc.
As such, bottle prices for Spirits of Norway Vineyard are expected to increase by about 10% next year. The winery's bottles currently sell for $16.95, but Larson expects those prices to be about $18.95 in 2022.
At the end of the day, the owners expect to continue satisfying and serving their customers: "We will always make sure we can supply our wine enthusiasts," Larson said.
Frost wasn't the only problem
It wasn't just the frost damage that diminished the grape crops. This year's strong winds made it worse.
As you walk up and down the rows of grapevines, one branch with a dozen clusters of Marquette grapes is gone. On the other side, buds of Brianna grapes have dried up and turned brown, falling to the ground with just a delicate touch.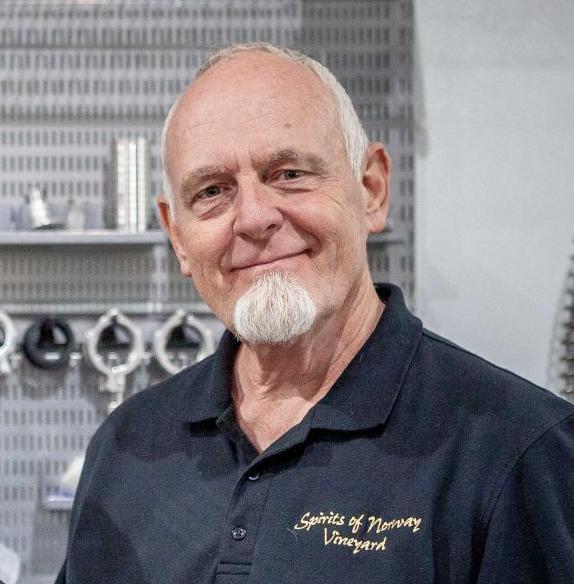 When it comes to protecting the crops from future frost damage, Larson said there's nothing they can do: "It's just Mother Nature."
These periods of colder temperatures create delicate crops for fruits and plants.
Usually, being so close to Lake Michigan protects the Spirits of Norway crop. "If we were further inland, we would have much bigger losses," Larson said.
In the winter, water that comes from the lake is warmer than the land, which means the wind that blows from Lake Michigan also becomes warmer and aids the growth of grapes in vineyards. That's because a warming effect occurs from the water during the colder months that benefits wineries that sit along Lake Michigan.
In other wineries in Wisconsin, such as those farther west in Burlington and even as far as Madison, windmills will be used during harvest season to recreate that moderating effect.
"They use the fans to keep the air moving to minimize frost damage," Ballweg said.