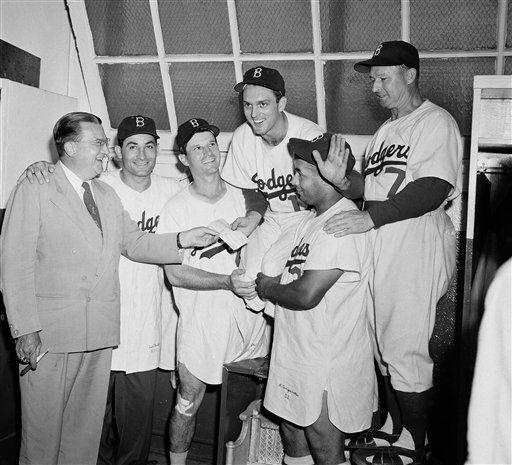 Many years ago this summer, countless teenage (and older) sports fans like me waited impatiently for the first issue of a new weekly sports magazine to be named Sports Illustrated. At last, the first issue arrived, dated August 16, 1954, with that magnificent cover photo of Eddie Mathews hitting another homer into the night at Milwaukee's County Stadium.
But I was disappointed — primarily at the photo editor, who had heedlessly cropped my childhood hero right off the cover. For surely Andy Pafko, the Milwaukee Braves outfielder would have been waiting in the on-deck circle, ready to bat cleanup behind Mathews, as he did that year.
The inside pages carried further disappointment for me. Two articles on baseball bubblegum cards were accompanied by a full-color centerfold reproduction of twenty-seven 1954 Topps cards — and again, Andy Pafko was not included, although there was Eddie Mathews again. To this 15-year-old boy whose baseball world had focused from the start on Andy Pafko, volume 1, number 1 of Sports Illustrated was disappointing (although I still have it here before me). Thus does hero worship affect one's judgment in such matters.
Nor does true hero worship die easily. I have maintained an interest in Andy Pafko ever since, although he has continued to be just outside the margins of the news stories about retired major leaguers. In seventeen seasons with the Cubs, Dodgers, and Braves, Andy Pafko was very, very good, but not great: he was four times an All-Star, but not a Hall of Famer; he played in four World Series and made spectacular catches in them, but hit no World Series homers; his lifetime BA was .285, not .300. Finally, after eleven seasons as a regular, he lost his starting role to a promising young player named Henry Aaron. I now have most of Pafko's bubblegum cards, including the one Sports Illustrated left out, but I no longer have his photo on my bedroom wall (my boyhood bedroom wall bore two pictures, of Andy Pafko and Jesus, and my clergyman father privately wondered which one would remain had there been room for only one).
Decades later, at age 43, I accidentally discovered Andy Pafko's address and sent him a birthday greeting (of course I knew his birthday) and a note telling him how much he had warmed my life over the years. His response was so gracious that I wrote again and arranged to meet him in Chicago when I was there on business. I was very curious to know how my childhood hero would appear to my adult perceptions. Would reality tarnish my youthful and enduring hero image, as it does for so many of our heroes? I went prepared to be disappointed. Instead, I was charmed.
We met on a bright March day at Flynn's Gas Station on West Belmont, where the wind blew so hard off Lake Michigan and over Wrigley Field that Flynn's flexible sidewalk sign was laid flat out. Andy, then 61, was trim, fit, and cheery, with clear, greenish-grey eyes smiling out of a wrinkled and animated face. He had lost no hair, but now it showed a silver streak. As we settled into a booth for breakfast at the corner restaurant he looked like a man at peace with himself and his life. For three and one-half hours, he spoke to me of his career, his family, his managers, his playing highlights, his values. During it all, Andy Pafko the childhood hero became Andy Pafko the human being. As a player, he was called by the sportswriters "solid" — not great, spectacular, or immortal, but solid. The word still fit him well.
He liked to talk about his emotions, especially toward his family. His greatest moment in baseball, he said, was in 1945, when his mother watched him play at Wrigley Field, the only time she ever did. In the first inning, he came to bat with two outs and the bases loaded, and on a 3 and 2 pitch he struck out. On his next at-bat the bases were loaded again, and this time he homered. "My heart just pounded," he said; "even telling of it makes me cry," and his eyes were watering (that story, by the way, you can read on the back of his 1954 Topps bubblegum card).
Two years later his mother died. She hadn't been ill a day in her life, but then got stomach pains, and exploratory surgery revealed widespread cancer. She stayed in Minneapolis and faded to 85 pounds before she died. The Cubs didn't play on Mondays, so every Sunday evening one season Andy flew to Minneapolis, stayed with her till Monday evening, and flew back to Chicago.
His worst day in baseball preceded by one the worst day of my childhood. On Saturday, June 15, 1951, just six hours before the trading deadline, he and his wife Ellen had just sat down to supper at home in Chicago when the phone rang. Wid Matthews, General Manager of the Cubs, had called to say "We've traded you to the Dodgers." Telling me this, Andy whacked the chair next to him. "Wham! It almost knocked me over. Ellen began to cry like a baby. It was my worst moment in baseball." The next day it was my turn. I can still see the empty look on my father's face as he handed me the peach sports section of the Minneapolis Sunday Tribune — the front-page story reported the Pafko trade. I wept, and I have never quite forgiven the Cubs. Neither has fate: since that trade Pafko played in three World Series, but the Cubs World Series drought endured for 65 years (I have privately labeled that torment The Curse of the Pafko Trade, and have guessed that it would endure as long as Pafko lived; sure enough, Pafko lived until 2013, and three years later the Cubs finally reached a World Series).
I learned many things about Andy Pafko during that special morning in the restaurant on Belmont Street — things fascinating perhaps only to a life-long fan of the man. He once hit three straight homers off Sal "The Barber" Maglie, but the Cubs lost 4-3. When he came up a fourth time with men on base and a chance to win the game and tie one of baseball's rarest records, Maglie walked him intentionally. On opening day in 1954 he hit three straight doubles off Joe Nuxhall, but in his fourth at-bat was hit on the left temple, and woke up in the hospital four hours later, thinking that his career was over. His toughest pitcher to hit was side-armer Ewell Blackwell. The smartest manager he played for was Charlie Dressen. Bobby Thomson, whose playoff "homer heard 'round the world" in 1951 sailed over Andy's head into the Polo Grounds stands and carried the pennant with it, later became his teammate, roommate, and friend at Milwaukee. After Pafko retired from playing in 1959 he managed in the minors, but the extra tensions, multiple responsibilities, long bus rides, and unruly players got him down, and when Ellen finally asked "Is it worth it all?" he answered no, and retired from the field.
There was more, much more, and I came to like and admire this man, this childhood hero, for whom the important things in a highly respectable career were the things that he had been able to do for his mother, his father, his wife, his fatherless nephews — he was sentimental, but in that positive way that reminds you how different are the values and behaviors of countless other childhood idols whose images crumble as their fans mature or their personalities come to public attention. Andy Pafko had always been popular with fans not only because he was "the franchise" for the Cubs and the Wisconsin farm kid who made good in Milwaukee, but because he was a good man, a family man, an honest man, a player's player, solid.
As we said goodbye back at Flynn's Gas Station I introduced Andy to my friend who would drive me to the airport. A customer my age standing nearby overheard us, walked over, and eagerly introduced himself to Andy. "I loved to watch you play," he said; "when the Cubs traded you, I wept."
Now, at the centennial of his birth, we celebrate his career and his life.
Professor Emeritus, St. Olaf College