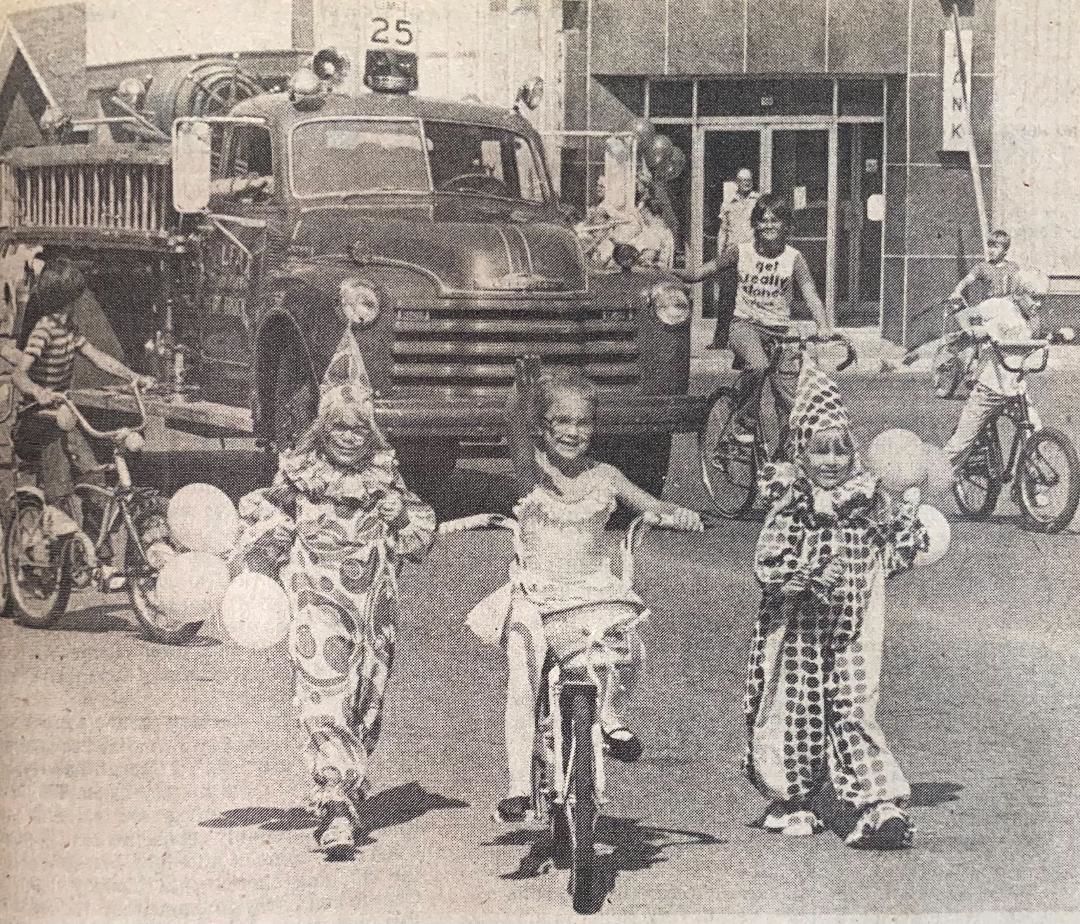 145 Years Sept. 9, 1876
The Lammer building, on Main Street, is to be sold to the highest bidder. Offers will be received by F.J. & W.C. McLean from parties desiring to purchase, in accordance with terms indicated in an advertisement in this paper. This is a fine property, costing about $9,000 and will doubtless be sold at a low figure. No Better chance to secure a good business location very cheap will be offered in a long time.
135 Years Sept. 11, 1886
The Grand Army boys who returned from San Francisco with ex-Commander Phil Cheek, of Baraboo, tell a laughable joke on him. It appears when he boarded the tram for San Francisco; he checked his baggage, containing all the clothes he had excepting those he had on, through to his destination. During the journey Mr. Cheek in some manner tore a large hole in his pants. This was a sad predicament but a party of ladies, came to his relief and offered to mend the garment. Mr. Cheek gladly consented, and going back into his sleeping car pulled them off and went to bed. The ladies took the pants and kept the poor fellow lying in bed all day, returning the unmentionables at night, mended.
125 Years Sept. 11, 1896
Stephen Blodgett and Sam Emerson harnessed their horses and started for Missouri. Going down they met many people coming back, and were cordially invited to return to the land of cool breezes and flowing with milk and honey. They disregarded this sage advice, and after traveling seven weeks they found themselves about 200 miles south of Kansas City. They found that the land promise was, as advertised, the land of the large, red apples, luscious peaches, delicious grapes, and also a hotbed of disease, laziness, want and poverty. Nearly all were sick and were getting worse when it was decided to come north and in the salubrious atmosphere of Wisconsin seek that health which was denied them on the vaunted plains and fertile valleys of Missouri. They reached home poor in body and purse, but content to end their days in Wisconsin.
100 Years Sept. 8, 1921
Colfax has at least two perfect babies. There are probably more, but at the Red Cross infant welfare clinic which was featured at the Community fair held in that village last week two were found that passed a 100 percent inspection. These were the 7 weeks old child of Mr. and Mrs. Andrew Edwards and the 8 months old child of Mr. and Mrs. Albert Hill. Each was awarded a new $5 gold piece by the Colfax Women's club, under the auspices of which the highly successful fair was given.
The youngsters were divided into two groups, one composed of babies under 2 years old and the other including children over 2. In the younger group were thirty-three infants, each of whom were given a thorough examination. Thirty-six were brought in for the older group, which were weighed, measured, etc. Great interest was taken in the clinic by patrons of the fair and the demonstration was pronounced a great success.
75 Years Sept. 11, 1946
The thirteenth case of polio in Dunn County was reported on Friday morning. This was in the Town of Sherman. Another suspected case of polio, in the Town of Otter Creek, was reported, but it was found that the ill person did not have polio.
50 Years Sept. 8, 1971
Patrons of the Mabel Tainter Memorial Theater can look forward to greater comfort! Work is under way to improve the seating in the historical structure. Plans have been accepted to place a wedge on both sides of the seat to raise it an inch in front to remedy the "forward tilt" now present. Seat cushions will also be moved forward so the back of the seat will be further from the seat cushion. A plate behind the seat will serve to secure purses or other small objects. As a final effort toward comfort the original footrests will be reinstalled.
25 Years Sept. 8, 1996
Micheels Hall, a new $8.1 million dollar facility that opened earlier this year on the University of Wisconsin Stout campus, will be formally dedicated on Thursday Sept. 26. The facility is named in honor of William J. Micheels who, between 1961 and 1972, served as president of what was then Stout State College and Stout State University. Michaels headed the university during one of the most tumultuous times in higher education, characterized nationally by both unprecedented growth and campus unrest. During his presidency, enrollments soared and an ambitious building program was launched. Micheels Hall links Jarvis Hall and the Applied Arts Building. It houses an art gallery, a general access computer lab and other educational facilities.