At the mass COVID-19 testing event held by the Wisconsin Army National Guard in Eau Claire on Sunday and Monday, 50 Dunn County residents were tested, the Dunn County Health Department reports.
A total of 505 tests were conducted at the event that was a partnership between Dunn and Eau Claire counties. Residents were able to be tested at any of the recent mass testing events. At the Eau Claire event, 372 Eau Claire County residents were tested and 48 tests were done on Chippewa County residents.
The results are reported to the local health department within 24-48 hours of the event.
There are 20 total confirmed cases of the virus for Dunn County as of Wednesday, health department director KT Gallagher said. Of those cases nine have been released from isolation.
On Monday, Gov. Tony Evers and Department of Health Services Secretary Andrea Palm put in place a new order underneath the safer at home order.
"We just want to reiterate how thankful we are that everyone has put so much effort into following the safer at home orders put in place," Gallagher said. "Our hard work has paid off; last week it was announced we are able to turn the that dial one notch closer to reopening our local economy."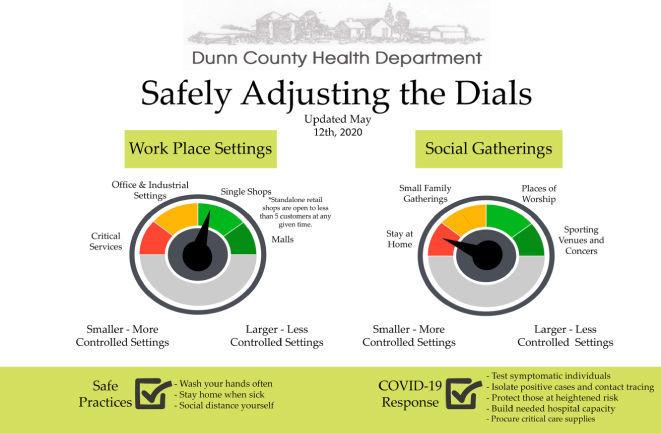 The new order allows in-person retail at standalone shops. There must be a door way leading from the outside to the shop, which includes strip malls. These retail businesses that are permitted to open must have less than five customers in the shop at any given time. Face coverings are strongly encouraged for all staff members and customers, social distancing measures must be observed and stores must establish lines outside the store to regulate entry and markings indicating where customers should stand to remain six feet apart.
Stores that rely on entrance to a mall or interconnected passage many not offer in-person retail at this time.
The order also allows the opening of drive-in theaters as long as they don't offer outdoor seating. Customers must remain in vehicles at all times unless purchasing food or drink or using the bathroom. Theater employees may deliver food to customers waiting in their vehicles. Reservations and payment should be made in advance online or over the phone.
All businesses that are open are required to follow the safe business practices outlined in the original safer at home order. In addition to those guidelines, businesses must review the Wisconsin Economic Development Corporation guidelines created by the state (wedc.org/reopen-guidelines).
Individuals are encouraged to visit the Dunn County website (co.dunn.wi.us) and to follow the county's Facebook page (facebook.com/dunncountywi) to keep up to date with changes in the community.
Be the first to know
Get local news delivered to your inbox!