Schools are a center for the community.
Even though the buildings is closed, a teacher and student at Boyceville High School have found a way to pay back the community during a time of crisis.
Together, science and math teacher Andy Hamm and senior Cade Klefstad have been using the school's 3D printer to produce protective masks they hope to disperse throughout the county.
"The community supports the school," Hamm said. "The community is what makes the school possible and this is the absolute least that the school can do (in return)."
The idea came about, Hamm said, when watching the news and hearing that the Massachusetts General Hospital president had made a call to action for those with 3D printers to make masks for those in need of protective equipment. The same could been done locally, Hamm said, and getting students involved was also a top priority.
"I think it's important to have students involved in this — students realize what's going on — because it gives them an early insight into giving back to their community at a younger age and the important of everybody having to come together for something like this," he said.
After some research it was discovered healthcare professionals in Billings, Mont. had also designed a mask with 3D printing and the plans were available online for download to be recreated. The mask can be designed to use part of a N95 mask. IT is reusable because it can be cleaned and disinfected and then have another piece of a N95 mask inserted. The mask fits well to most faces and can also be molded to certain facial features too, Hamm said.
"When we got this (3D) printer Mr. Hamm and I would have never thought we'd be printing 3D masks that could help somebody in the medical field," Klefstad said. "It's not something you think about. To take 3D from where you think it's for projects and to start thinking it can be used in the medical field it just kind of an eye opening and great experience."
 The 3D printer has previously been used in physics and physical science classes and for Science Olympiad events, which Hamm coaches. Klefstad has shown great skill with the 3D printer using it for Science Olympiad project. He said enjoys most about the process of 3D printing is finding ways to take his ideas and be able to see the physical result of his plan.
"I love designing things and to be able to print it and to see the actual product in your hands is a cool process," he said.
Klefstad has used the 3D printer to create entire projects. Competing in a Rube Goldberg style event, Klefstad produced his entire contraption using the printer. It took nine straight days of continuous printing and more than 250 hours of design.
"I've never ever encountered a better student with 3D printing," Hamm said of Klefstad. "He's an unbelievable wizard with 3D printing with what he has done."
While the high school is locked to students, Klefstad can still take charge of the project from his own home by connecting remotely to the printer. Klefstad analyzed the work of the mask created in Montana and applied those specifications to their own machine. With access to the building, Hamm said the first mask looked correct and he's been going to the school to reprint the design over and over again, with Klefstad monitoring and making any fixes that are needed from afar.
They have been printing three masks per day and have almost 20 created. It takes 11 hours for the printer to complete the project, Hamm said.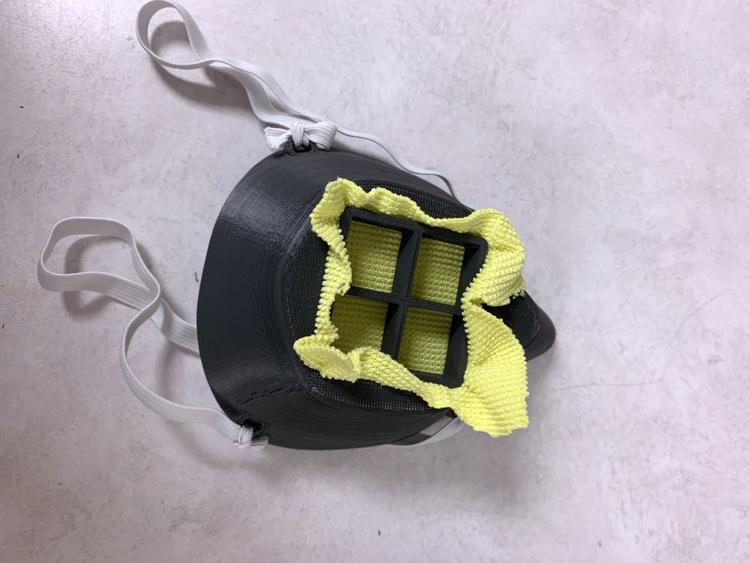 While hospitals are required to use FDA approved masks, Hamm is hoping other businesses and organizations in the community might be interested in the masks. He said police departments, grocery stores, nursing homes and other care facilities could all be possibilities for the masks.
"Eventually we're going to be hit hard here and we're going to be short on masks as well," Hamm said.
They could double their production if needed as there is a second, smaller printer not in use. Hamm hopes if there's interest in the masks he could get other schools to join them in production. He's open to other designs and willing to share how they are creating the masks.
"We could really help out a lot of people in the area by getting these masks, as many as we can rolling out," he said.
The high school has been using a 3D printer for seven years and have needed to replace almost every part on the old printer. Through a grant about two years ago from the Community Foundation of Dunn County they were able to receive a new printer. Another donation from a community member also allowed them to replace the printer through an extended warranty earlier this school year when it wasn't working correctly. With all the support from around the county that helped purchased the printer, Hamm said, it only made sense to turn around and use the printer to help the community out during a time of need.
"We haven't seen it nearly as bad as other parts of our country and hopefully we don't, but if we do, we need to do as much as we can to prepare ourselves now and anything we can do to help — using our 3D printers to do this," Hamm said. "I'm sure there are lots of people in the community who are doing things like sewing masks and anything they can do to help out, and I think that's the best chance for the community to get through this."
Those interested in the masks or have a 3D printer and want to learn how to produce the mask can contact Hamm by emailing andyha@boyceville.k12.wi.us or calling (715) 308-0613.
"It's a great opportunity to help out," Klefstad said, "and with all these other companies giving back and trying to make the best of the situation, if more people did that it would be improve the situation."
Be the first to know
Get local news delivered to your inbox!