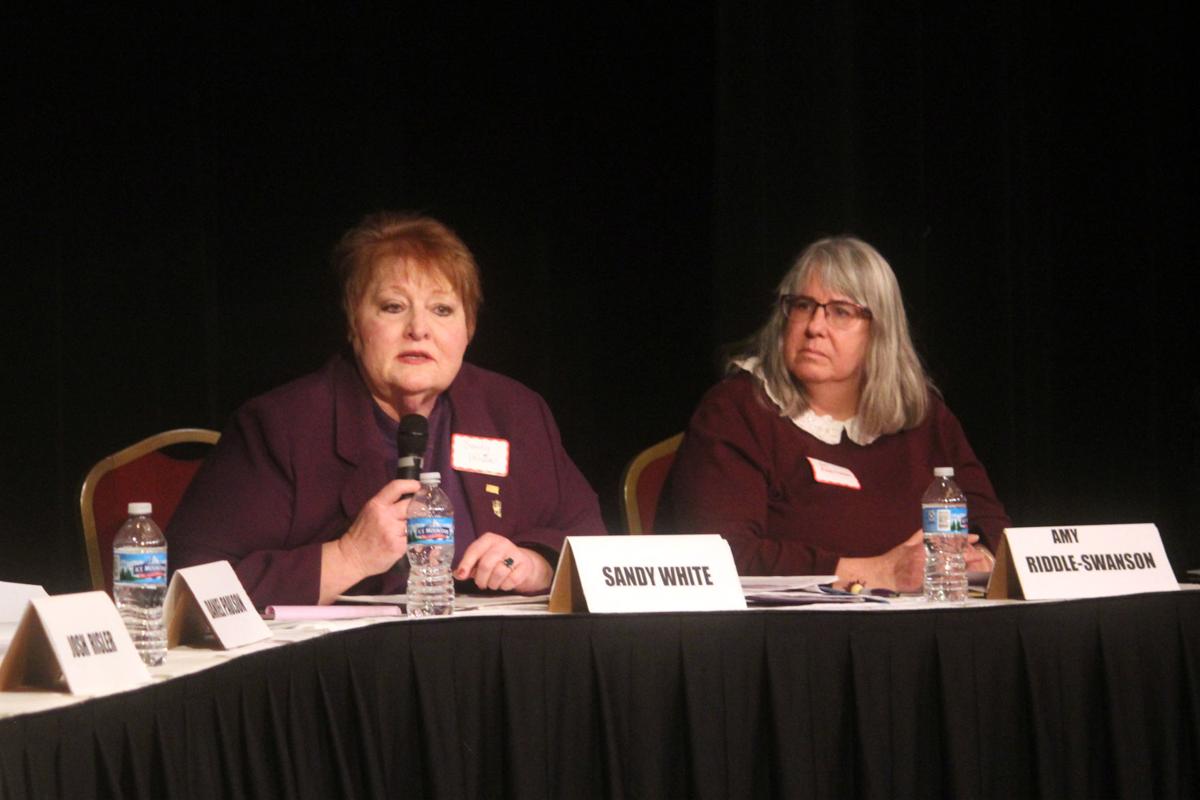 As technology develops, it's becoming more a part of the classroom. Finding the correct balanced in how it's used is up for debate.
Menomonie school district board of education candidates shared different viewpoints regarding technology and other topics Tuesday at a school board forum at the Mabel Tainter. The forum was hosted by the League of Women Voters-Chippewa Valley.
There were different opinions on balancing the use to technology to educate with the needs of socialization and physical activity, as time in front of screens continues to increase.
Incumbents Dan Paulson, Amy Riddle-Swanson and Health Klanderman are being challenged for their seats by Tanya Husby, Josh Risler, Sandy White and Charlie Schneider.
Schneider and Risler fully support the idea of embracing technology is the classroom.
"The reality is this is the slowest computer that the kids today will ever use," Schneider said as he held up his cellphone. "I don't think we should fight it. I think we should embrace it."
It's important, Schneider said, that the board also be advocates for broadband access. While outside activities are an important part of a child's life, technology should be used as much as possible to improve student achievement, he said.
Risler was disappointed to learn that YouTube is blocked at school. The website is filled many how-to videos, he said, that can be used as a great learning tool
"It's such a valuable resource and tool that I think we need to better integrate how we view technology into the learning atmosphere, and I think we could actually do that more," he said.
Risler isn't concerned technology is doing his children any harm, despite increase usage compared to previous generations. How students are affected is dependent on the student, he said. In terms of concerns of limited physical activity, Risler said virtual reality will eventually help with getting kids up and moving.
Klanderman also said technology should be embraced as the use of devices is the future of education. She also said balance is key. Teaching students how to balance activity and the use of devices should be a priority. School should be an opportunity for kids to learn about how to use the internet safely.
"We grew up with encyclopedias, students now have computers to do (research), Klanderman said, "so let's show them the correct and proper way of how to do that research, and that will help them in their career, in their future and showing what is a good source, what is a bad source, what is good site, (and) what is a bad site."
Riddle-Swanson also supported the value of technology education. All students from grades 6-12 are assigned Chromebook computers. With the world changing, kids need to understand how to used technology properly.
Students need to learn the proper etiquette for using devices and it's key to balance its use with other learning strategies, she said.
"It's about educating our students to use it properly," Riddle-Swanson said.
Paulson agreed that students should learn how to properly use technology. Teachers are becoming increasingly more knowledgeable in the ways they can use it in their classrooms, and it's important to teach kids how to be technology literate, he said. Despite the value of using technology, the schools can't forget about the value of outdoor learning. Paulson said recess time is important for physical activity, and the district should continue to seek opportunities to learn at the school forest.
White also mentioned the value of using the environmental center as a learning opportunity. Getting outdoors also gets kids to think creatively and get them more engaged in their environment during a time when sustainability and being good stewards of the land is growing concern for some.
You have free articles remaining.
"We want our children to develop to be critical thinkers, and so we need to have balance," White said.
Husby spent a three-year term on the school board beginning in 2012. During this time it was decided that cellphones would be allowed in classrooms at the middle school.
"I was on the board when the middle school decided to allow cellphones in the classroom, and I'm proud to say I was very against it," Husby said. "With that I'm super excited to see that they are now no longer at the middle school and what a positive atmosphere it has been."
Husby said the number of interruptions in classes have gone down since, and her child has displayed less signs of stress as an attachment to social media during downtime in school has disappeared.
Balancing social-emotional learning, academic achievement
One of the five pillars of the district's 2019-2024 strategic plan is student social and emotional wellness, and the candidates were asked how to balance academic achievement with social-emotional learning.
As an outreach program manager at UW-Stout, White said there have been higher levels of mental health issues with students having difficulty dealing with stress. Emotional issues can effect the learning process, White said.
"We do need to work on a wide range of skills that helps prepare those students emotionally to deal with crises, issues, and we need to give strategies and training on how to precede when things don't always go like it should," White said.
Both Riddle-Swanson and Schneider mentioned Maslow's hierarchy of needs. Student may be dealing with hunger, a sense of loneliness or issues within their homes, such as drug addiction. Learning will be affected when more vital needs aren't met, she said.
"When we address those social-emotional learning issues, everything else will fall into place," Riddle-Swanson said.
Schneider was involved in his role at CESA in government funds being distributed for school safety infrastructure and social-emotional training. He said the well-being of kids is important to the safety of a school. If a child isn't coping well social and emotionally they are at a higher risk of violence, he said.
"If a child does not feel safe and warm in their school, they cannot learn," Schneider said. "We have figure out ways to help them with their social-emotional well-being so that they can learn, so we can get that student achievement. If that kid is bullied and all of the other things that come with that, they're starting from a place of deficit and we need to make sure that doesn't happen."
Klanderman spoke to the steps the district has been taking. The district has hired an additional social work and counselor in the past year, and curriculum has been in place. The district provides free breakfast and its Project SAM (Share a Meal) provides food for those in need on weekends. The district also has applied for school safety grants, she added.
Paulson pointed to the strategic plan and the increased focus of the issue through the district's diversity committee. He said schools that prioritize this type of learning provide higher levels of achievement compared to those don't.
"We're not just doing this to make kids feel good, we're doing this for them to be better learners, lifelong learners, caring individuals and responsible citizens. That's our mission," he said.
Class size plays an important role in the social-emotional well-being of students, Husby said. Smaller numbers allow teachers to build relationships and get to know the children and the issues they may face. This way they can work alongside them to overcome possible challenges.
Risler said it's all about building those relationships and making students aware of the resources already available.
The candidates also answered questions regarding the attracting and retaining of teachers and staff, the role between the board and administration and what the board and administration should do about allegations of bullying.
The seven candidates with be narrowed to six in the Feb. 18 spring primary, and three candidates will be selected to a three-year term on the school board during the April 7 spring general election.