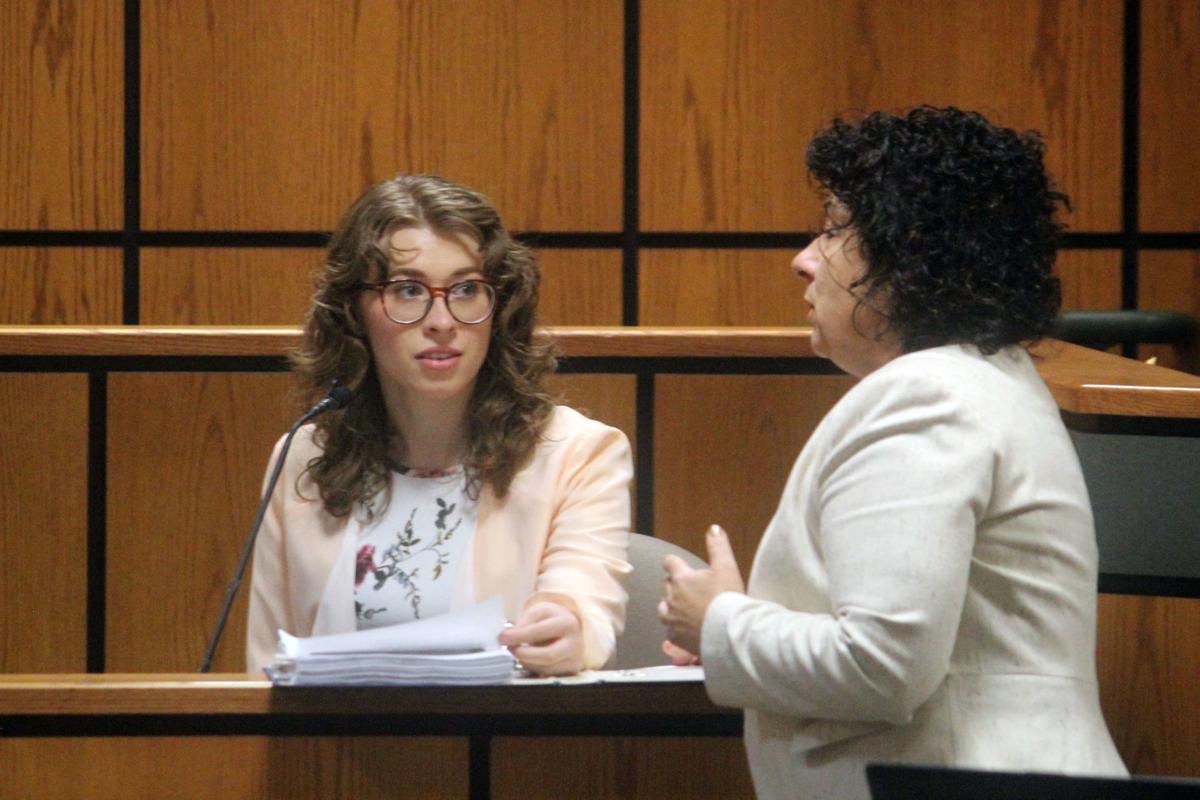 A Stanley woman testified Monday that she stabbed an Eau Claire man to death in 2018 because she feared for her life.
"I was afraid he was going to kill me," Ezra McCandless said during a trial in Dunn County Court.
McCandless, 22, is charged with first-degree intentional homicide-use of a dangerous weapon in the death of Alexander L. Woodworth, 24. She has pleaded not guilty.
Authorities found Woodworth dead in a vehicle in the town of Spring Brook on March 23, 2018.
McCandless' attorneys have argued Woodworth attacked McCandless in the car on March 22, and she stabbed him in self-defense.
McCandless testified Monday during the third week of the trial that she went to Woodworth's home in Eau Claire to gather clothing items she had left at Woodworth's house and to see how he was doing after their recent breakup. They went for a drive and got stuck on a muddy road in Dunn County.
She testified Woodworth said she had betrayed him and attempted to rape her with a knife in the back seat of the car. She said he cut off her clothes, but she kneed him in the groin and took the knife away from him during a struggle.
"As Alex was grabbing me I started stabbing him anywhere and everywhere I could," she said.
McCandless testified the knife involved in the incident had been in the trunk of her car. She had been working for her father's tree service and the knife was constantly being put in and taken out of the vehicle.
McCandless testified that her father said the knife could be used to break glass or to cut a seat belt. She added her father also thought she should be prepared for anything and if she encountered a situation where she would need was in danger and she needed to "do anything to get away."
She said she retrieved Woodworth's cell phone after the incident, but it broke when she fell. 
On cross-examination, McCandless testified she went to a house and said she needed to go to the hospital, but did not mention that she had stabbed Woodworth and he was in a car. She said she also didn't tell law enforcement or emergency workers about stabbing Woodworth.
Earlier Monday, McCandless detailed her relationship with Woodworth. They had met at a bar and started a relationship after she broke up with her boyfriend. The previous relationship had deteriorated after she decided to terminate her pregnancy. McCandless said she was young, confused and felt rushed into the decision to get an abortion. She said the decision left her "empty" and hurt emotionally and physically.
McCandless said she ended both of her relationships with the boyfriend she was living with and Woodworth a few weeks apart.
The trial continues Tuesday.
Be the first to know
Get local news delivered to your inbox!