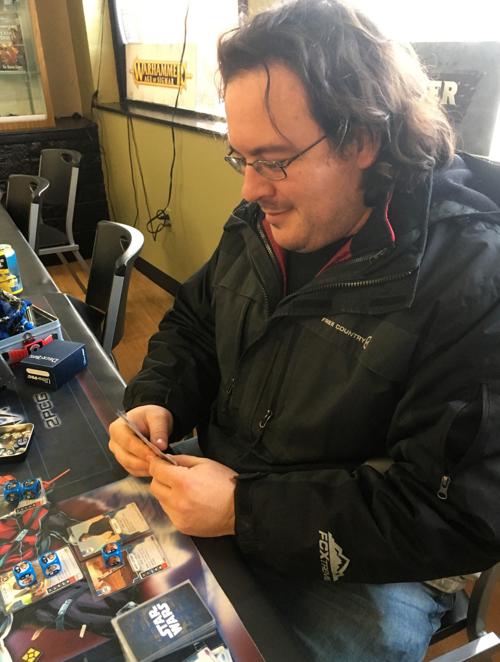 In a world where people can be vicious to one another over simple aspects of life, Heroes Welcome is a safe place for those who love hobbies that are stereotypically associated with people that would be considered nerds, geeks and dorks.
The store is nestled between an insurance provider and a place where children come to practice martial arts. Calling it a comic shop would fit, but that is not all that is offered at Heroes Welcome.
It is a purveyor of comics, trading card and board games and friendly experiences.
John Hansen, the owner of the store, holds events for those with a variety of hobbies. Friday Night Magic is one of the more popular events.
Enter the store on these nights and you will be greeted by a flurry of talking, laughter, and cheering from the back of the room as the tournament begins.
You will find guests browsing comics and games. Whenever a guest is satisfied with their purchase and leaves the store excited with what the remainder of the night has in store for them, you can hear Hansen shout, "Have a good one folks!"
Once all the guests have been helped, Hansen picks up the phone and calls one of the several pizza places around town and orders five pizzas for the players in the back, "Two pepperoni, two sausage and one cheese."
As you walk through a short hallway, you move from a quiet room with comics and games to a large and busy room where you will notice many posters decorating the walls and life size cardboard cutouts standing guard in the corners, including the character Spock from Star Trek.
This is where the tournament is being held. If you look closely enough, you can find Mjölnir, the Norse god Thor's mythological hammer, stuck in the wall.
Ruling questions are being asked, turns are being explained and anxious fidgeting happens as the games go on. Every player has a look of deep thought with smiles as their games progress. It feels like friendly competition.
A regular at Heroes Welcome, Julian Curtis said the store makes him feel comfort and welcome and that Hansen makes you feel important.
"I'm hoping it feels alive. I want people interacting with other players, whether it be Magic or something else and feel like they're a part of something more and that they feel welcome," Hansen said.
Dylan Crook is a student at the University of Wisconsin-Stout. Depicting the Chippewa Valley is a series of vignettes written by UW-Stout students about places throughout the Chippewa Valley and Menomonie.
Be the first to know
Get local news delivered to your inbox!