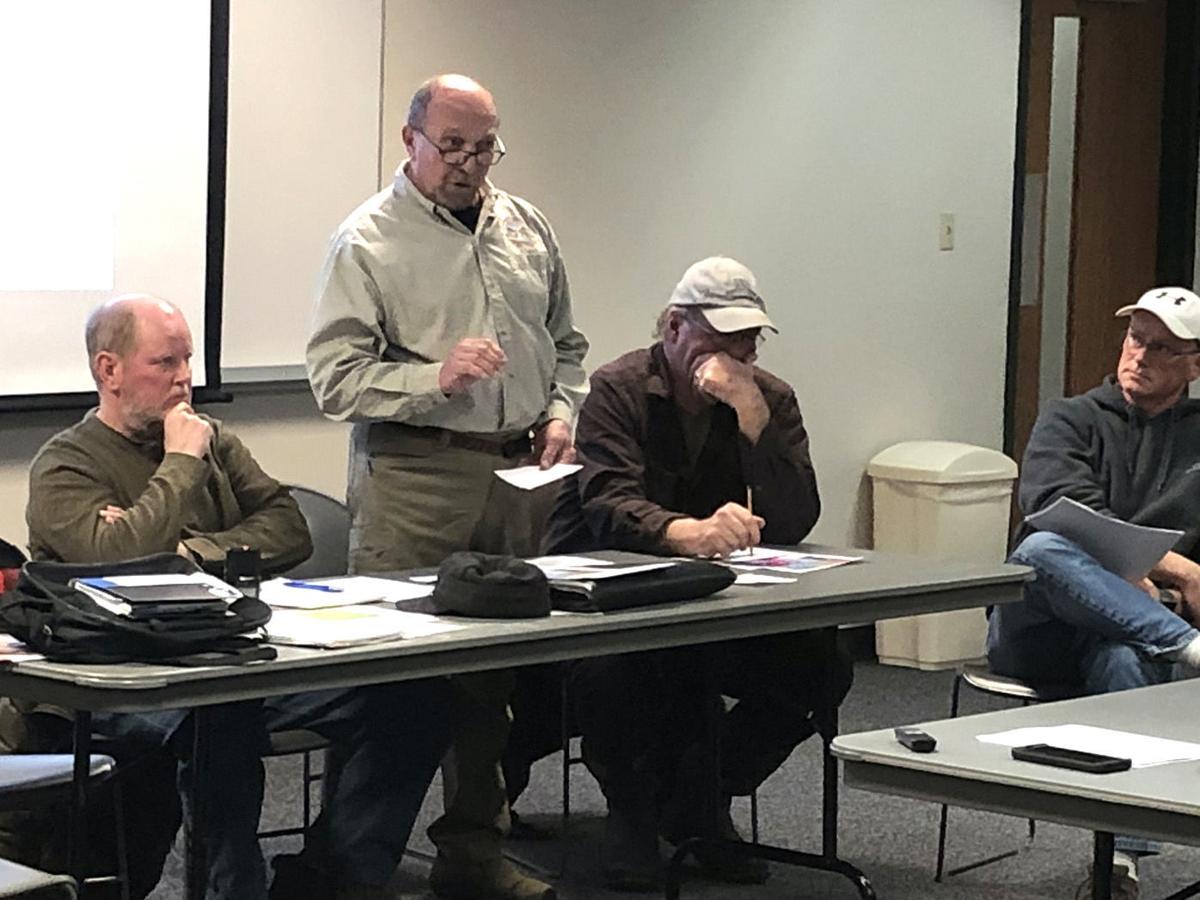 With the first positive test of Chronic Wasting Disease in wild deer in Dunn County last fall, local hunters and conservationists are asking what can be done to stop the spread.
The County Deer Advisory Council had representatives from the Wisconsin Department of Natural Resources on hand at its meeting Wednesday at the Dunn County Judicial Center to discuss CWD in Wisconsin and begin conversations about management strategies.
CWD was first detected in the wild deer population in southern Wisconsin in 2002 with the first local positive test in Eau Claire County in late 2017. CWD is prion disease caused by misfolded proteins that effects deer, elk, moose and reindeer's nervous system. It's a fatal disease with known cure that can take more than a year to show visible symptoms, Dunn County wildlife biologist Missy Sparrow-Lien said. It is spread both directly from deer to deer contacts and indirectly through a contaminated environment.
"We've been trying to slow it down until science figures it out," Sparrow-Lien said.
Although there are no known cases of humans contracting the disease, the Center for Disease Control and World Health Organization recommend not eating meat from a positive tested animal.
The first test that came back positive in Dunn County was from a three-year-old healthy looking buck shot in central Dunn County northeast of Menomonie in the Township of Red Cedar during archery season last October. From 2002 through 2018 there had been more than 1,100 samples taken with no positive tests, Sparrow-Lien said. In 2019, a total of 435 deer were tested with the just the one positive test.
Wisconsin has seen isolated positive tests that don't result in the increase of infected deer, Natural Resources Area Supervisor Jess Carstens said. Washburn County had a test come back positive in 2011 and despite ongoing testing since another case of CWD hasn't occurred.
"Is the situation in Dunn County something like that (in Washburn County)," Carstens said, "or do we have something bigger starting like what appears to be happening in Eau Claire County or basically what's happening in the Mount Horeb area and multiple places across the state."
To monitor and manage the possible spread of the disease the DNR has given the CDAC control to gather public opinion and determine strategies moving forward. A baiting and feeding ban will be in place for the next three years, unless a new positive test extends the ban for another three years. Dunn County was already under a ban for the past two years because of an Eau Claire County case near the county line in the Town of Brunswick.
An approximate 10-mile radius will be placed around the location of the positive test in Dunn County to form a surveillance. The CDAC held discussion to determine the boundary lines of the surveillance area and will make a decision at its next meeting on April 7 at Dunn County Fish and Game. The proposed surveillance area based upon road boundaries is the county line on the east, County Road C on the south, Hwy. 25 into Menomonie to Hwy. 12 and to Hwy. 79 as a west boundary and Hwy. 170 as a northern boundary.
The surveillance is used to study the deer population and to focus efforts to learn how the disease may be spreading, Sparrow-Lien said.
The CDAC is also tasked with determining a landowner permit focus area. This area would allow landowners in the boundary to apply for special permits to hunt dear during with any weapon that is legal for the area, regardless of season type. The permit season could be from Sept. 1 through April 30 or shorter depending on recommendations by the CDAC. This permit would require the submission of a sample for each deer harvested for testing.
CDAC member Bob Bernier said the issue stems from a poor response to the initial positive tests in 2002. It doesn't matter how much testing is done until the disease is isolated and carcass transportation is shut down.
"What did our government do down there — nothing," Bernier said of the southern Wisconsin response. "Eau Claire County has got it. Are they stopping Eau Claire County from spreading it? No. You can go to Eau Claire County, shoot a deer and you can take it where ever you want pretty much. What's stopping it?"
Current laws allow the transportation of affected deer carcasses to be transported throughout the state as long as travel isn't done through non-affected counties, Carstens said. Affected counties as of August of 2019 included all but 16 counties in the state, according to the DNR.
"It should have isolated from day one and you wouldn't have it all over," Bernier said.
Dunn County hunter Joshua Polaski said he fully supports more strict laws to slow the spread of CWD. In-person registration had been done for years previously and a little inconvenience is worth the increase in data that could be collected. Having mandatory testing at registration is a no-brainer, he said.
"As a deer hunting community we've been trying to transfer the tradition of deer hunting on to younger people. That's one of the reasons why we do electronic registration, right? They're trying to get more people in the woods. Nothing will destroy deer hunting culture more than this disease," Polaski said.
Greg Breskow who was the hunter who's deer tested positive in Dunn County said there was nothing about the deer that told it was carrying the disease. He said hunters won't know by looking at the animal if its infected and he recommends testing.
"My message is to test. You need more data," Breskow said. "Regardless or not if you want it consume that animal or not, that is completely your prerogative and your choice. However, get that animal tested. Get the data that we need to understand what it is doing to our population."
Be the first to know
Get local news delivered to your inbox!