Now that Dunn County has its first confirmed case of COVID-19, measures to prevent the spread become all the more important.
About 3:30 p.m. Thursday, the Dunn County Health Department was notified of a positive case, county health director KT Gallagher said during a press conference Friday morning.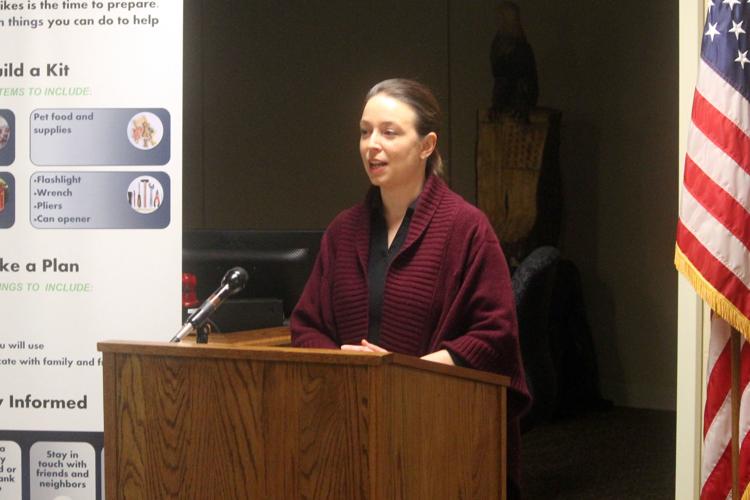 The individual has mild symptoms and is complying with orders to self-quarantine. Gallagher said the individual has traveled both internationally and within the United States to areas that have community spread.
It is the first and only case known to date, Gallagher said, although changes are always occurring. The latest numbers presented to the health department were that 20 tests have been conducted and some of those test results are not yet available.
The health department has begun the process of reaching out to those who had close contact with the individual that tested positive so that they can self-quarantine and monitor their health.
As of the latest report, there were 206 confirmed cases of COVID-19 in Wisconsin, according to state department of health services, but those numbers are updated daily. Latest updates can be found on the Wisconsin Department of Health Services website.
The governor also reported that the state saw its first two deaths from COVID-19 on Thursday.
"I think that's an indication that this is serious," Gallagher said. "We want to prepare, not panic, but take it seriously and do what we can — not only for ourselves and our loved ones, but for our whole community."
The state mandated on Tuesday that gatherings be at 10 or fewer people, and people should maintain at least six feet of separation. Stricter guidelines were also placed on child-care centers. Gallagher said they are asking child-care facilities to limit its building to 10 or fewer employees and 50 or fewer children.
Gallagher asked if possible to keep children home. When there is more space available, she said, that allows the children of much-needed individuals like first responders and health care workers to have a place their children can be taken care of.
Local partners in Marshfield Clinic, Mayo Clinic and Prevea Health have allowed testing capacity to increase, Gallagher said. Testing priority needs to be established and those who have mild or no symptoms first contact their providers, she said. Individuals can self-quarantine without having a test.
She asked individuals use resources like calling their health-care providers, telehealth and nurse lines and refrain from walking into the emergency departments.
"We want to make sure you're not exposed to somebody that is really sick and we want to make sure we're prioritizing that resource for folks that really are," Gallagher said.
It's so important to make sure the health system isn't overwhelmed, she said. Social distancing is critical to preventing or delaying transmission in order to keep the number of cases under a threshold that can be managed.
"It's really important that we maintain social distancing and follow that prohibition on mass gatherings because even if you're a healthy adult, no underlying health issues, if you were to become sick there is that possibility to share that germ with other folks that might not have the same outcome as you."
Gallagher asked employers to really consider who needs to work on site and to reduce barriers to social distancing, so people can work from home and don't feel pressured to ignore symptoms. Those with mild symptoms are asked to stay home and isolate.
"I know that Dunn County residents are incredibly hard working and it's easy to push through when you don't feel quite right," she said.
What county residents can do is continue to follow guidelines during yearly cold and flu season. Gallagher said people should wash their hands regularly, avoid touching the face and practice good respiratory hygiene by coughing into one's elbow.
Lastly, Gallagher said to be kind during a stressful time.
She suggested finding ways to relax and recharge, and to understand people are going through hardships .
Area local businesses are having to change their business models and some employees are out of jobs. Consider doing your part to help charitable organizations in the county so that the most vulnerable are taken care of, she said.
Although it's an evolving issue, Gallagher said all county residents can do their part in keeping their communities healthy.
"Right now there are very few counties in Wisconsin that have community spread and if we all do our part and stay home and practice hand hygiene, good respiratory hygiene, stay home when we're sick most especially, then hopefully we can get out in front of this," she said.
The press conference was also live streamed on the Dunn County Facebook page (@dunncountywi) and the full video can be viewed by visiting the county's page.
Concerned about COVID-19?
Sign up now to get the most recent coronavirus headlines and other important local and national news sent to your email inbox daily.