135 Years
Mr. N. Sowden has suffered severely from a wound in the forehead from a fragment of steel broken from a tool he was using at the grist mill lasty week. Inflammation setting in, it gave him the pearance of a devotee of the manly art who had come out second best, and it kept him bust explaining the whyness of the wherefore.
Miss Rebecca Berryhill, of Dubuque, who has been the guest of Miss Mabel Tainter for the past two weeks, returned to her home Thursday.
Colfax- Several of our town people met last Monday with the purpose of grading the hill leading to the bridge down to a passable level. After a few futile efforts to dislodge position of the frozen bank by blasting, they concluded that they had a white elephant on their hands and determined to leave the work until some future time.
125 Years
During the thunderstorm, Thursday evening, lightning disabled a dynamo at the electric light station, leaving many residences, stores and churches in darkness for the night. A general resurrection of kerosene lamps and candles tided over the unpleasant situation. The broken machinery will be repaired for this evening.
George Kraft, accompanied by a couple of ladies, while out riding Tuesday afternoon, had a thrilling experience. While going down the depot hill their team became frightened, the buggy was tipped over and the whole party was thrown to the ground. All were considerably bruised, George's injuries being most severe, consisting of a badly cut lip and ear. The buggy was smashed.
100 Years
Increase in phone rates. The Eau Galle telephone company applied on Feb. 18 to the Railroad commission for authority to increase rates. The company serves in all, 250 subscribers, mostly rural. No increase was asked for business telephones, but the company wished to increase its residence rates from $12 to $16 a year. After a careful investigation of the operating conditions of the company and an analysis of its accounting system, the commission found that the company needed an increase in its revenue in order to maintain properly its service, and authorized an increase to $15 a year in residence telephones, instead of $16, as asked.
The Inter-County Telephone company asked authority from the Railroad commission to increase its rates from $12 to $15 a year, which the commission in an order issued Saturday grants. The commission finds, upon investigation of the company's operating methods and an analysis of it's accounting system, that the increase is reasonable. The company serves 371 subscribers with a grounded telephone system in sections of Pepin, Buffalo and Dunn counties.
75 Years
Wednesday, April 11, 1945
Want Playing Cards For Men in Service.
Have you any decks of used playing cards that you no longer want? If so, you can pass on a lot of pleasure to men in Uncle Sam's armed forces by passing these playing cards onto them. And the way to do it is easy. Dig out all the old decks of playing cards you have around the house, send or bring them to one of these places: Gas Company office, Trading Post, or Northern States Power Co. office. There the playing cards will be gathered by the Menomonie rotary club and sent to the distributing center and from there to the men in service. Thousands of decks are needed to meet the demand-cards for mock rummy, or finch, or other games, if you have them, but most of all the decks of regular playing cards. These playing cards must be at the collection places no later than Saturday, April 21. They will be shipped right after that. Don't delay-look for those cards today.
50 Years
"Flea Market" New Feature Of Swap Meet. Menomonie's first flea market will be a new feature of the Stout Antique Car Club's Third Annual Swap Meet to be held at the Dunn County fairgrounds.
A vintage auto display, antique auto rides for the children, old time movies and a wide selection of door prizes are also scheduled for the day long event. To kick off the festivities, an antique auto parade will wind through downtown Menomonie the preceding evening.
According to Ed Dyer, club president, the flea market will be patterned after those in Europe and will be a place where wares of all varieties will be for sale.
"Of course we'll have our traditional antique auto parts swap," he said, "but in addition, we encourage everyone to clean out attics, basements and garages right now and plan to bring old clothing, old dishes, old tools, old anything to the sale."
A "bigger and better" antique auto display has been arranged to include between 20 and 30 Model A's , Model T's, Studebakers, Chevys and weather permitting, a vintage Packard topped with a calliope owned by Gene Grengs, Eau Claire.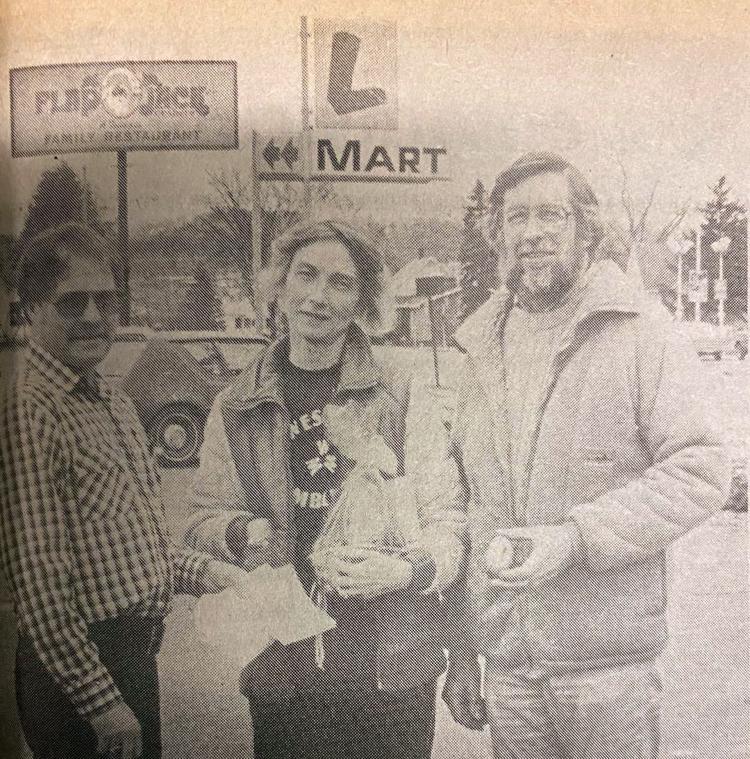 25 Years
Historically dry village votes to go wet: 128-112. Voters decided referendum questions on both the town and village of Elk Mound Tuesday. The Village voted 128 to 112 to allow Class B beer licenses, ending a long history of being a dry town. The vote allowed the retail sale of beer on or off the premises where the beer is sold. Class A licenses are allowed now, with the sale of beer for consumption off the premises. The main purpose was to allow the sale of beer at picnics. Any licenses would still have to be approved by the Village Board, according to Pat Hahn, village clerk.
The town of Elk Mound voted 47 to 98 against adopting the Dunn County comprehensive zoning ordinance in an advisory referendum. "A no vote on the advisory question will be an expression of opinion that the Town Board should not adopt the County ordinance and stay with the Zoning Ordinance that currently is in place," the ballot said.
15 Years
Women in Black mark anniversary. On Friday March 18, the Red Cedar Peace initiative and the Women In Black held a vigil in Menomonie to mark the second anniversary of the war in Iraq. In the cold and blowing snow, 50 people stood. As participants stood silently in line along Main Street, the names of Wisconsin soldiers killed in Iraq and Afghanistan were read slowly. Each name was followed by the ringing of a bell. This was a powerful portion of the hour. Some participants carried posters with photos of empty boots of soldiers killed and the total number of American soldiers killed so far in the Iraq and Afghanistan wars. Packets which included a flyer telling about the Department of Peace plus postcards and petitions asking Congress to support the cabinet level Department of Peace were distributed.
10 Years
City hopes to alter dangerous intersections. With more than four million licensed drivers in the state of Wisconsin, traffic accidents are and always will be part of life. Locally, a look at some recent data compiled for the city of Menomonie shows that two intersections stand out as the most dangerous within city limits. Although exact numbers of accidents were not available, the intersection of Pine Avenue and North Broadway near Walgreens has been the scene of between 41 and 65 accidents for the periods of 2002-2005 and 2006-2009. The other intersection is located at Main Street and South Broadway near the Acoustic Cafe. Menomonie Public Works Director Randy Eide says part of the issue is due simply to the number of vehicles coming through those busy intersections.
"We've been looking at the Pine Broadway intersection, and we'd like to improve visibility for traffic that is exiting Pine and turning south onto Broadway. A dedicated lane is something that might help." "Our main goal is to keep people safe," Eide said. "Another thing that we may consider in the future is a roundabout intersection." For now, city officials hope drivers are cautious and patient when traveling around Menomonie.
5 Years
Stainer leads young Mustangs.
The Menomonie softball team recently kicked off their season under new head coach Shanen Stainer.
The players will also be relatively inexperienced, as the Mustangs lost seven letterwinners to graduation last season. First team All-Big Rivers Conference selections Alexa Haltinner and Katie LaBuda have moved on, along with second-team honoree Shania Merritt.
Center fielder Alyssa Doughty is the lone returning starter from last year's team that went 15-8 overall and took third in the Big Rivers. Amanda Oebser, Sydney Merritt and Gabby Johnson return and will look to take on bigger roles this season. The Mustangs will rely on a number of talented newcomers this season.
Senior Haleigh Styer and junior Kayla Manor are in their first season as upperclassmen. Incoming underclassmen are sophomores Mikayla Stai, Gabby Johnson, Amber Ruchti and Kayla Steinmetz and freshmen Grace Braatz, Megan Manor and Sarah Stainer. "We are young with a lot of potential," Stainer said. "I hope to see us grow over the season." Despite the level of transition, Menomonie will aim to stay near the top of the Big Rivers. "I hope to see us give a lot of teams a good run for conference," Stainer said.
Be the first to know
Get local news delivered to your inbox!