135 Years
There will be an apron and necktie party at the rink, Saturday evening, Feb. 28, which the public is invited to attend. Each lady skater is expected to wear an apron and bring a gentleman's necktie to match, in a common letter envelope. The envelopes containing the necktie will be deposited at the ticket office, where, at the proper time, they will be drawn by the gentlemen, the latter taking for partners the ladies whose aprons match the ties drawn. Refreshments will be served during the event. Admission as usual. E.F. True, Manager
Charles Fitz Morris, an old and faithful employee of The Knapp, Stout & Co. Company, died at the sleeping barracks, Wednesday, Feb. 25, aged 55 years. Mr. Fitz Morris was a native of Ireland, and has been in the service of the Company fifteen years, having charge of the barracks most of that time. His life was characterized by industry, frugality and faithfulness to every duty. He was republican in politics and always took a lively interest in the success of his party. A consistent Catholic, he died in full communion with the mother church. He was without family ties.
125 Years
Some meddlesome crank in the post office department has issued an order changing the name of this post office from Menomonie to Menomonee. What earthly reason there is for making this change we cannot see the name has been written Menomonie ever since the old township was organized and it is retained as the corporate name of the city. For many years the post office department persisted in spelling it Menomonee until about six years ago Mr. J.R. Mathews, when he was postmaster succeeded in persuading the department to change it so as to conform to the legal name of the city, and the names have been identical ever since until this new order was issued reviving the old orthography. This order should be countermanded at once and the name of Menomonie retained for the post office and thus conform to the corporate name of the city.
100 Years
Ralph LaCount Acquitted. Man charged with murder of girl-wife found not guilty.
Ralph LaCount was acquitted in Minneapolis Friday of the charge of murdering his 16 year old bride, who was Madelyn Covell of Knapp, after a sensational trial which lasted a week. The body of the girl-wife was found in their cottage on the Winton estate at Lake Minnetonka last September. LaCount, who was the first to report the murder, was accused and tried on circumstantial evidence. At 11 o'clock Friday night the jury brought in a verdict of acquittal after conferring nearly seven hours. Judge Steele immediately issued an order freeing the defendant. LaCount was deeply moved. He was quickly surrounded by friends, including relatives of the dead girl, who were convinced of his innocence. No direct evidence was brought out to prove that he was guilty.
75 Years
$7,000 Back Pay Given Employees By Nestles Milk. Payment Made Upon Receipt of Approval from War Labor Board. As the result of the War Labor Boards approval, the Nestles Milk Products, Inc., of Menomonie has been able to give to its employees back pay in the amount of nearly $7,000, announces R.L. Lambert, manager of the plant. The back pay checks were issued to between 90 and 100 past and present workers of the Nestles plant on February 26, Lambert said. There are about 70 employed at Nestles now. Back pay is for the period from June 1943 to the present.
The Water Department of the City of Menomonie realized a net profit of $2,580.31 for 1944. This is shown in the annual report. Total operating revenues of the water department for 1944 was $33,580.41 and a total operating revenues deductions was $31,000.
50 Years
Dunn County Board Reports.
Park Proposal. It is proposed to establish a county park in Rock Falls, according to information received by the board. The program was advanced by the board of supervisors of the Towns of Peru and Rock Creek and the proposed site was formerly occupied by the Rock Falls feed mill which burned in late 1969. The site is on STH 85 and town officials said that in addition to providing a convenient roadside park for local and traveling public, it would preserve a historical landmark- the original dam at that point is the source of the village's name and the mill was one of the reasons for the establishment of the community. Present owner of the property is Durand Cooperatives and the firm is willing to deed the site to Dunn County for park purposes.
State Mandate. Because of a state mandate, the board approved the installation of teletypewriter equipment in the county jail. Cost of the installation is $25 and equipment will be rented from Bell Telephone Co. for $75 per month. This new communications system will be interconnected with the division of motor vehicles, the crime laborator, and other county municipal and government law enforcement agencies. The system, said the sheriff, will provide written records for court work and state-to-state communications.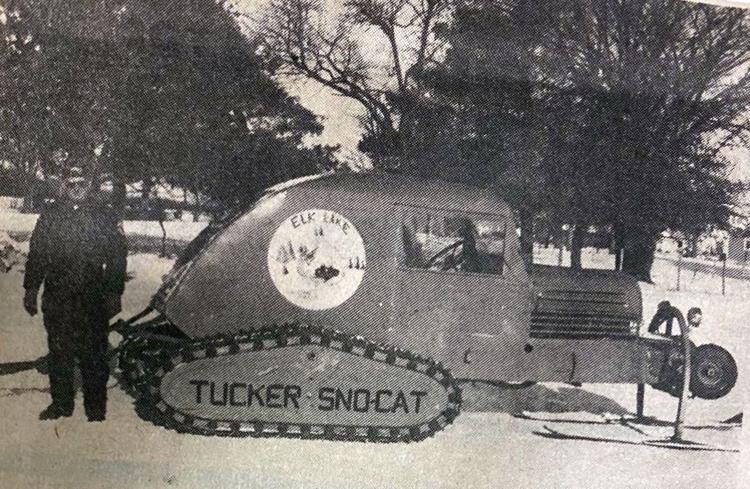 25 Years
Divers in Captain Don's winter ice-diving school went under the ice on Lake Menomin last week as part of their certification process. Each diver must do three winter dives in order to be ice diving certified. Divers in the class, which is taught by Don Chasan, learn how to cut a hole, work with ropes, lines and safety harnesses as well as how to function in a cold-water environment. " You should never dive without a safety harness and without somebody on top holding on," Chasan said. The benefits of ice diving include improved visibility. Visibility in Lake Menomin, for example, increases from 2.5 feet in the summer to 10 feet in the winter, Chasan said. Divers usually stay under the ice for a maximum of 30 minutes. With a dry suit they could stay longer. Five students are currently enrolled in the class. The students also plan dives in Perch Lake near Hudson and in Square Lake in Minnesota.
15 Years
EMS numbers released. The Menomonie Fire Department responded to 1,362 EMS calls, involving 1,269 patients, in 2004. That information was contained in the 2004 Annual Report, submitted to the Menomonie City Council. Ward 11 in the city of Menomonie was the most frequently visited, with 383 calls (28.12 percent of total) involving 378 patients (29.78 percent). Ward 1 had 157 calls, involving 148 patients, while Ward 2 had 129 calls, involving 120 patients. The Town of Menomonie was the top rural area, with 106 calls involving 96 patients. Myrtle Werth Hospital in Menomonie was the most frequent destination, with 812 patients, or 63.9 percent of the total. Luther Hospital in Eau Claire received 204 patients (16 percent), while Sacred Heart Hospital in Eau Claire received 32 patients (2.5 percent) and the Dunn County Health Care Center received 26 patients (2 percent). All other hospitals/facilities received less than 1 percent of the total patients.
10 Years
UW-Stout team qualifies for Rube Goldberg national.
Complex machine that dispenses hand sanitizer took 800 hours to complete. UW-Stout's first Rube Goldberg team has advanced to the national competition at Purdue University in West Lafayette, Ind. The team qualified by winning a regional recently at South Dakota School of Mines and Technology in Rapid City, S.D. It was one of eight regional in the country. The Rube Goldberg Machine Contest requires students to create a complex machine to solve a basic problem. This year, machines must dispense the proper amount of hand sanitizer into a hand at the end of their operations. U-Stouts Valley of the Kings machine had 120 steps and featured an Egyptian theme, including obelisks, a boat, a sphinx's head and catapults. "Aesthetically, we could tell ours was in a different league," said Ian Billings, a team member. "We received a lot of compliments." Team members are paying for the machine and competition expenses.
5 Years
Four highly-ranked Menomonie wrestlers will make the trip to Madison this weekend for the Division 1 WIAA individual state meet.
Two will go as sectional champions after taking first at the Eau Claire North Sectional. Hayden Schlough took first place at 126 pounds, while Mason Stokke won at 195 pounds. Stokke is ranked first in the state at his weight class and moved to 40-0 this season.
At 182 pounds, Josh Waddell was also ranked first heading into the weekend, but fell to Eau Claire North's Hunter Dahlby in the finals. Waddell and Logan Schlough both finished second to advance.
"They're all awesome kids " Menomonie coach Grant Peissig said." Great to work with as a coach. They're hard workers and they really listen." The meet will run from Thursday through Saturday at the Kohl Center in Madison.
"Exciting time of year" Peissig said. "You see where you're at with the best of the best. To me, that's why you compete, to see what you can do at this level." Peissig says that the key at this time of the year is to focus on the next step ahead of you. If you win enough of those steps, you can really accomplish something. "One match at a time, one period at a time, one point at a time,"Peissig said.
Be the first to know
Get local news delivered to your inbox!