Cattle Thieving. E.B. Manwaring did some good detective work last week. On Monday afternoon, June 22, a pair of fat steers were missing from his farm in the town of Hay River. That they had been stolen was beyond question and how to effect their recovery was the problem to be solved. Surrounding communities were notified and a vigorous search was instituted. Tuesday morning Mr. Manwaring went to Eau Claire and finally found them in a butcher's pen there. Investigation proved that the cattle had been stolen from the pasture and driven to Eau Claire Sunday night. Two men having them in charge applied to the Eau Claire butcher Monday morning and effected a sale. But after the cattle were penned and the men applied for their money, their contradictory statements made the butcher suspicious and he demanded that they bring some one to identify them. This they promised to do, but departing, failed to return, and have not since been heard from. Tuesday , Mr. Manwaring found the animals described.
Excellent clews have been obtained of the thieves, and there is strong probability that their capture will not be long delayed.
125 Years
August Teitz, of Connorsville, went to the Junction last Saturday to meet relatives who were expected to arrive on the western bound forenoon train. As the train swept into the depot, Teitz, who was near the edge of the platform, was struck by the endine, knocked down, his collar-bone broken, besides being otherwise cut and bruised in sundry and divers places. He was promptly cared for, his wounds dressed, and he was then taken to his home in Connorsville. He escaped from a horrible death is considered almost miraculous.
Mr. A Mullan is the oldest lightning rod man in Dunn county. He has made almost a life study of the business and has had many years of practical experience in the field. It is not every tyro that can tell a good rod from a poor one and not every agent can rod a building in a safe and serviceable manner. Mr. Mullan makes it a point to handle only the best rods and when he puts one on your building you have got a sure protector from damage by lightning. It pays to deal only with the best.
100 Years
Two children miraculously escaped death by burning in the C.P. Moe home west of the Omaha depot early one morning recently. Ruby, aged 7, and Lester, aged 12, were sleeping in a room with a lighted kerosene lamp on a chair by the bedside. It is believed that the lamp exploded, setting fire to the room, for the lamp was badly shattered. About 5 a.m. the crying of the children awakened the household. Harry Miller, who roomed in the house, approached the door of the children's room but it was burning and he could not pass through. He rushed around and entered the chamber through another room, breaking down a door. He seized both children and carried them to safety. Although the door, the chair and part of the bed clothes were burning the little ones were almost unharmed. Their hair was singed but they had no serious burns. A moment later their rescue might have been impossible and Mr. Miller is given much credit. The property damage was about $100. The house is owned by the Frank Carter company. There was no insurance on the furniture.
75 Years
Menomonie's post office is well on the way to a new record for volume of business in 1945, it is concluded, after figures for the first half of the year were released by Postmaster C.V. Porter. For the first half of the year the post office did business of all kinds totaling $31,123.40, Porter said. This compares with $25,667.87, amount of business done by the post office for the first half of 1944. The $5,464.53 increase, said Postmaster Porter, is due mainly to an increase in the amount of first class mail, the increase in the sale of stamps. Porter further stated that the increased volume of mail business given the local office by the Lakeside Aluminum company has helped to build an increase in the post office's volume.
Guy Harmon Added To Police Force. No stranger to citizens of Menomonie, Guy Harmon is the newest addition to the Menomonie police force. He fills a vacancy that existed for some time. All ranks of the police force are now filled., with the exception of that of desk clerk for which the annual city budget provided a salary. Menomonie's police force now consists of the following: Chief Fred Einum, Ass't. Chief Leonard Oas, and Policemen LeRoy Schultz, William Brunn, Harold Rogers, John Hanson, Guy Harmon and Lyle Knutson.
50 Years
The Menomin Trolls Water Ski Club of Menomonie will present two 24-act shows at Wakanda Park beach to highlight the water activities in conjunction with the Area Chamber of Commerce's July 4 celebration. Featured in the show will be kite flying, jumping, trick skiing, pyramids, ballet, mixed couples and clown acts.
Bruce Nevin, one of the outstanding water skiers in the country and a native of Menomonie, will be one of the headline skiers. One of the acts will be shoe ski jumping off a five-foot ramp. Charles Arneson and Jim Belden perform the stunt. Obtaining jumps up to 140 feet will be Nevin and Bruce Trimble. They will take turns hitting the six foot ski jump at speeds up to 35 miles an hour. Skiing barefoot will be Belden and Nevin. They will demonstrate a variety of tricks including "bomb-out" and deepwater starts. Dangling below from a kite 150 feet in the air will be Dan Close. Earl Knight will serve as master of ceremonies while boat drivers will be Mike Henderson, Don Nevin and Ray Knutson. Mike Lammer will provide the crowd with plenty of laughs as he pilots the club's clown boat in front of the grandstand throughout the shows. The Menomin Trolls, made up of 40 skiers, will run a concession stand at the beach.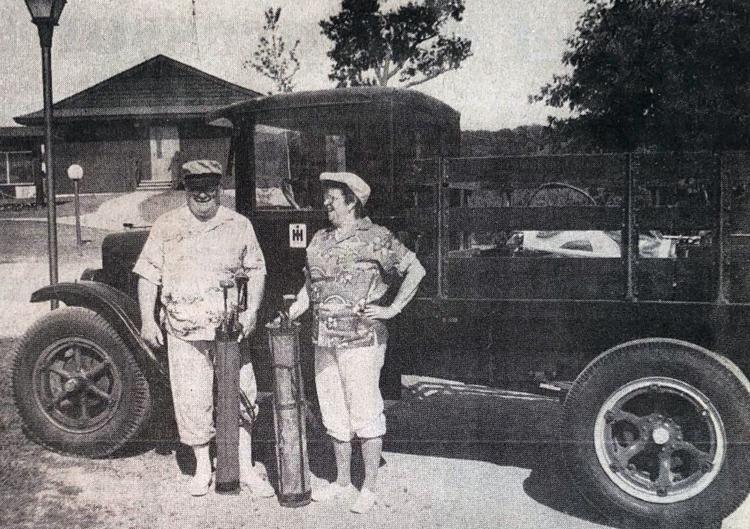 25 Years
Local boy pedals 168 miles for a good cause.
Four years after he first learned how to ride a bike, Neal Nelson decided it was time for a real challenge. Like most eight-year-old boys, Neal had made the rounds on his bike in his neighborhood in south Menomonie. Three times this spring he rode the 29-mile Red Cedar Trail loop with his father, Don. but that was just a tune up for the biggest ride of Neal's life. On June 10-11, Neal and his father took on the WCCO MS 150 Bike Tour, a ride that actually covered 168 miles from Duluth to Blaine, Minn. Neal did the tour on an 18-speed Schwinn Sidewinder S3 that he got in April. The bike has a pair of shock absorbers on the front wheel. Neal wore special hiking pants with added padding.
To enter the tour each rider needed to raise a minimum of $150 in pledges to help fight multiple sclerosis. Neal and Don raised $600 and all the riders combined raised over $500,000.
Neal said bike riding is one of his favorite sports and he would like to do other long tours in the future. He said he also enjoys golf, football, baseball, basketball, climbing and "building stuff."
15 Years
The 1995 Menomonie state championship football team will be honored at this year's opening football game on Aug. 26, at the Don and Nona Williams Stadium, as the game has been tabbed the '95 Championship Team 10-Year reunion Game.
It's hard to believe it has been 10 years since Paul Weiland walked around the corner to seal the state Championship game against Monroe in a play that most still call the greatest fake in state championship history. The '95 team will always be remembered as one of the closest knit Menomonie teams that overcame its lack of size and speed by playing together and with great desire. All team members who were on the varsity in '95 (seniors, juniors and the two sophomores) and the cheerleaders are invited back to be honored. Old radio play-by-play clips from the '95 season will play over the sound system during pre game and during each time out and at the end of each quarter. A post-game get-together will be held at The Great Escape "VFW"—Refreshments will be served and the '95 highlight tape will be played on the big screen.
10 Years
Local farmer reports remarkable corn growth
Not only do Lyle and Jacqueline Finder plant lovely, colorful flower gardens around their rural Menomonie farmhouse, their front yard also sports a fine, healthy and unusually tall patch of field corn.
The usual measure of a successful corn crop is "knee high by the Fourth of July." On the morning of June 27, the Finders report that some of their corn was already 58 inches high at the topmost leaf bend. The next day, it was 66 inches high. Forty-eight hours later, it had stretched out to an astonishing 72 inches. "We've never seen anything like it," Jackie declared. Planted on April 28, Lyle explains, "This is just a small plot of six total fields of 63 acres. It's progressed quite well this year. Spring was effective, and I think we'll probably see some tassels by the Fourth of July." The Finders live about five miles west of Menomonie on a farm that was started by Lyle's father in 1944. "I'm sure there's corn east of Menomonie that's as tall," Lyle said. "It's a good year so far. Just enough rainfall to bring us through, I guess." The corn he's raised is a 95-day variety that when harvested will probably go to the ethanol plant outside Wheeler.
5 Years
This spring, second graders at River Heights Elementary School got a sampling of what it was truly like to live as pioneers. Thanks to a mini grant provided by Arts Integration Menomonie (A.I.M.), students were able to go beyond studying this significant part of American history, and actually perform it as a piece of live theater.
As part of a Social Studies unit, Rachel Kelm's second graders researched what it was like for Americans to settle the west in the mid 1800's. After visiting the Dunn County Historical Society and using their learned historical facts, students wrote dialog and developed characters. They also learned storytelling and drama skills with the assistance of Kris Winter, the owner of Paper Cow Theater. Students performed scenarios such as traveling west on the wagon train, settling on the prairie, family life, and a typical day in a one-room schoolhouse. As a backdrop, illustrations created by the students were projected on a screen.
For many of Kelm's students, the highlight of the experience was creating and acting in a play.
Through the mini grant, the school was able to purchase aprons, bonnets, suspenders and straw hats for students to wear during the plays. These period costume pieces will remain in the classroom for future students to experience similar arts integration projects.
Be the first to know
Get local news delivered to your inbox!