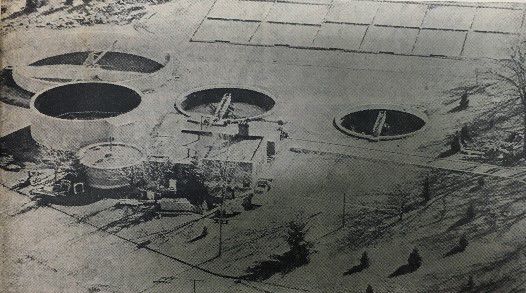 135 years
A first-class boarding house has for a long time been in urgent demand here, and the News is glad to be able to state that the demand is now likely to be satisfied.
Mrs. E. A. Terry, corner Eleventh and Elizabeth streets, will, about the first of April, open her house for day and week boarders, at prices that will correspond with the accommodations offered.
The house is pleasantly located, the rooms all newly furnished, and having had experience in the business, Mrs. Terry is confident of her ability to please those who may see fit to give her their patronage.
Should any of our readers be in search of a quiet, pleasant boarding place, the News is of the opinion they will scarcely find a better one in Menomonie.
The beautiful weather of the past week has had a magical effect on the industries of the city. The real estate market became at once active with a tendency to an advance in prices; work began on new houses in every direction; carpenters, masons and painters were in demand; the merchants prepared to display his most attractive spring goods; the housewife valiantly tackled the semi-annual task of house-cleaning, and everywhere were unmistakable evidences that winter's icy grip is broken, and that spring has come at last.
125 years
Dow Hobbs, who was taken to the insane hospital at Mendota from this county about six weeks ago, died in that institution last week. He leaves a wife and several children who are now living in this city in destitute circumstances.
Undersheriff Cronk took Monroe Bartlett, sentenced to state prison for two years for the crime of bigamy, to Waupun the first of the week.
Miss Blanche Jobes, who has been in Eau Claire for medical treatment for the past two weeks, submitted to a dangerous surgical operation for an abcess back of the ear beneath the cranium. The operation was successful and her friends will be glad to know that she is now likely to recover her health.
Patsey Dugan has quit railroading and will go into the grocery business at the stand occupied by Carl Foss, on Main street. Mr. Foss has rented the corner room in the Heller block and will transfer his business to that point.
100 years
Dunn County is now in the midst of a recurrence of the epidemic of Spanish influenza which swept the county last fall and in the early winter.
The predictions of the medical authorities who warned against a return of the disease this spring have come true. In Dunn County the disease seems to have taken a stronger hold in the rural districts than in the city. Menomonie physicians are treating many cases, most of them outside the city.
The districts where the malady are most prevalent are the Eau Galle country and the northern portion of the county. In both these sections many rural schools have been closed and the ban has been placed on public gatherings.
Local doctors report from fifteen to thirty-five cases each, located principally outside the city. One physician said the greater number of his patients were on the Hudson and Ridge roads.
It seems to be the general opinion that the disease is not in as malignant a form as in the earlier epidemic, for while many cases run into pneumonia the percentage that are fatal is not so high. Nevertheless several deaths from pneumonia are reported and other patients are in a serious condition.
At one office it was said that the pneumonia complication seemed more frequent in children's cases than in those of adults, and recoveries were the rule thus far.
75 years
Wednesday, March 29, 1944
R.A. Rommelmeyer, who has been associated with the Kraft State; Bank for 23 years, has tendered his resignation as cashier to the board of directors, to take effect April 1. He states that the board of directors has not accepted his resignation, but he expects it will do so at its next meeting.
Mr. Rommelmeyer states that, in all probability H. B. Hendrickson, assistant cashier, who has been with the Kraft State Bank for 21 years, will be named by the directors as his successor as cashier. In regretting that he has decided to leave the banking business and an institution with which he has been associated for nearly a quarter of a century, Mr. Rommelmeyer feels the need of a change and for this reason takes this step.
Mr. Rommelmeyer has decided to open an office in this city and will be prepared to assist farmers, business men and individuals in preparing their income tax returns and estimates. As the need arises, he will in other ways serve the public for which his long service in the bank has given him the experience that is needed.
He hopes, to meet old friends and make new ones in this venture. His location, will be on 6th St., directly across, from Bakken's Market.
50 years
Wednesday, March 26, 1969
The Arland Yanks of Prairie Farm walked off with first place in the 12th annual 32-team Prairie Farm Dartball Tournament which came to an end last week.
The Yanks, captained by James Rassbach, Prairie Farm, were followed by New Hope Lutheran of Menomonie. Finishing third in the championship bracket was the Maple Grove Stars of Chetek and fourth place went to Hatchville.
Consolation honors went to Maple Grove Braves.
Larry Schott, Hillsdale, is the captain of the team. Peace Lutheran of Menomonie was runner up in consolation while St. Paul's Lutheran No. 1 was third and St. John's Badgers of Cameron fourth. The Maple Grove Stars also received the high score trophy for tallying 19 runs in one game.
Thieves Put Local Rock Band Out of Business: City police are investigating the theft of musical instruments valued at $1,880 from the basement of the Hotel Marion.
According to the police report, four youths reported their equipment was stolen sometime between Tuesday, March 18, and Saturday, March 29.
Dan Johnson, 1815 North Broadway, city, reported that a Vox amplifier valued at $650 was missing.
You have free articles remaining.
Stolen from Jim Beldon, Hotel Marion, was a $600 organ and a guitar valued at $50.
Bill Smith, Rt. 2, Colfax, stated a $150 bass amplifier and an $80 bass guitar has been taken and Ron Braker, Rt. 6, citv, indicated a $350 guitar was missing.
25 years
If financing can be arranged, Phillips Plastics Corporation plans to construct a $6 million facility this summer in the Stout Technology Park.
The 41,000 square foot "Origen Center" will have three missions training, production and incubator, according to Paul R. Hoffman, director of the park.
Hoffman addressed nearly a hundred community leaders Wednesday at an informational meeting at Gary T's Restaurant hosted by Menomonie Mayor Charles (Chuck) Stokke.
Contacted after the meeting, Richard J. Stoltz. Phillips' vice president of human resources, commented, "We are aggressively pursuing financing.
"Our plans are to begin the project this summer," said Stoltz, who was accompanied by Aron J. Yngve, Phillips' vice president of international.
Although there have been some relocations, Hoffman said 52 persons were employed by facilities within the park at the start of the year and the annual payroll was $1.54 million.
By the end of this year, estimates say 73 persons will be employed full time in the park and the payroll is pegged at $1.93 million. By December 1995, these numbers are predicted to hit 101 full-time employees with a $2.42 million payroll.
The park covers 93 acres and includes 33 lots. Hoffinan said three lots were developed as of March 1994 and four more lots are targeted for development this year. He said the Origen Center would require an approximate 12-acre parcel.
15 years
Construction for a new residence hall on UW-Stout's north campus is slated to break ground this spring.
C.W. Smith, a construction company from Fond du Lac, has been awarded the contract for the project.
The new building will be a 296-bed residence hall with 75 suites, each containing four-single bedrooms, a kitchenette, living area and bathroom facilities. On each of the building's five floors will be a laundry room, recycling center, and full kitchen/lounge area.
The residence hall will offer several meeting rooms, an activities room, vending areas and other amenities. The new hall will be built on what is currently a parking lot located between First and Third Avenue West and Second and Third Street West.
This location is located west of the three current residence halls — Fleming, Hovlid and Wigen. The estimated cost of this building is $16.6 million and will be funded by user fees, not taxpayer dollars.
The new residence hall will replace the aging Jeter-Tainter-Callahan Hall that will be demolished in the next few years.
Plans are for the residence hall to be completed sometime in the summer of 2005, to be ready for new residents that fall.
10 years
Wednesday, March 25, 2009
Wisconsin deer hunters responded in a big way to the Venison Donation Program, delivering and donating 9,200 deer to 126 participating meat processors in 52 Wisconsin counties.
After processing, the donations provided more than 414,000 pounds of ground venison that was distributed to food pantries throughout the state.
Wisconsin hunters embrace a strong ethic against taking game that will not be eaten, say wildlife managers.
At the Dunn County Fish and Game's January meeting, Ron Fry reported for his committee on the status of the club's venison for the needy program. His committee — made of members, Leonard Frank, Joel Radke, Jake Evan and Ben Evan — distributed 3,288 pounds of ground venison to the needy in cooperation with the Interfaith Volunteers of Dunn County, and the Boyceville Food Harvest Ministry, also Colfax Methodist Food Pantry.
At the time, there was still venison to be collected from cooperating processors. Dunn County meat processors cooperating with the donated venison program included Bri's in Colfax, Downsville Meat Processors and Grossbrier Meat Service south of Elk Mound.
Lammer's Food Fest donated freezer space, helping to make the fall 2008 program possible and very successful.
5 years
Wednesday, March 26, 2014
The Wisconsin Association of School Boards is proud to announce that the Elk Mound Area School District has been selected as a winner in the 2014 Magna be Award program sponsored by the National School Boards Association's American School Board Journal.
Elk Mound being recognized in the honorable mention category for the district's board leadership efforts to improve technology in the district.
Through the board's support, the Elk Mound Area School District has implemented a modern, effective and accessible technological presence at its schools.
Each year the school board designates dollars to its short-range plans, which, in recent years, have included purchasing and installing an underground fiber network with a direct link to the internet connecting to multiple platforms available for students and staff.
"The school leaders in Elk Mound have shown the state what a district can accomplish through a focus on sound governance at the school board level," said WASB Executive Director, John Ashley. "I also applaud the administration and school board's focus on providing its students with the technology tools necessary to succeed in today's world."
The awards were initiated in 1995 to recognize school boards for taking the bold and innovative steps to improve their educational programs. An independent panel of school board members, administrators, and other educators selected the winners from nearly 250 submissions.
Sofi Doane is the Collections Manager for the Dunn County Historical Society. She can be reached at 715-232-8685 or dchs@dunnhistory.org