135 Years
A Timely Warning. Whenever the circus comes to this city there is usually an ample illustration of the old saying, "the fools are not all dead yet." It is well known to every observing man that these itinerant shows are followed from place to place by a gang of fakirs, mountebanks and petty swindlers, whose sole mission is to beat every man out of his money who is green enough to invest in their little game. They have nothing to do with the show, and the managers are in no way responsible for their acts. In fact, proprietors of great traveling menageries would be glad to rid themselves of these roving rascals if they had the power to do so. The persons really responsible for the presence of these sharps are the idiots who patronize them. If the crop of fools and greenhorns were not so large and so ripe there would be no reapers in that field. It is doubtless a waste of words to warn such people, but we feel it our duty to do it, though it may pass unheeded. Bear this in mind; "Don't bet a nickel on another man's game." Come to the circus, buy your ticket, see the show and have a good time. But keep clear of this outside gentry who do business on street corners.
125 Years
Durand Courier: The marvelous and yet unknown manner in the lower animal kingdom with which they communicate with each other and with different species is often illustrated in fact without unlocking the great storehouse of knowledge. Intelligent communication is not confined to animals of the same species. Hollis Griffin, of Waterville, owned a cow that every morning, for quite a period of time, when found in the morning had been milked nearly dry. The matter was a great mystery with Hollis as he could not conceive that any of his neighbors would be guilty of the base act. The irate proprietor determined to find the thief and in pursuance of that project he arose one morning very early and watched. In the cow yard was a stump that arose about one foot from the ground. On the flat surface of the stump a small pig was mounted, and at a sign the cow came over to the stump and his pigship was soon rewarded with a good breakfast of fresh milk, but being found out proved fatal to the project, and both pig and cow showed their disappointment.
100 Years
Ready For Big Ceremonial. The Independent Order of Odd Fellows will take possession of Menomonie Saturday night, May 29. Several hundred visitors will be here from many cities of Northwestern Wisconsin, besides the crack North Star Degree team of Minneapolis. The festivities will begin with a baseball game between the Eau Claire I.O.O.F team and the Menomonie I.O.O.F. team. The big parade will start at Co. H armory and traverse Broadway and Main street. The order of march will be as follows: Ludington Guard band, Degree staff of Minneapolis, consisting of forty-five members; forty candidates for initiation from many cities, members of visiting lodges in regalia, the home lodge in regalia.
The meeting at the armory will be called to order at 8:30 p.m. This will be for members of the order only.
Initiation ceremonies will be carried out and first degrees will be conferred. To members this will be an occasion of the first importance, as the work will be put on by men famous throughout the country for the skill with which they conduct ceremonials of this kind.
75 Years
Gets Big Northern. While casting with a dare-devil bait near the "Target of Stumps Slough" of Lake Menomin, Ronnie Wolske hooked a big one Sunday. Just as he started to reel in after a long cast, there was a sudden swirl of the water and a sharp tug on his line. He knew that he had hooked something big, but it was not until he had reeled it within 15 feet of the boat that the angler knew he hooked a northern pike and he saw how big it was. It took him about 20 minutes to land his catch during which time he had to give out line a number of times, managing to draw the fish close enough to the boat for his brother, Lawerance, who was with him to grab the fish and haul it into the boat. At the moment the anglers figured their prize catch would weigh about 14 pounds. It was not until they got home and checked its weight on Dedrik Berg's fish scale that they found it weighed 13lbs and measured 40 inches.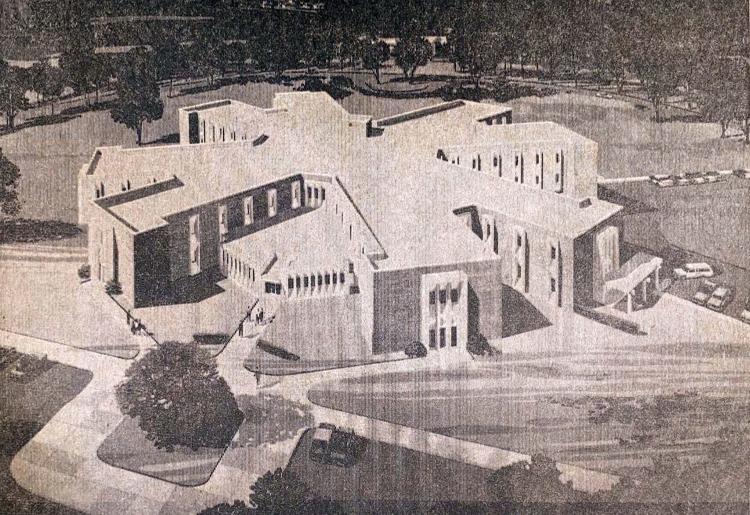 50 Years
Police Looking For Man Missing Since Thursday
The whereabouts of Carl Knippel, 68, 1302 Eighth St., Menomonie, is still being investigated, Menomonie Police Chief Vernon Green said late Tuesday afternoon.
Knippel was last seen by his wife when he left to get a haircut at 2:30 p.m. Thursday, May 21. Police were notified at 11:56 p.m. Thursday by Knippel's wife that he was missing.
According to the police report, Knippel, who was walking, never did arrive at the barber shop and did not report for work at Memorial Hospital, where he is employed as a housekeeper, Thursday night.
Knippel is 5'4" tall and weighs 185 pounds, has partially grey hair and may be wearing dark rimmed glasses. When he was last seen he had on a grey jacket, grey hat, dark trousers and a black and red shirt.
Anyone seeing a man fitting this description is asked to contact the police department, Chief Green said. The police chief also asks that both city and rural residents check outbuildings on the properties. Authorities were unable to locate a person fitting Knippel's description who was reportedly seen walking along USH 12 and STH 79 west of the city.
During the weekend a search of Lake Menomin, the Red Cedar River and Galloway Creek failed to turn up any leads in the case, Chief Green said. Airplanes, boats and canoes were used in the search. Mr. and Mrs. Knippel recently moved to the city from Milwaukee.
25 Years
Home of world's largest pothole?
It's a pothole to end all potholes. A compact car could literally be swallowed up in this fissure.
Engineers from Cedar Corporation were doing some detective work with remote video cameras inside city sanitary sewers Friday to determine what caused the mammoth hole under the westbound passing lane on Interstate-94, discovered Thursday afternoon.
By the end of the day, they had determined that there were no leaks in the pipes, and the cause of the hole remains a mystery.
Dunn County Highway crews discovered the 22-foot-Long, 11-foot-wide and 4 to 6-foot-deep hole after trying to patch a small pothole near the westbound 42½ mile marker.
"There was a little hole there and they patched it," M.O. Brenden, Highway commissioner said.'The patch settled out, and they patched it again. When they checked Thursday, it had opened up right at the center of the highway. We got out there and looked at it, and it turned out , there was a void under the passing lane four feet deep."
"It was something we were monitoring very close," Brenden added. "Normally when you fill a pothole you are done with it." The Wisconsin State Highway Patrol was alerted about 3 p.m., and traffic was routed onto the shoulder while Dunn County crews filled the void with sand, using water pressure to force it in, compacted it, then patched the area with base course and bituminous material, according to Brenden.
"We had a man monitor it all night long," Brenden said. "Right now everything is holding."
There are city utilities going under the highway at that point, Brenden said, which could cause some problems. Based on what crews find with their video camera search inside the lines, crews will make permanent repairs.
"That void could have been under there for years, Brenden said.
15 Years
As superstores and mega-malls take over the retail landscape, it's getting harder to find a good, old-fashioned men's store or ladies' dress shop. The kind of place where the owner and sales clerks not only know your dress size or inseam, they remember to ask how your Dad's doing since he retired, whether your sciatica is still giving you trouble, and where your kid is going to college next year.
And in a few short weeks, that rare and precious commodity will become even more difficult to find as Coffin's Department Store closes its doors for good after 46 years as a fixture on Menomonie's Main Street.
Owner Jim Coffin, 58, is calling it quits. "It's not fun, like it used to be," he explained. "It's time to get out."
He remembers well and misses the days when all the downtown merchants knew each other and Main Street bustled with activity. But as Stan, his father and the store's founder, faces serious health problems, Coffin recognizes the wisdom of getting out while the "getting" is good.
Of course, it also doesn't hurt that he'll have more time to indulge his twin loves of fishing (musky, in particular — "Is there any other kind?") and hunting, accompanied by his faithful sidekick Buddy, an 11-year-old Golden Retriever.
In the time between serving customers during the store's going out of business sale, he'll begin to dismantle and clear away the detritus that has accumulated over nearly half a century. The deer heads and stuffed fox that have kept an eye on the men's department will find a new home. The postcards, photos and cartoons that decorate the post by the cash register will be filed away.
But someday very soon, Jim Coffin will join the Dragon Milk Gang for coffee before heading to the nearest fishing hole to wet a line and catch the next big musky.
10 Years
Dunn County Sheriff's Office mobilizes for 'Click It or Ticket'
The Dunn County Sheriff's Office will increase its safety belt enforcement patrols during the annual Click It or Ticket mobilization from May 24 to June 6. More than 300 law enforcement agencies in Wisconsin are expected to participate in this year's Click It or Ticket — the nation's largest safety belt enforcement and education campaign, according to Sheriff Dennis Smith
"All too often, our officers respond to crash scenes where people are needlessly killed or critically injured because they were not buckled up," Smith said. "That's why we are serious about safety belt enforcement. We are reminding motorists that a change in state law last year allows our officers to stop and ticket unbuckled drivers and passengers even if we did not observe another violation.
"We hope that our enforcement efforts during Click It or Ticket and throughout the year will motivate people to buckle up so that we can reduce the number of preventable traffic deaths to zero in Wisconsin," Smith added. "But if voluntary compliance fails and people continue to ignore the mandatory safety belt law as well as common sense, we will ticket them." Law enforcement agencies throughout the state are down on unbelted drivers and passengers.
Last year, convictions for failure to fasten safety belts exceeded 100,000 for the first time in state history. Safety belt violations were approximately 12 percent of all traffic convictions in 2009.
5 Years
Longevity, Thy name is JoAnn Kadinger.
Menomonie city clerk retires after 22 years on the job.
When JoAnn Kadinger interviewed for her first job with the City of Menomonie, City Clerk Vada Husby told her she was looking for somebody who would stick with it for at least five years, Well, it appears that "Longevity" could be Kadinger's middle name. She's been a city employee for 34 years—22 of them as city clerk. On Friday, she marked the end of her career as a dedicated civil servant as she heads into life as a retiree.
Gone will be the days of overseeing elections, taking minutes at city council meetings, writing ordinances and resolutions, issuing licenses and all the many detailed jobs that go with being what she calls "the keeper of the documents." Ahead will be time with her family including two young great-granddaughters, joining the ranks of snowbirds and escaping winter's chill, creating photo slideshows on her computer, and best of all, retiring together with her husband, Dick.
Seven have served. Talk about longevity! Since the City of Menomonie was incorporated in 1882, only seven have served as city clerk. Here's who they are and their terms of office.
J.R.Mathews-1882-1885. O.N.Tweet-1885-1904. Frank W.Rowe-1904-1931. Alice Kemey-1931-1964 Vada M.Husby-1964-1983. Anita K.KIamm-1983-1993. JoAnn L. Kadinger- 1993-2015.
Be the first to know
Get local news delivered to your inbox!