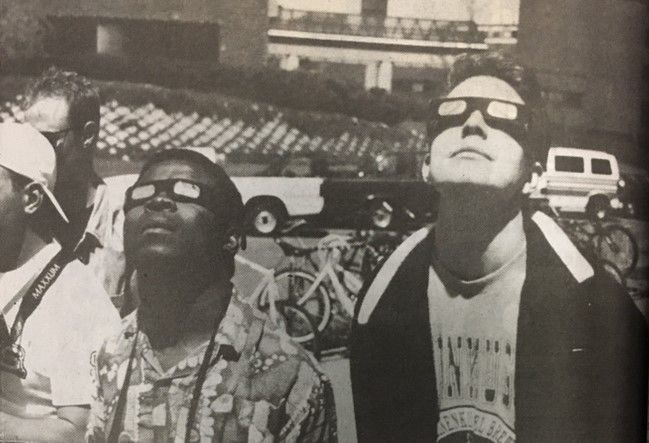 135 years
A bloody affray took place at Prairie Farm last week Friday evening between a couple of log driving crews, in which Mr. John Downs and son Mack, well known in this city, were severely injured.
It appears that the quarrel began over the right to the possession of a certain tent, it being claimed by Mr. Downs (who has a charge of a crew,) for his men, and also by three brothers named Broton who belonged to another crew.
Hot words were followed by blows, and the result was that Mr. Downs, senior, was struck over the head and severely injured with a peevey in the hands of one of the Broton men, while his son, Mack Downs, received three or four stabs in the back and side from a common table fork wielded by another of the Brotons.
Our informant, Mr. Geo. Sprague, understood that the Brotons were the aggressors and that the attack was brutal and uncalled for.
The injured men, while temporarily disabled are not suppose to be dangerously wounded. No arrests have been made.
125 years
Druggist Ranum has had a tank of Fisher's root beer on tap, free for his patrons, this week.
Wm. Messner is shingling his residence on Main Street with red cedar shingles—an innovation in this community.
J. M. Ingraham has sold his lease of the Hotel Royal to H. A. Welch of Augusta, and retires from the hotel business. For the past five or six years Mr. Ingraham has successfully conducted this well known caravansary and retires now with the best wishes of a large constituency.
His successor, Mr. Welch, is a gentleman who has had considerable experience with uniform success in hotel management. A dozen years ago he kept the Knapp Stout & Co. Company boarding house at Cedar Falls.
From thence he went to Augusta to a larger field and he now comes to Menomonie and enters a still broader arena.
His familiarity with the business and his affability will win popularity and we predict increased fame for the Royal under his administration.
100 years
Bern West, a cattle buyer of Boyceville, went over the lake bank just east of Anderson Bros.' cigar factory about noon yesterday, his Ford car careering to the bottom and being badly damaged.
Will Marlett, who was with Mr. West, jumped from the car when half way down the incline, as it passed over a level spot where a building once stood.
One hand was slightly scratched. Mr. West remained in the car until it hit a tree and toppled over at the bottom, but luckily was uninjured.
The men were traveling west in the car and when near Anderson's factory started to turn around. Mr. West says the steering gear failed to work just as he was going north toward the bank.
Unable to right the car in its course he applied the brakes and the pavement showed the trace of the wheels as the car slid rapidly over the top.
Garage men with tackle hauled the car to the street and it is now undergoing repairs.
75 years
Menomonie's water tank, the bulky reservoir in which the city's water supply is stored, will be painted outside and inside and be put in A-1 condition by the Lane Company of Barron in the next few weeks.
This was decided by a vote of the city aldermen at their weekly meeting on Tuesday evening.
A. E. Johnson, superintendent of water works, told the council that the tank is 60 years old and has not been painted inside for 10 years. Mr. Lane was present at the meeting and stated that it would be best to paint water tanks inside at least every other year because the interior of such a tank is the important part of it.
The job will be done by the Lane company by the hour pay system, with the city paying the cost of materials also.
Mr. Johnson asked after the council meeting said the job may cost as much as $1,000 but it is essential and must be done to preserve the tank.
50 years
The Dunn County Highway Committee, meeting May 6 and 15, purchased seven pieces of equipment at a net cost of $16,717.
Low bids were accepted in all transactions. Richartz Implement Co., city, will provide three IHC truck chassis at a total cost of $12,035. Two truck chassis with a GVW of 27,500 pounds will cost the county $9,250.
The gross price was $15,102 and the firm gave a trade-in allowance of $5,852 for two used trucks. Richartz will also supply one truck chassis with a GVW of 14,000 pounds for $2,785.
A John Deere tractor and flail-type mower were purchased from Northwest Equipment Co., Eau Claire, at a net cost of $2,412. The gross price was $4,782.29, the firm allowed $2,532.29 for a used tractor, and $162 was added for larger tires.
Richartz also submitted a quotation for this equipment and the net price was $2,734. His gross price was $5,018.54 and he made a $2,284.54 allowance for the used unit.
Two five cubic yard Anthony truck bodies and hoists were obtained from Ostrom Sales Co., Rice Lake, for $2,270.
You have free articles remaining.
The committee voted to purchase the season's requirement of road oil from Northwestern Refining Co., St. Paul. The company submitted firm prices, subject to lowering only, and the county will pay 10.45 cents per gallon for slow cure oil, 11.45 cents for medium cure, and 11.70 cents a gallon for rapid cure oil.
25 years
A young black bear ventured into Menomonie Friday, took a swim in Lake Menomin and a short tour of the east side of town — and left.
Menomonie Police Chief Dennis Beety said his department received a report of a bear in North Menomonie Friday morning but officers were unable to confirm the sighting.
At about 12:20 p.m., another report was called in about a bear sighted on the 500 block of 18th Street, in the
Elmwood subdivision north of Stout Road. Workers at Ace Hardware reported seeing the bear.
"We think the bear might have swam Lake Menomin" from North Menomonie to the east-side neighborhood, Beety said.
Five officers were called to the scene along with Department of Natural Resources officials to assess the situation.
"We were able to herd it toward a ravine behind 3M and it headed out of town," Beety said. "It traveled back to where it came from. It harmed no one."
DNR Wildlife Manager John Cole said that the bear was probably a yearling or perhaps a two-year-old who just left its mother's den and was simply wandering around out of curiosity.
"It's not unusual that young bears wander into town this time of year. Generally, our policy is to leave them alone and just keep an eye on things" when bears wander into populated areas, Cole said.
15 years
Despite a lawsuit, ground has been broken for the ethanol plant that is being constructed along Highway 170 between Wheeler and Boyceville.
Western Wisconsin Renewable Energy Cooperative held the groundbreaking ceremonies Tuesday morning at the site. WWREC is moving forward with grading and clearing in preparation for building the fuel grade ethanol plant.
Approval for the plant was granted by the Dunn County Board of Adjustment on Nov. 18, 2003.
At the event were State Secretary of Agriculture Rod Nilsestuen, State Senator Dave Zien, State Senator Sheila Harsdorf, State Representative Jeff Wood and Dunn County Board Chair B. Jane Hoyt, as well as representatives from the DNR's Clean Air Program.
Dunn County Concerned Citizens has filed suit to prevent the county from giving WWREC a permit to construct the plant.
The matter is currently in St, Croix County Circuit Court.
When and if constructed, the plant will have a designed capacity to produce 40 million gallons of ethanol per year from 15 million bushels of locally-produced corn.
10 years
Summer-like temperatures and wind gusts of up to 45 miles per hour blew through Menomonie Wednesday, leaving downed power lines and fallen trees in its wake.
At about 12:45 pm a live power line was reported down on First Avenue behind the Cenex East gas station and convenience store. Sparks were observed, and Xcel Energy was notified.
Just over two hours later, a report came in that a tree had fallen on a house in the 1300 block of Eighth Street East. The witness noted the tree was resting on power lines, but the lines were not broken.
There was no apparent damage done to the house. Xcel Energy was contacted —again.
Police were alerted to a low-hanging wire behind Jeff's Pizza on South Broadway in Menomonie early Thursday morning. Trash pick-up service was notified so as not to cause additional damage.
A sanitation worker stood on the back of his truck and tied white plastic bags to the wire to alert other motorists about the low wire. According to a police report, it took a Menomonie streets crew less than a half-hour to respond to a call that a "good-sized tree" was lying almost completely across the roadway on Hofland Road early Thursday.
The tree was removed at about 5:30 a.m. without incident.
5 years
Six American veterans will be honored at a Memorial Day service at the Dunn County Potter's Field Cemetery in Menomonie.
It is the first known instance of an honor guard paying tribute to the veterans buried there.
Following a welcome from the AMVETS Post 72 Commander and a message from the Post Chaplain, a military honor guard consisting of members of AMVETS Post 72, the Veterans of Foreign Wars and the American Legion will fire the ceremonial Three-Volley Salute (often referred to as a 21-gun salute) over the unmarked graves of the six veterans.
The ceremony will conclude with the playing of "Taps."
The six veterans buried here are: John Hannon, Fred Hutton, Andrew Johnson, James Mulligan, Paul A. Topp and Daniel M. Weaver.
Their graves are unmarked and their surroundings are humble, but they've earned our nation's gratitude.
The service will take place at the Potter's Field Cemetery approximately one mile east of Menomonie and is scheduled to last about 30 minutes.
The Friends of Potter's Field are dedicated to the pioneers of Dunn County and Menomonie, who though indigent, or ill or just plain unlucky—still deserve an appropriate burial ground. This volunteer group works to develop appropriate identification, access, signage and maintenance of the Potter's Field Cemetery.
Sofi Doane is the Collections Manager for the Dunn County Historical Society. She can be reached at 715-232-8685 or dchs@dunnhistory.org