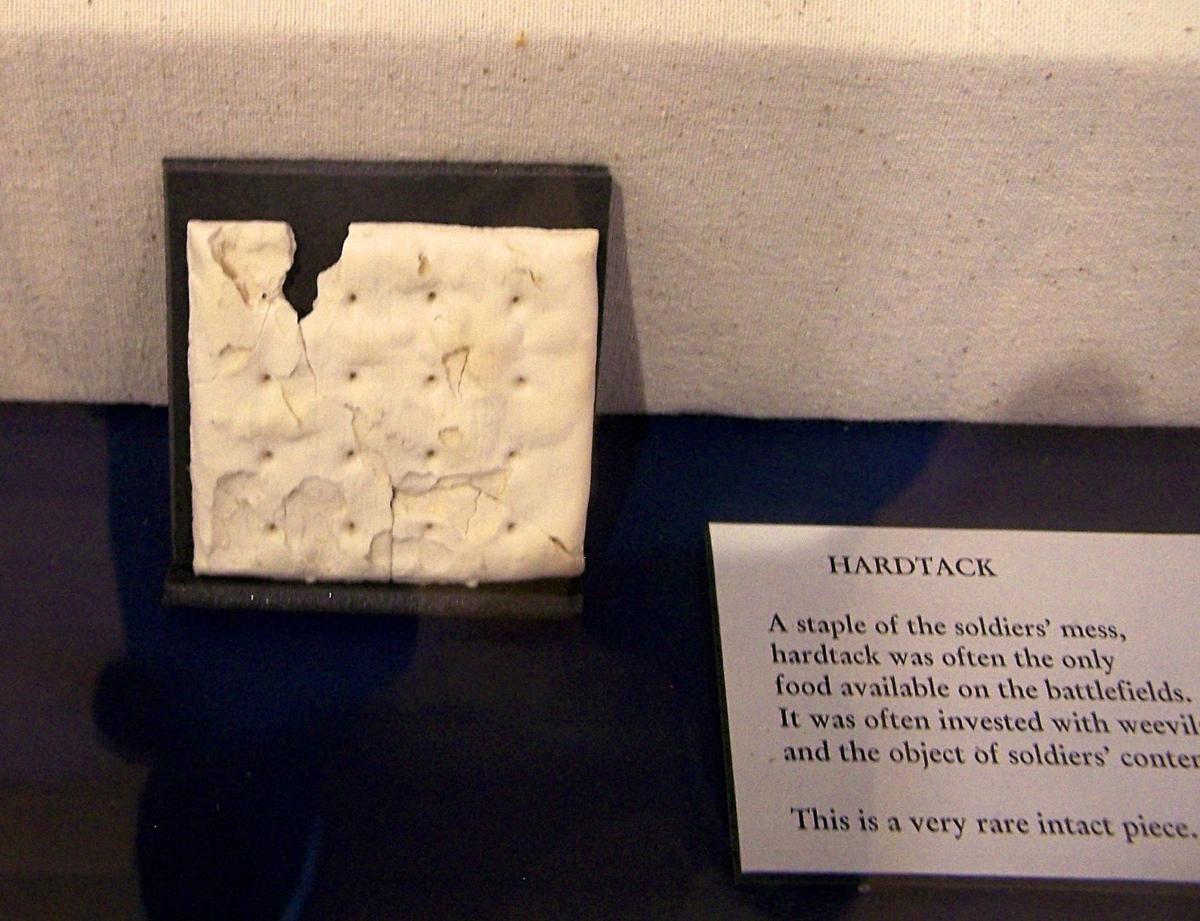 What is hardtack? Hardtack is a simple biscuit or cracker made from water, flour and sometimes salt.
The purpose of hardtack was as a food on lengthy military campaigns such as the Civil War.
To our Menomonie boys of Company "K," hardtack was a staple of their diet, sometimes being the only thing they had to eat.
Hardtack had some interesting names. It was referred to as dog biscuits, molar breakers, sheet iron, tooth dullers and worm castles. The later was sorrowfully, more often than not true.
The photograph of the hardtack is a rare intact example of this tasty treat.
It more than likely came from one of two places. It may have been in the possession of one of our brave boys, or it was part of a barrel of hardtack made for a later-held reunion.
Let's use our imaginations and assume that it was in the possession of one of our troops. Did our piece of hardtack experience the Battle of Gettysburg? What stories could it tell us about that epic confrontation?
Was it with the Wisconsin troops in Washington when President Lincoln and Julia Ward Howe reviewed the Wisconsin troops as they created the song "Battle Hymn of the Republic," which shortly thereafter was published by Howe? Or was our cracker present at Appomattox when General Lee surrendered his troops? Or was it really part of a barrel of hardtack made for a reunion?
Medical doctors of the day associated most medical problems with digestion. Hence, for sustenance and health, eating a hardtack cracker daily was considered good for one's constitution.
Bakers of the day played their part as well. They made the biscuits as hard as possible because the biscuit would soften and become more palatable with time, due to exposure to humidity and other weather elements.
Because it was hard and dry, with proper storage and handling, hardtack can last indefinitely. As a matter of fact, early hardtack used at the beginning of the Civil War was leftover from the Mexican-American War.
With insect infestation common in improperly stored provisions, soldiers would break up the hardtack and drop it in their morning coffee. This would not only soften the hardtack but the insects, mostly weevil larvae, would float to the top, allowing the soldiers to skim off the insects and continue to consume the beverage.
Some men also turned hardtack into a mush by breaking it up with blows from their rifle butts, then adding water.
If the men had a frying pan they could fry the mush into a lumpy pancake; otherwise they dropped the mush directly on the coals of their campfire.
They also mixed hardtack with brown sugar, hot water, and sometimes whiskey to create what they called a pudding to serve as dessert.
This story could well be called "How hardtack won the Civil War."
Bruce Gardow is a volunteer at the Dunn County Historical Museum who shares his extensive knowledge as he explores some of the many treasures that exist in the archives of the Dunn County Historical Society's Rassbach Heritage Museum, located at 1820 Wakanda St. in Menomonie's Wakanda Park.
Be the first to know
Get local news delivered to your inbox!