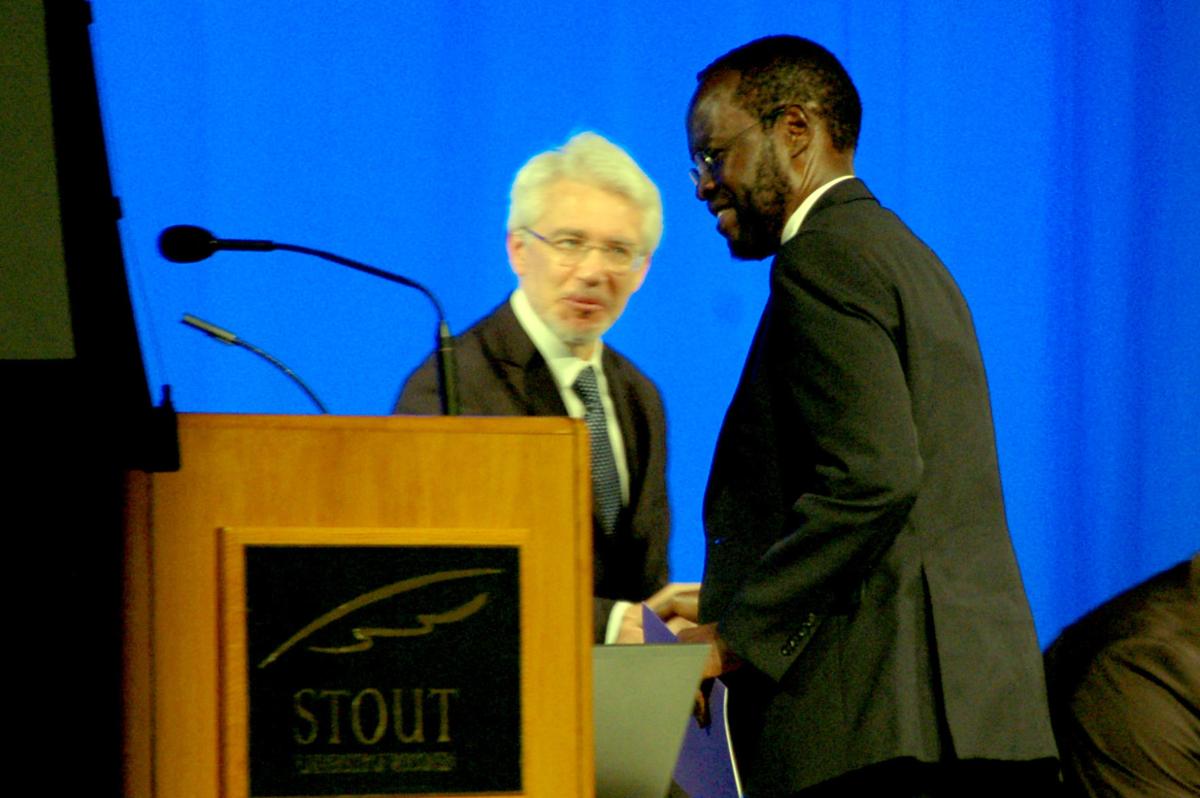 Rapid economic growth hasn't been beneficial to the people of Kenya.
Peter Anyang' Nyong'o, the governor of Kisumu County — the third-largest metro area in Kenya — was at UW-Stout on Monday sharing how the growing economy in his country is being fueled by a growing debt.
Nyong'o has been a member of parliament, the senate, and the minster of medical service of planning and national development in Kenya. He is a former professor who has helped promote democratic reform in the country. He attended the University of Chicago. where he received his master's and doctorate degrees in political science.
"This is a special opportunity to learn about Kenya and gain an enhanced understanding of business, social and economic aspects of a developing nation," Interim Chancellor Patrick Guilfoile said in a statement prior to Nyong'o visit.
Three other governors joined Nyong'o on his visit to UW-Stout.
Nyong'o also is the father to Academy Award-winning actress Lupita Nyong'o. The actress starred in roles in "12 Years a Slave,"Star Wars" and Marvel's "Black Panther."
Kenya has seen significant economic growth in the past decade, he said, and large American companies such as Amazon, Hewlett-Packard and Microsoft are prominent names throughout the country. Japanese auto companies have emerged as the most significant brands of vehicle, and Chinese companies have begun aggressive advertising campaigns, Nyong'o said.
"It pays to do business in Africa, and it pays in a big way," he said.
The issue is foreign debt is almost even with domestic borrowing. Overall international debt has increased five-fold during the past decade, Nyong'o said. The Kenyan economy continues on a positive growth trajectory, but it's "jobless growth," he said.
Investment in infrastructure has lead to high-rise office buildings for large multinational corporations. These building are meant for managerial purposes, and typically the people working there aren't from Kenya.
Nyong'o said a rise in the national debt that led to employment creation has not led to social and political stability. Infrastructure has seen the biggest investment. and Nyong'o said this only has long-term impact. Investments in agriculture, education and health have immediate socioeconomic impact, he said.
There is social tension in the midst of rapid economic growth and growing indebtedness, Nyong'o said. Nyong'o said it's tough to point to a direct correlation between debt and the democratization processes in Africa.
Nyong'o said the choice to borrow is up to the president, and growth at the county level is down. Bad political choices on borrowing is on the presidency and they have significant implications on human development.
"The more a county gets into debt and denies the people social and human development that tends to (lead to) resistance and rebellion, and the presidency tends to rely more and more on subtle or overt repressive systems to keep rebellion down," Nyong'o said.
Nyong'o said in a system where the president has power above other representative institutions, the system is in essence a electoral authoritarian system. He said a parliamentary electoral system for Kenya will produce a more representative government for the people of the country.
"It is now time to make a clear choice between a presidential electoral democracy and a parliamentary electoral system," Nyong'o said.
Be the first to know
Get local news delivered to your inbox!