The demand for produce and local products hasn't stopped during the COVID-19 pandemic.
To make sure consumers can safety get these items, farmer's markets had to implement changes.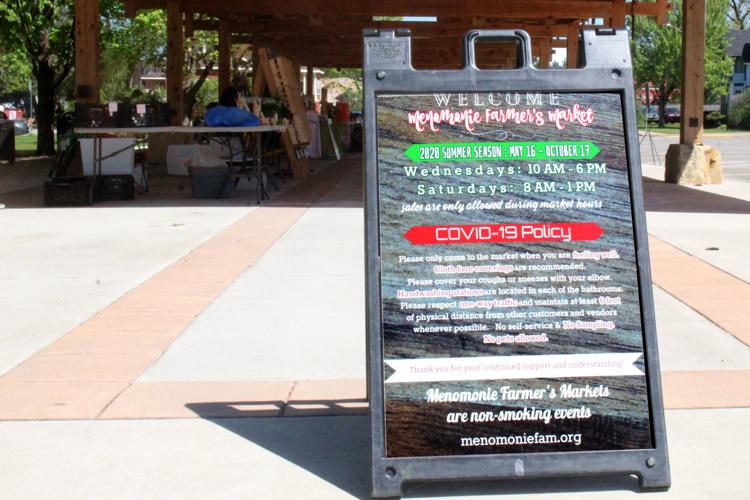 The Menomonie Farmer's Market opened last week for its summer season with procedural changes to protect vendors and consumers.
"Opening on the normal schedule date, it was a very warm acceptance from vendors and customers," farmer's market manager Veronika Zazovsky said. "I guess people for are hungry for a farmer's market at this time. They want the farmer's market."
The Menomonie Farmer's Market is open Wednesdays from 10 a.m. to 6 p.m. and Saturdays 8 a.m. to 1 p.m. through Oct. 17 at Wilson Park.
Taking information from the Wisconsin Farmer's Market Association, which worked closely with the Department of Agriculture, Trade and Consumer Protection and the Department of Health Services, in addition to coordinating with the city of Menomonie and the chief of police, the Menomonie Farmer's Market leadership devised a plan.
"There are no restrictions, however, there are guidelines," Zazovsky said of government orders, "and we're taking all those guidelines and creating our own market rules and regulations."
Vendors have been spaced out to provide at least six feet between booths. Each booth faces out from the center as consumers are to follow a specific route around the vendors to create a steady flow of traffic in one direction.
Currently the farmer's market is limited in what can be provided. Only vendors of raw food and cold-packaged products are participating. There is no ready-to-eat food being served at the market. There will be sampling of food while musicians, children's activities and other special events are restricted for now. Pets have also been banned at this year's market.
Ron Knutson of AVEnue Orchard, who's also known as Ronnie Appleseed, said the new regulations worked out well for the first market of the season. The number of people was a little down as were the number of vendors but following a longer wait from the last market it was nice to get out and offer his apple products, he said.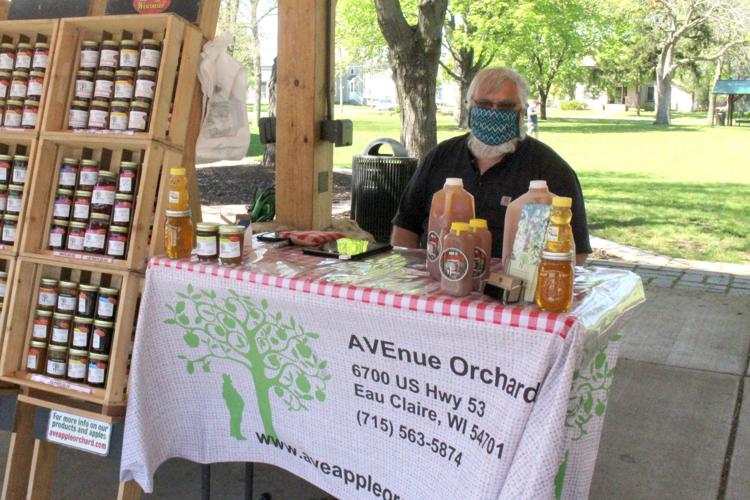 "We had to close the winter markets down early so instead of only having a couple of weeks off we've had a couple of months off, so we're kind of chomping at the bit and excited to be back at it and outside again," Knutson said.
Zazovsky a few vendors have decided to skip the market this year because of health concerns while others are choosing to wait until later in the season before showing up. Like the rest of society, some are comfortable with fewer regulations while others want more space and safety measures in place.
That is why, Zazovsky said, the process of developing rules and regulations for this year was an open discussion with vendors and the leadership. Her job was to find a balance in meeting desires of all involved. Safety was ultimately the primary concern, she said.
All vendors are required to wear masks when working at the market. There is no requirement for consumers to wear a mask, but they are encouraged, Zazovsky said. For those who don't have a mask or arrive at the market without one, there will be free masks available at the manager's table for those interested.
Knutson expects this will be a down market season for his orchard as some markets won't be held this year. Barb Vandenbrink of Morning Dove Farms said with three markets they attend during the summer months there was no change in the amount of fresh vegetables planted on the farm. Whether farmer's market traffic and purchases are down this summer or not, farmers like Knutson and Vandenbrink will still be ready to offer their products to those looking to buy local.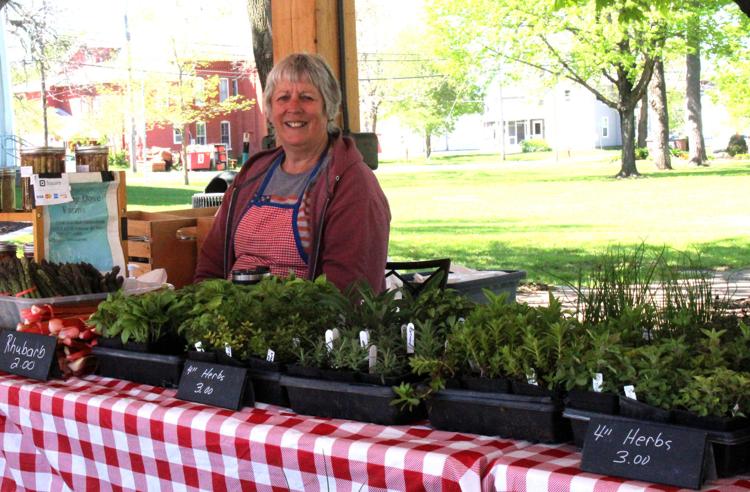 "We're just hoping and praying that everybody will still come out and buy all the fresh veggies," Vandenbrink said. "The veggies are coming, we don't have a lot yet because it's early, but we will. We'll all be here like always."
Be the first to know
Get local news delivered to your inbox!