Creating a healthy watershed takes a commitment from top to bottom.
For the Red Cedar watershed the beginning of that commitment is there.
In Menomonie the city has taken strides on the reduction of sediment and phosphorus in lake while also taking an interest in education of youth regarding storm water.
Public works director for the city of Menomonie, Randy Eide, was joined by Michael Werner, a board member for Cumberland's Beaver Dam Lake Management District for a presentation at the ninth annual Red Cedar Watershed Conference at UW-Stout on Thursday.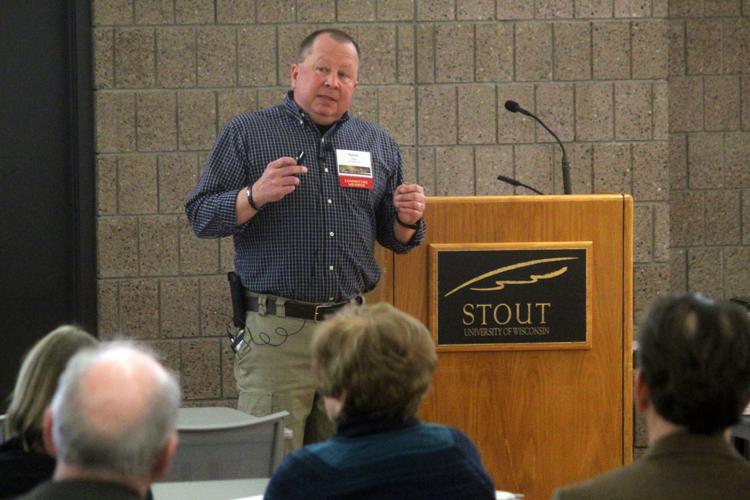 Menomonie has reduced the total suspended solids by about 40 percent over the past 12-14 years, Eide said. It was last modeled about eight years ago and was at 33 percent and has likely increased. One of the reasons behind the reduction is the need for businesses to be a part of the the storm water management plan.
If adding an impervious surface within the city as part of a building project the city requires a plan for where storm water will go.
"This takes a lots of effort from contractors, private owners, businesses and so forth," Eide said. "If you own a business here and you just bought it and added a new parking lot we're the ones that told you that you needed to put a storm water pond in and then you kind of moan and groan but you do it and we're removing some of that sediment."
The city also has a goal to removed nearly 40 percent of phosphorus that is reaching Lake Menomin. A model has shown 1,232 pounds of phosphorus comes from the city and goes into the lake in a year. According to Tainter Menomonie Lake Improvement Association President Liz Usborne a pound of phosphorus creates 500 pounds of algae.
A reduction of 483 pounds is the goal the city is attempting to reach. Today the city is still working to reduce another 135 pounds. Through city ordinance controlling construction projects and conveyance systems the city removed 324 pounds.
A regional pound by the Dunn County Recreation Park added another 24 pounds. Moving forward the city will look to add up to eight ponds total with two in the next two years. Bids are open for a regional pond near Wakanda Park and a third pond is slated near I-94 north of the park.
Another plan to reduce phosphorus is a comprehensive street sweeping program, Eide said.
Working with Rain to River of Western Wisconsin the city and lake association have educated students at the elementary level through university students. Middle school students have also been monitoring the waters of Jarrett Creek for more than a decade.
"We're trying to educate the population on storm water and what you can do, and we're not doing this alone," Eide said.
The city has received support from UW-Stout, Tainter Menomin Lake Improvement Association, Menomonie school district, Sustainable Dunn, Dunn County, the city council, Rain to Rivers of Western Wisconsin, business and residents, he added.
Eide has also seen a recent embracing of the lake with activities such as Music over Menomin and the annual watercross event.
"I believe as a community we've done some more things from the education and cleaning up the lake," he said. "We've actually started to turn towards the lake, we've started to embrace some of the functions going on around the watershed."
In Cumberland, the Beaver Dam Lake Management District is focused on lake protection, citizen involvement and special projects to improve the lake. The shoreline includes rain gardens to filter water and at public boat landings an individual monitors all traffic entering and exiting the lake during weekends.
Beaver Dam Lake also included shoreline restoration projects including fish sticks, as trees cut down over the winter are placed on the frozen lake before settling to the bottom of the lake for fish habitat when the ice melts.
Werner said the organization has added water runoff catch basins and focusing on an aquatic plant management system. The lake district has been working to remove the invasive Eurasian Watermilfoil plant from the lake. With the strategic use of chemicals they have been able to remove almost all Eurasian Watermilfoil and allow native vegetation to grow.
Before treatment Library Lake, a portion of Beaver Dam Lake, had almost two acres of the invasive plant.
"Through our treatment process the last two years, we have only one plant in this lake," Werner said.
The conference also included presentations by keynote speakers Paul Robbins with the Nelson Institute for Environmental Studies at UW-Madison, Raj Shukla director of River Alliance of Wisconsin and Kris Nichols with Knowledge for Regeneration and Innovation in Soil. Additionally there were breakout sessions and exhibitor booths.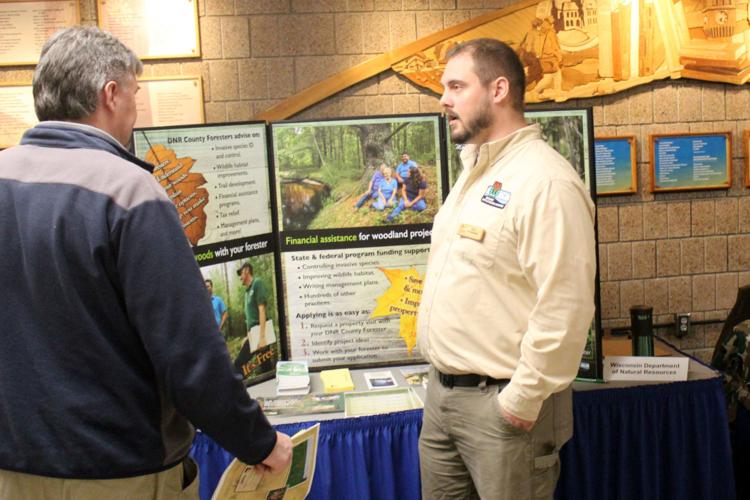 Taking steps to an overall goal, organizations and individuals throughout the watershed have begun a process to increase the water quality in the region.
"Now we have a long ways to go and we've made mistakes, but we're getting there and I think we're on the right course," Eide said of the city's watershed improvements.
Be the first to know
Get local news delivered to your inbox!