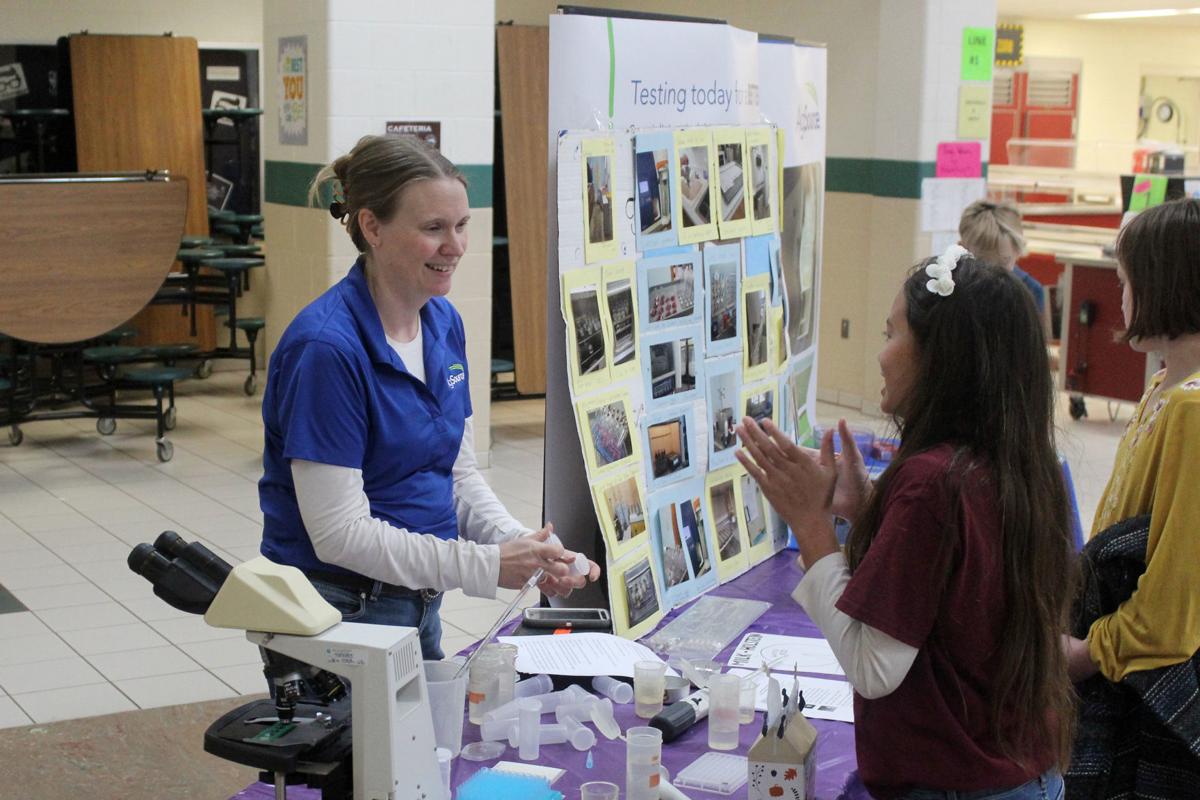 Women in the Menomonie area shared this message with middle school girls on Tuesday.
The Menomonie Middle School held its fifth annual Smart Girls Rock event by welcoming 16 women in STEAM (Science, Technology, Engineering, Arts, Math) fields and other male-dominated careers to interact and provide career information to young girls.
"This really promotes that school is cool, knowledge is cool, being smart is awesome," middle school teacher and event coordinator Casey Yonash said.
First put on at the high school, the event was moved to be hosted for younger girls at the middle school level. This provides information to the girls before they form possible career path typically in high school. The event has grown from 82 students in first year to 151 this year.
Just being able to see that these careers are available to them is important, Yonash said.
"It definitely sparks that interest that they might already have or not know that they have," she said.
Missy Klimek volunteered for the event for the first time this year. Her daughter had previously participated in Smart Girls Rock and Klimek welcomed the idea of sharing her career with students.
Klimek is a senior lab specialist at AgSource Laboratories in Menomonie. She tests cow's milk for bacteria and antibiotics to ensure quality dairy products. Klimek provided girls the opportunity to run tests on milk while also taste-testing an end product of cheese.
Interacting and learning about different careers will hopefully inspire the girls to focus on school so they can pursue careers in hands-on, skill-driven careers, Klimek said.
Katie Krueger, director for Technology Services for the school district, said an event like this shows girls there are role models in these career areas and just seeing these jobs exist can help grow a passion.
Krueger took an indirect path to a career in technology after initially working as an English teacher. She said girls need to know that it's OK if they end up in careers that don't match what they imagine for themselves at this moment. Knowing these other jobs are available is a goal of this type of event.
"It just shows that sometimes we grow passions in different directions based on what we see," Krueger said of her career path.
Student visiting a booth with Menomonie police officer Maloree Zassenhaus got to try on a SWAT vest and helmet to see the weight of gear worn by officers in the field. The girls also got to wear "drunk" goggles and attempt to walk a straight line, following procedures used when an officer pulls over a suspected intoxicated driver.
"I think it's important to know that even though being a police officer is a predominantly male job, it's always possible for females to do exactly what the males do," Zassenhaus said.
The event has received positive feedback throughout the years, Yonash said. A number of students have taken computer and agriculture classes in high school because they were exposed to careers in these industries. Yonash said it is rewarding when girls approach her and say they are now interested in job they weren't aware existed before attending Smart Girls Rock.
Careers in STEAM fields have a lower number of women working in them, and showing girls that it is good to embrace school is why the event is important, Yonash said.
As the girls get older and begon to consider career choices, Zassenhaus hopes they can look back upon the event and remember they can pursue any type of job.
"I really hope that they understand that they can do anything that they put their minds to and anything that they want to," Zassenhaus said, "and that there are already females in each profession that not only do the job well but they often times excel."
Be the first to know
Get local news delivered to your inbox!