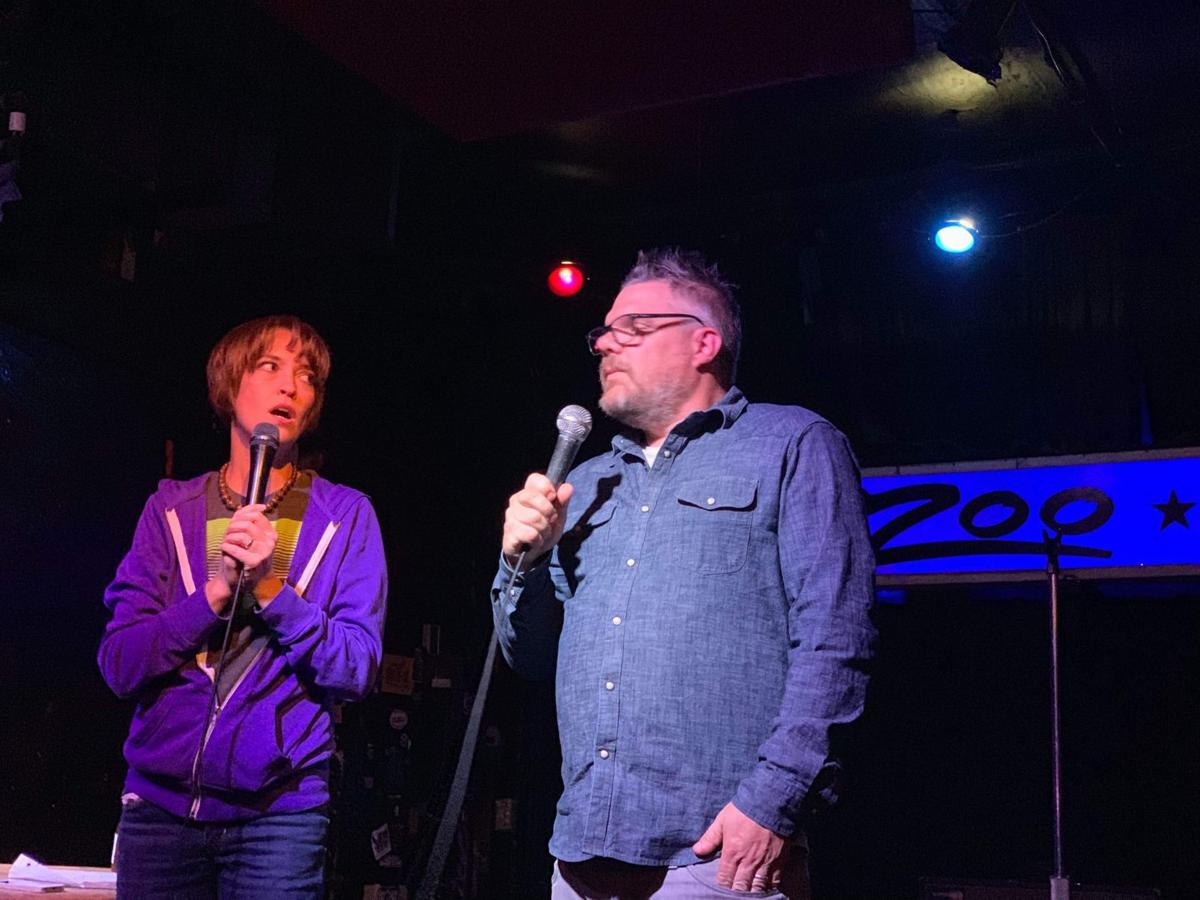 Animal adoption has become an important cause to comedians Tim Harmston and Mary Mack.
Harmston, a Menomonie native, and his wife Mack have been touring individually for many years but have more recently teamed up on stage. This weekend they will take the stage together to raise money for a cause that is close to them.
The Guffaws for Paws 2 comedy show fundraiser for the Dunn County Humane Society is set for Saturday at Stout Ale House in Menomonie. The 18-plus show begins at 7 p.m. with doors opening at 6 p.m. for general admission. Tickets can be purchased Stout Ale House, the humane society or by visiting https://dchs.ticketbud.com/. VIP tickets are $55 and includes dinner, drink ticket and table seating. General admission is $25.
Harmston said he wanted to create the fundraising event because it's nice to bring together friends and family and do something positive for the community.
"We're going to be home for the holidays most years anyway so why not take an opportunity to put on a show and have some fun and raise some money for pups and cats," Harmston said.
Harmston began his career in comedy at the Mall of America in 2002. Since then, he has won Acme Comedy Company's Funniest Person in their Twin Cities competition and worked in clubs and theaters from Los Angeles to New York City. Harmston has also made television appearances on "The Late Show With David Letterman", Comedy Central, and NBC's "Last Comic Standing." Mack has performed multiple sets on "Conan" and has been on radio shows around the country such as "The Grand Ole Opry" and Wisconsin Public Radio's "Big River Radio Wave."
The show is a very traditional comedy club type performance, Harmston said. Attendees will have the opportunity to experience two different types of stand-up comedy routines. Mack tells jokes through stories, while Harmston has more of a set up, punch line style, he said.
"It's like a blend of all kinds of different stuff that can go off the rails or can go to great places," Harmston said. "I think there is a high-wire act element to it that makes people pay attention and get excited."
The duo feature a lot of jokes about growing up in Wisconsin. This has been effective whether performing in the Midwest or touring along the coasts. The show is also entertaining because it's a husband and wife on stage talking about their marriage, he said.
Last year's show had almost 250 tickets sold and more than $3,200 were raised for the humane society.
Kennel manger at the humane society Jamie Wagner said they were onboard with Harmston's comedy fundraising idea because it was something different. It was a way to raise money in a very enjoyable setting.
"It's a fun comedy event to come have fun, have a good night out, and then also be supporting our humane society at the same time," Wagner said.
With Mack and Harmston each touring independently, having performances together became a way for the married couple to spend more time together. The duo does about a dozen shows together throughout the year, saving their combination show for special occasions. For Harmston and Mack, one of those special occasions is bringing people of Dunn County together for some laughs to support animal adoption.
"You see the amazing stories that come from what they do by saving animals that have been abandoned," Harmston said of the humane society. "They're giving second chances to the animals that maybe otherwise wouldn't. I guess that's a great cause and it feels good. If you come out you can feel good on two fronts."