Small businesses in Menomonie are in uncharted territory.
With state mandates to limit gatherings to 10 or fewer people and the closure of bars and restaurants except for pickup and delivery services, Menomonie businesses enter a period of uncertainty during the COVID-19 pandemic.
"It's a fear of the unknown," Downtown Menomonie Executive Director Dustyn Dubuque said, "because we're all in a process right now of — even me as a normal individual — what do you do right now? I think everybody is kind of in that middle mode right now with what happens with my business, with my restaurant or with my bar if nobody can attend."
The Dunn County Health Department confirmed its first case of COVID-19 on Thursday. Surrounding counties Chippewa, Eau Claire and St. Croix also had their first cases confirmed Thursday.
Businesses that provide food service are quickly attempting to pivot to only providing curbside pickup with the need to close dining areas. It's been a difficult week with regulations changing every day, co-owner of The Duke and Dagger Andrew Mercil said. With state mandates going from 250 people to 50 and now 10 in a short amount of time, it has been challenging figuring out how to support employees and take care of the business.
"We are all trying navigate this unprecedented scenario to make sure that not only are trying provide for our employees but also to make sure we can survived ourselves," he said.
Brewery Nonic owner Ryan Verdon said they will adapt the best they can to the changing landscape. While attempting to keep the business afloat, community health also remains a priority and that's what makes it difficult as the two conflict with each other.
"Both of those things kind of work against each other in a weird way," Verdon said. "I think community health is really important. The best thing is to adjust our role in that and just make sure as best we can, we can both maintain our business and make sure everyone is safe."
Uptown Curl salon owner Kristy Wilson said her employees are worried. With face-to-face meeting necessary for the business, there is no way for Uptown Curl to change the way it conducts business. Wilson also runs Uptown Curl salons in Minneapolis and Stillwater, Minn. Even when the ban of gatherings is lifted it could still take some time before customers are again willing or able to spend. Some people are out of jobs and will need to dip into savings Wilson said, and once people are able to go out again it won't mean the end of the struggle for small businesses.
"This is going to be a ripple effect for weeks if not months and months where it's going to be until...maybe we'll recover by the summer," she said.
Small business play a significant role in the local economy and Dubuque said people should continue to support in ways they can. If you call ahead many businesses are able to provide pickup options. Social distancing doesn't have to mean end of business for local shops. Small business owners care about their communities and they want to continue to provide for the people in Menomonie, the county and beyond, he said.
"We need support when we can, when it's responsible for everyone," Dubuque said.
The best way to keep up to date with local businesses is to follow them social media and visit their websites, Dubuque said.
Sylvia Gengenbach said her business, Town and Country Antiques, will remain open through the pandemic as long as it can. She will be more active in posting merchandise online and buyers can set up appointments for certain items. While the health of her antique dealers and the public remain the top priority, visitors can maintain state mandated distancing while still viewing antiques on site, she said.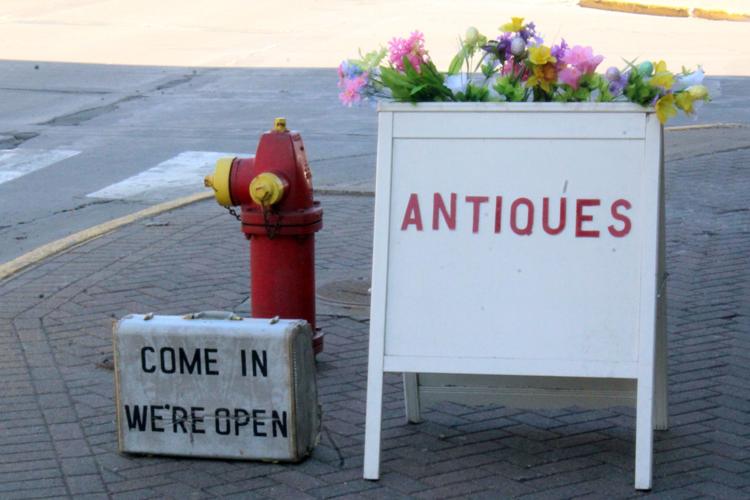 Small business bailout needs to be considered, Mercil said. Small business has a large impact on local economies and although it's encouraging, he said, that at all levels of government there are people who want to see small business thrive, some of the early solutions being discussed aren't the answer.
The governor on Wednesday submitted a request to the U.S. Small Business Administration for assistance for small businesses in the state to alleviate the economic impact of the virus outbreak.
"If the federal government can bail out the auto industry, the federal government can bail out the banks, they need to have the precedent and wherewithal to bail out small business," Mercil said.
It's a terrifying situation, Wilson said. Despite uncertainty she said she will continue to fight for her business with Uptown Curl's employees relying on the income. But with no idea when it will be business as usual, there's reason for concern.
"If we're not producing than we're not going to survive," Wilson said, "and we're not producing."
Gengenbach remains optimistic that her business and others will be fine. Although with the tight margins many small businesses face, times will be difficult and survival isn't guaranteed. In order to get through it, there needs to be a concerted effort within the community to show support for small business, Gengenbach said.
"It's going to be difficult, I'm not pretending that it won't be," she said, "but I think if we all continue to work together and be supportive of each other during this time that we can weather the storm."
Be the first to know
Get local news delivered to your inbox!