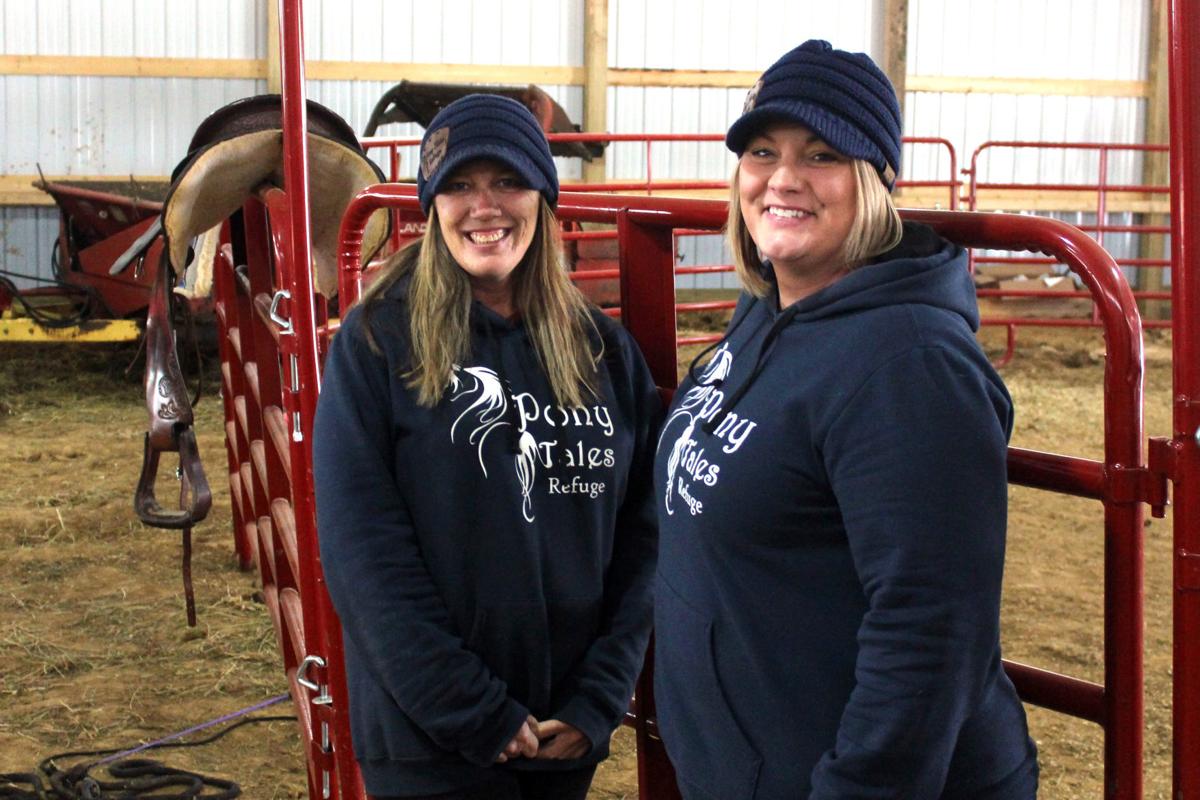 COLFAX — The people behind Pony Tales Refuge and Rehab just want to save horses.
A recent grant and feature in a new reality television show is helping them do just that.
Pony Tales horse rescue in Colfax, founded by Cindy Prince in 2014, was selected as a grant recipient from Horse Plus Humane Society in May.
"Pony Tales is such an amazing group and team. With some mentoring they could really do some great things," Horse Plus Human Society founder Tawnee Preisner said.
With the selection, Pony Tales received $10,000, six months of mentoring from Horse Plus Humane Society and a prominent role in the humane society's new reality television show. Pony Tales will be featured in a new episode of Horse Rescue Heroes that is scheduled to be available for streaming on Amazon Prime on Wednesday.
"Horse Rescue Heroes the reality show has really opened up our eyes — as a horse rescue — to a whole new way of saving horses," Pony Tales secretary Lea Anne Diesburg said. "Horse Plus Humane Society has given us a really good mentoring firm foundation to continue to grow in this organization."
The Horse Rescue Heroes film crew came to Colfax in late April telling those at Pony Tales they were a finalist for the Full Circle of Life Horse Shelter Grant that they had applied for. While on location, they surprised Pony Tales by presenting the grant.
"It was a lot of tears of joy. It was a shock, no one expected it," Prince said.
The funds were used to pay for the construction of a new barn, something that was much needed for Pony Tales.
The project began in mid-October and the structure was completed in November. Soon, concrete will be poured for an office building inside the barn. Pony Tales has been working in the same facility as the automotive towing and repair business on the property operated by Cindy's husband Nate.
Pony Tales spent time earlier this year at Horse Plus Humane boot camp learning from the animal welfare organization. Other benefits of mentoring with Horse Plus Humane Society included website and social media training and how to network to help with fundraising. Horse Plus Humane Society advised Pony Tales how they might approach situations, while still allowing them to make decisions for their own organization, Preisner said.
"The whole point of the mentoring process was to see if they could become a full circle of life open admission horse shelter so they wouldn't have to turn horses away," Preisner said. "With that concept you have to be able to know exactly what type of surrender fee you need to charge so you can actually take care of the horses in your care.
"Just being a lifeline of support for them on the good days and the bad days, but especially the bad days when they run into roadblocks and they don't know what to do."
What sets Pony Tales apart from other horse rescue organizations is it has adopted the full circle of life approach. They won't turn away horses no matter the number of animals being cared for, Prince said.
Being a full circle of life shelter means the organization helps horses in every stage of life regardless of age, behavior, training or medical problems. After a rescue, Pony Tales rehabs and trains the horses for adoption into a new home.
Prince said while there are several rescue organizations in every state, not all are legitimate and many turn away horses that aren't deemed adoptable. Pony Tales is never considered full and will always take in other animals through surrenders or after cases of seizure, she said.
"The other options for these owners is to leave the horse to starve to death in the backyard, give it away — and who knows where it's going to go — or sell it at the auction and 80 percent of the horses that go to auction go to slaughter," Prince said.
One of the biggest obstacles to rescuing a horse is a lack of awareness. When individuals are struggling to take care of their animals because of financial, age or other reasons, places like Pony Tales are willing to take in those animals but sometimes they don't know this option is available.
Pony Tales has faced situations where owners are embarrassed to admit they aren't able to continue to care for their animal and that surrendering that horse is best for both the horse and the owner.
"The more that these people who are in these situations can find places and shelters like we have to be able to take these horses to, this going to make people more knowledgeable about what's out there for possibilities to get help when they need help," Diesburg said.
Pony Tales rescued 143 horses last year and the new barn on the property could let them grow.
Pony Tales saw 30 horses come through the facility in its first full year of operation and now it typically has around 30 horses on the property at one time. The goal is from the time a horse gets to Pony Tales, it has found a new home in 90 days, Prince said.
Prince didn't always dream of rescuing horses, but it was one horse that rescued her that set her down the path. In 2013, Prince adopted Kirby, a one-eyed Arabian horse.
She had been attending law school and was in the process of taking a mandatory examination for first-year law students termed the "baby bar exam." Shortly after finding out she passed the test, she learned she had breast cancer.
The bond that formed with Kirby convinced Prince to leave behind a career as an attorney and open Pony Tales as Kirby helped her through such a challenging time.
"He is the horse that really melted the heart of Cindy to really continue to save horses because essentially, Kirby saved Cindy from going through a really hard time in her life," Diesburg said.
Diesburg and Prince hope the work with Horse Plus Humane Society can bring attention to Pony Tales and horse rescues around the country. Pony Tales has held a free adoption day as it looks to provide quality homes and then bring in more horses that need help. The operation is always looking for more volunteers to assist the staff as well, Diesburg said.
When they see the impact on a horse is brought to Pony Tales, they know how important what they're doing is.
"When you go to auction and you see the look in those horses' eyes that is completely dead and gone and you bring them here and you can see them starting to shine again, that is the most rewarding thing about all of this — is knowing you're giving that horse hope again.
There can be sad endings when operating a full circle of life horse rescue, but all the happy endings make it worth it, Prince said.
"I love being able to help the horses and being able to know after this mentoring and everything the number we're able to bring in, it's fulfilling," Prince said. "It makes me happy. I don't get paid for any of this stuff and I don't care, I don't want to get paid — I want to save horses."
Be the first to know
Get local news delivered to your inbox!