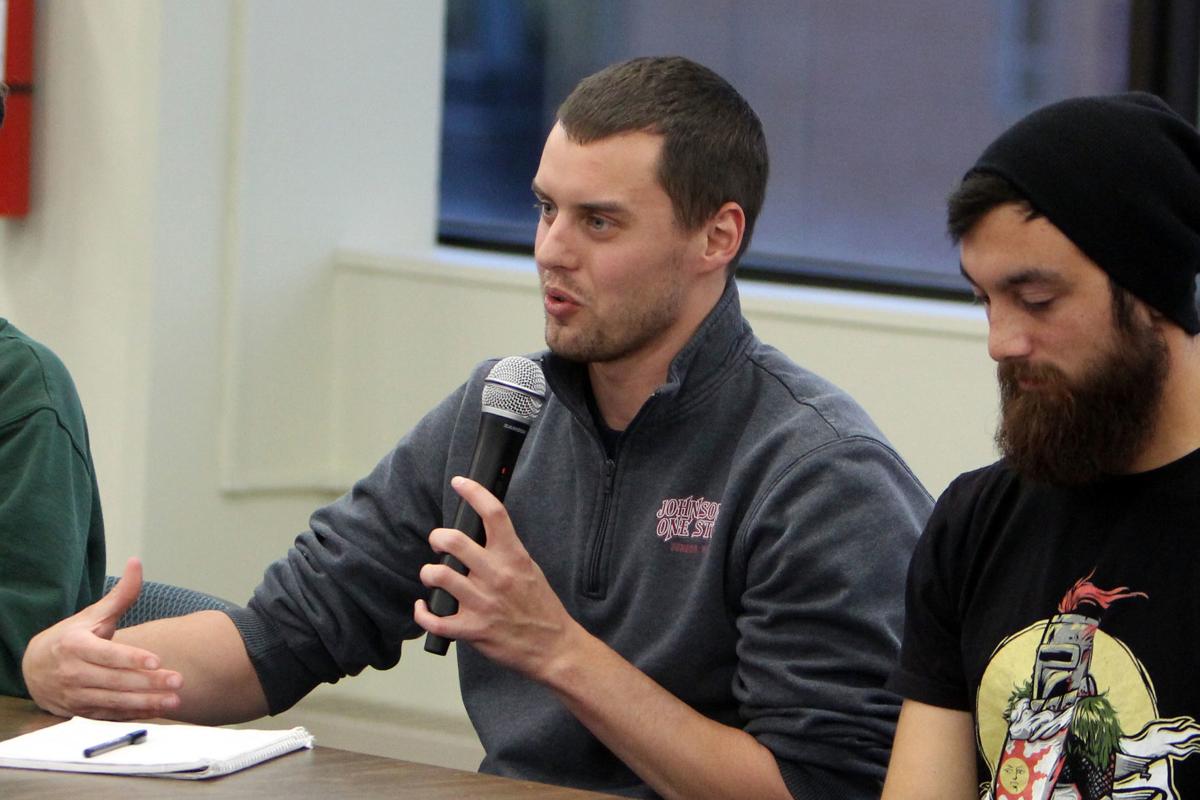 Adjusting back to civilian life from military service is a challenge, whether that's transitioning into the workforce or into academics.
For the University of Wisconsin-Stout, making that transition easy is a top priority. The university was recently named to a list of "Best for Vets" by Military Times for the second year in a row.
Transitioning to academic life begins with making it easy for student veterans to access the benefits they receive due to their service, Sarah Godsave, the military education benefits coordinator at UW-Stout, said.
"I think the most important part of providing services to veterans on campus is benefits administration, and just really making that efficient and hassle-free for students is a huge priority for me," Godsave said. "I think that is the touch point. That is where students first access their education and when you make that easy for them and clearly communicate to them what needs to be done to get that set up, the rest of their experience is really impacted by that and colored by that."
UW-Stout held a panel discussion Wednesday with five student veterans discussing their experiences on campus. James Banasiak, a Marine Corp veteran and first-year engineering technology major, said when leaving the service there isn't programs to help transition into student life. Programs are more focused on helping services members transition directly into a job, Banasiak said.
Having someone at the university to help prepare for that transition and take care of the benefits process allows incoming student veterans to focus on their studies.
"Sarah held me by the hand and walked me through the entire process, signing up for classes to meeting my advisers, being able to utilize the all the resources that are available to us to be able to go to school, and do well in school," Banasiak said.
Veterans can face some level of bias when entering a college campus, David Connors, a Navy veteran who is the president of the Veterans Club, said. With many veterans being nontraditional students, some of the student body might think they entered the military because they couldn't get into school, he said. There also can be negative views on the mental health of veterans, Connors added.
"I think that student have to realize we did something that was very important to us for those several years before we got (to college)," Connors said.
Having a strong veteran presence on campus and supportive faculty helps veterans adapt to school. With about 5 percent of the UW-Stout population being veterans, there is quite a few individuals who share common experiences.
With scheduled drill weekends, training and an upcoming deployment, computer networking and information technology student and National Guard veteran Dana Hilbert said it's nice to know others are in the same situation.
The Veterans Club on campus helps veterans find "common ground" and eliminate some of the age gap found among the entire student body, Brody Klund, a retired Air Force veteran and applied science and mechanical engineering student, said.
A large portion of the audience during the panel discussion was staff members looking to understand how they can better serve veteran students on campus. Connors said having those supportive professors makes UW-Stout a generally welcoming classroom environment. Professors realize the challenges veterans face while attending school, specifically related to having to miss class time to fulfill their duties as a member of the military.
"All the professors are very accommodating to that, they're very understanding of it," he said.
Veterans provide a beneficial perspective into the classroom, Godsave said. They have more intercultural experiences than most other students and some have been in significant leadership positions.
For Jeff Hughes, a Navy veteran sand senior computer networking and information technology student, it's about instilling those leadership traits he developed from the military into other students. Hughes looks to give other students the opportunities to lead while he takes on a supportive role.
"I purposely go out of my way to not take leadership roles in those group (projects) because I feel that it's valuable for those other students to be able to have that experience, something that I've already had," Hughes said.
Supportive policies, an easy access to military benefits is what makes UW-Stout a strong choice for veterans looking to go to school, Godsave said. Fostering that welcoming culture then leads to a more diverse student body that fits the goals of institutions of study.
"I think the purpose of higher education is to learn about and become part of a community that is larger and more diverse than the communities that you came from," Godsave said, "and I think our student veteran population really enriches that experience."
Be the first to know
Get local news delivered to your inbox!