The goal was to spend more time with her daughter and meet new people.
The health benefits were important too.
JoAnn Wegenke of Menomonie returned to riding horses and she is now being recognized by the Dressage Foundation as a new member of its Century Club. The Century Club recognizes riders and horses whose combined age totals 100 or more years.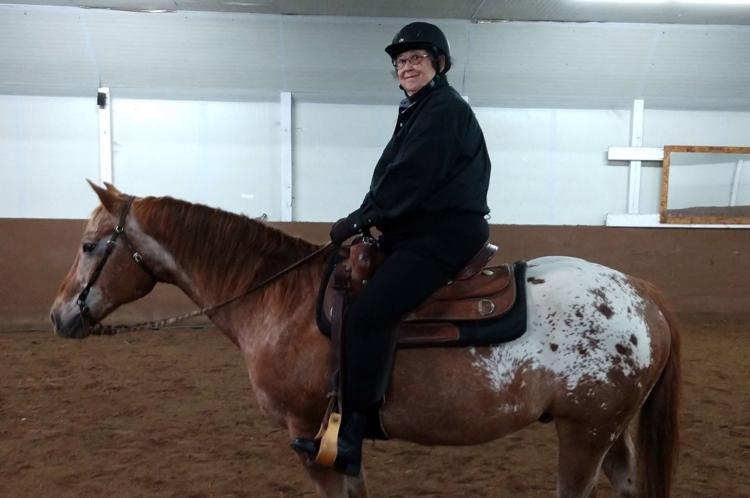 "I think anything you do to keep your mind active and your body active does nothing but help you," Wegenke said. "Instead of sitting and playing bingo, I will go do this, and I like bingo too."
Wegenke will soon be 76 and her horse Hesa Grand Slam, also known as Dylan, turned 26 on Wednesday.
Due to the COVID-19 pandemic canceling in-person shows, Wegenke will make her debut as a Century Club member during a virtual show scheduled for the beginning of August. Wegenke is provided a Century Club ribbon and wall plaque for her honor.
The Century Club was formed by The Dressage Foundation with the intent was to encourage older dressage riders to remain active in the sport. Dressage is a word drawn from the French verb for "to train," according to the Dressage Foundation. Dressage is both a method of training horses and a competitive sport, and is designed to develop correct movement in the horse.
Wegenke has been active during her daughter's involvement with the sport over many years, as Kari was involved in many equestrian events in her youth. More recently Kari got involved with western dressage and JoAnn would go to lessons and shows, sitting in the announcing stand dealing with paperwork. It wasn't until a few months ago with the establishment locally of Exceptional classes that Wegenke saddled back up.
Exceptional classes were created to introduce dressage to riders with disabilities. Once Wegenke found a class she could compete in she jumped at the opportunity. She said having these classes is very important as the people in the programs are able to showcase how capable they are.
"I wanted to stay active but what I fell in love with is how technical it was," she said. "I just started the basics, but you're never bored because there's always something to build on what you know. I think that's great for a person's mind."
Dylan is a Ponies of America breed. Wegenke said the breed was developed because the Shetland Pony was viewed as difficult to train and a standard horse was too large for children. Dylan was a gift for Kari when she was 15 and he's been a part of the family since.
Wegenke said he's got a distinct personality. He thinks he's the boss, she said, and he has his own sense of humor. Although sometimes he acts much younger than his age he is also great with kids and does a lot or work with instructional classes. He's also a very confident horse.
"He likes to look around and let everyone know that he is the most handsome one there," Wegenke said of her horse.
Despite beginning to ride horses when she was 18 and having spent time leading horseback rides at Glacier National Park at one time, Wegenke slowly reduced the time she spent riding horses. It's never to late to return, she said, as the introduction of new classes allowed her to get back on a horse and stay active. While the Century Club honors her and Dylan for 100 combined years of age, she is looking to race past that century mark. Now Wegenke doesn't plan on stopping. She wants to continue riding until she no longer can, she said.
"It's never too old to start something new," Wegenke said. "Even though I always supported the riding I kind of drifted away from doing it myself, and I think you're never too old to get back on and to take a great deal of joy in being outside, learning something and being with people and horses."
Be the first to know
Get local news delivered to your inbox!