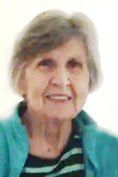 Evelyn L. Burgraff, 92, of Menomonie passed away Saturday, Aug. 31, 2019, at Comforts of Home in Menomonie.
She was born Feb. 24, 1927, in Washington, Iowa, to Arthur and Edna (Orendorff) Taylor. As a child, Evelyn moved with her family to Superior, Wis., where she attended school. She also graduated summa cum laude from Iowa Wesleyan University.
On April 22, 1945, Evelyn married Henry "Hank" Phillip Burgraff Jr., in Oklahoma. They moved to Wayland, Iowa, where they raised their family on a small farm and attended Sugar Creek Mennonite Church. They later moved to Mount Pleasant and then Menomonie. Evelyn taught high school in Mount Pleasant, Colfax and Menomonie and served on the Menomonie School Board. She was also co-owner of Burgraff Construction for many years.
You have free articles remaining.
She was a classical pianist and she enjoyed reading, writing and playing softball. Evelyn especially enjoyed spending time with her family.
Evelyn is survived by her children, Sue Davies of Ankeny, Iowa, Steve (Kathy) and Ken (Linda) of Menomonie, Chris (Jerry) Schmidt of West Bend, Wis.; she was the proud grandmother of over 80 grandchildren and great-grandchildren; also survived by a brother, John Taylor; and a sister, Marianne Koser; as well as other relatives and friends.
She was preceded in death by her parents, Arthur and Edna Taylor; two sisters, Elaine Koski and Jane Stoneburner; a son, Phillip Burgraff; and a daughter, Barbara Dickens.
Funeral services were held at 11 a.m. Friday, Sept. 6, at Olson Funeral Home in Menomonie, with Pastor Sarah Miller officiating. There was a visitation at the funeral home one hour prior to the service. Burial will be Saturday, in Sugar Creek Mennonite Church Cemetery in Wayland, Iowa.