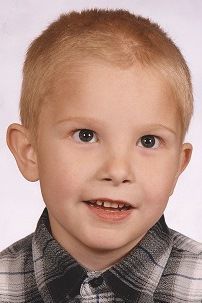 COLFAX — Samuel "Sam" Anthony Buckley, 23, of Colfax, passed away and entered Heaven Tuesday, Nov. 12, 2019, while at Regions Hospital Burn Unit, as a result of severe burns and complications he sustained. Neighbors and family rescued him from a burning home two days earlier. During the days in the Burn Unit, Sam was surrounded by his loving family, extended family and a very special friend.
Sam was born in Salt Lake City, Utah, Dec. 29, 1995, where he lived with his family for nine months, before returning to the family home in Colfax. He attended school and graduated from Colfax High School.
He enjoyed riding bike, 4-wheeler rides with his Dad and brothers, swimming, boating, movies, farm animals and large machinery. He made friends around the Chippewa Valley and thoroughly enjoyed his early therapists and brothers. He especially enjoyed trips to lakes and often viewed the beauty of Lake Superior on the family trips to Madeline Island. Sam may have been shaped by epilepsy and autism, but was not defined by these maladies.
You have free articles remaining.
Sam is survived by his parents, Drs. Bruce and Terri Buckley; three brothers who adored him, Alexander (Bailey) of St. Paul and Ryan and Andrew of Colfax. He also has several aunts, uncles and numerous cousins of diverse ages.
He was preceded in death by his grandparents, Louise and Adlolph Stovern and Cyril and Esther Buckley; one uncle, (Alan) Bruce Stovern; and one second cousin, Garret Buckley.
The family would like to thank Sam's younger brother, who with heroic neighbors, entered the burning house, found Sam and brought him out of the building. Neighbors helped in numerous other ways on the night of the fire and days after. We also extend this thanks to Colfax Emergency service, backup service from area towns, Eau Claire Paramedics, Mayo Clinic ED, Mayo Flight Team, the staff of Regions Hospital Burn Unit, Dr. Bill Browne, M.D. and Intensivist at the University of Minnesota, and a special thanks to Dr. Rev. Leslie Walck.
Funeral services were held at noon, Saturday, Nov. 16, at Colfax Lutheran Church, with visitation from 10 to noon at the church. Following the funeral, there was a fellowship luncheon in the church basement. Interment was in St. Joseph Catholic Cemetery in Menomonie.
Obituaries Newsletter
Sign up to get the most recent local obituaries delievered to your inbox.