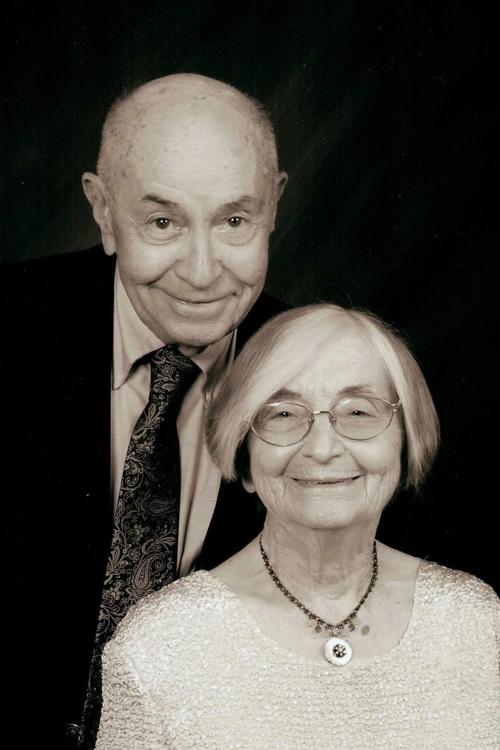 Valerine M. Trickey passed away Wednesday, March 11, 2020, in St. Petersburg, Fla., where she and her husband of 72 years, Howard "The Hat" had lived for 52 years. While Val and Howard loved Florida, Wisconsin was always home to them. Val was born Feb. 8, 1929, in Dunn County in the township of Lucas. She lived in Knapp until she met her lifelong friend, companion and husband.
Over the Christmas Holidays in 1945, Val was taking care of a neighbor with the flu who lived alone at the time, Maggie Trickey. When delivering chicken soup to Maggie, Maggie's son, Howard answered the door. Howard had just returned from World War II's Pacific Theater. Something connected Val and Howard for the next 72 years.
Like many other women of her generation, Val supported the war effort by packing rations to send to the troops in both the European and the Pacific Theatres. She boarded a bus in Knapp to a packaging and processing center in Richmond, Wis. every day. She was 15 years old when she boarded a school bus each morning for the ride to Richmond.
Without Val's support, there would have been no Howard "The Hat." She encouraged his dream to go into radio broadcasting and eventually television. Howard worked as an engineer for General Mills but kept bringing up his desire to go into broadcasting. Val finally told him to move on with it or drop it. She helped him enroll in the Brown Institute of the Air to get the necessary radio operator's license to apply for a radio broadcasting job. Howard's first job did not go well because of his voice quality and delivery. After losing his first job and being told to pursue another career, Val went out and bought a reel-to-reel audio tape recorder on credit for Howard to use for practice. While they could not afford the tape recorder at the time, it turned into a good investment. The practice on the tape recorder improved Howard's voice, timing and delivery. Howard's career was launched only because of Val's support and encouragement. Val continued to play a role in their joint success in the broadcasting industry for their entire joint career.
The Trickey family moved to Eau Claire in 1956, when Howard started to work at WEAU-TV. Howard did the weather and made the show into more than a forecast. While there are some conflicting stories about where the idea of the "Hats" came from, Val probably deserves more of the credit. When "Walk-Up the Creek" came down each night to deliver the joke that went along with Howard's cartoon, Val had been the one that searched through the joke books for the punch line each night. Over the years, Val curated more than 7,000 jokes for Howard. She had an eye and a knack for the best punch line.
While in Eau Claire, Val pursued her own education and interests. She studied for a real estate broker's license and passed the test on her first attempt in 1961. Most firms would not hire a woman reasoning it would take a job away from a man. She persisted, was eventually hired, and worked for several years in the real estate business. Later, she excelled in retail sales at Vanderbie's Jewelers.
During the 1960 Wisconsin Presidential Primary, WEAU-TV hosted a debate between John Kennedy and Hubert Humphrey. A couple of days before the debate, the WEAU general manager called Val to see if she could host Rose Kennedy while in town for the debate. Of course she did, even though she was very nervous to meet the matriarch of the Kennedy family. Mrs. Kennedy was very nice and asked Val to show her around town. Among other stops on the tour, Val took her to Carson Park and gardens around town. In telling her story about the day she spent as a tour guide, Val always remarked on how comfortable Mrs. Kennedy made her feel and how she liked Eau Claire.
After leaving Eau Claire in 1967, Howard took on management positions in sales and eventually became the general manager of a number of TV stations around the country. When they moved to St. Petersburg, Howard led the Hubbard Broadcasting effort to build and manage WTOG-44. Shortly after getting the station on the air, Val started working as the traffic manager. The traffic manager created the logs that placed the television advertising into the program time slots for the entire broadcast day. The job required precision, attention to detail, and strict enforcement of a set of rules. Val became an informal chief of staff for the station. She played the same role in over 25 other stations Howard managed, including some Petracom stations that Howard owned with partner Hank Ash. She had the ability to deliver succinct, blunt and honest advise.
Val's greatest satisfaction in life was being a mother, grandmother and great-grandmother. Her grandchildren and great-grandchildren were a source of joy and happiness to her. She would light up in their presence.
She observed an annual ritual of baking Christmas cookies of a varied and delicious assortment. She carefully packed and shipped the cookies all over the country for many years. She did her best to teach her children and grandchildren to live by the Wisconsin values of kindness and respect for others, empathy and honesty. She often told the story of being the poor farm girl from the country who did not have nice shoes or fashionable clothes when she went to school. She would not tolerate making fun of someone because they were different. She taught the value of hard work as the only way to improve your life.
Her husband preceded Val in death. Her son, Howard, and daughter-in-law, Kenna Sue, survive her. She is also survived by her devoted daughter, Colleen. Howard was a trial and appellant lawyer in Alaska for most of his career, and Colleen, a partner in the Trickey Jennus advertising firm in Tampa. Her grandchildren are Maureen Mueller, a lawyer and her husband, Jeff, Brendan Trickey, engineer and businessman, and his wife, Emily, and Nicole Baruth, a high school math teacher. Her great-grandchildren are Aidan Baruth (11), Evan Baruth (eight), Sloane Mueller (seven), Jack Mueller (three) and Sage Trickey (11 months) She will be missed by all her family and will forever remain in our hearts.
The family now lives from coast-to-coast, a private ceremony will take place pending safer travel conditions. Please visit www.gardensanctuaryfunerals.com to place a tribute. Garden Sanctuary Funeral Home, Seminole, Fla. (727) 391-0121.
Obituaries Newsletter
Sign up to get the most recent local obituaries delievered to your inbox.