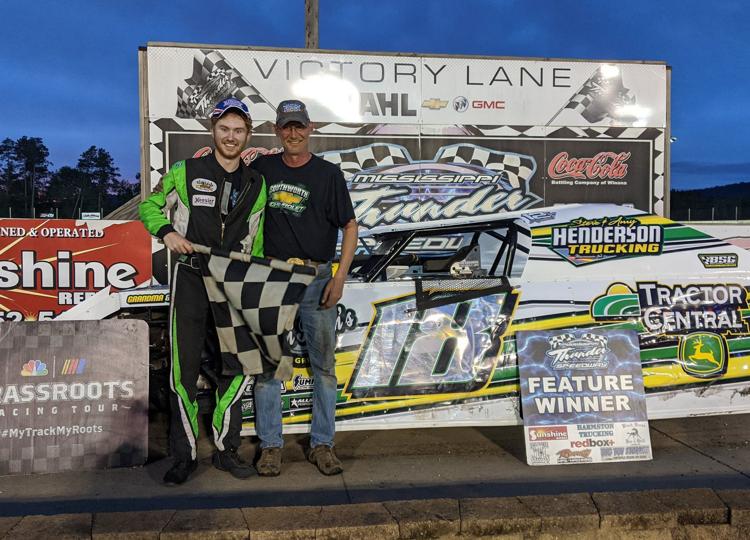 When Tyler Werner crossed the finish line it was like a weight had been lifted off his shoulders.
The Menomonie native secured his first feature car victory at Mississippi Thunder Speedway on Friday in Fountain City. After a strong heat in the United States Racing Association B-Mods class, the young driver set off from his second starting position and by halfway through the race and still leading he got the feeling this would be his day.
"I kind of set sail at the top of the racetrack and didn't look back," Werner said.
Werner has been racing at Mississippi Thunder for three seasons. He had his beginnings with go-carts locally at age seven before graduating to cars five years ago. It wasn't a seamless transition, his father Todd said. There was a starting over phase but Tyler quickly found his footing and he has grown to become one with the car when he's in the drivers seat.
"The maturity level and the complete understanding of what he is expecting out of the car and then out of himself as a driver is hands down so respectable and fun to watch," Todd said.
Like so many others this spring and summer has provided plenty of adversity as Tyler finished high school and got set to prepare for the racing season. He was definitely aware of all that he was missing, Todd said of the 2020 Menomonie High School graduate, yet he never let that adversity get him down.
He jumped into a new car this summer and seven races in Tyler found himself in victory lane.
"That just shows me that he's got his vision set that nothing is slow him down no matter what anything in this country or world is going to throw at him and rise to be the best at what he can do," Todd said.
Tyler has spent time racing locally getting started at Red Cedar Speedway and then also racing at Cedar Lake Speedway near New Richmond, Eagle Valley Speedway in Jim Falls and Rice Lake Speedway. He's also competed at Deer Creek Speedway in Spring Valley, Minn. and Humboldt Speedway in Humboldt, Kan.
In Kansas Tyler got to challenge himself against the best in dirt track racing, although it was just his second year in a race car.
"To compete with those guys all it did was better me as a driver for when we came back home," he said. "I was already levels above what I was before the trip."
His mentality in the driver's seat has been something he's been able to build on over many years. His work in other sports has allowed him to develop into the leader needed to be the one behind the wheel on the racetrack.
Tyler was the starting quarterback for the Menomonie football team this fall, helping the Mustangs to a Big Rivers Conference championship and an appearance in a Division 3 state semifinal contest. In the huddle you're leaned on to be a leader. In racing, the one in the driver's seat has to take the responsibly on their shoulders, something Tyler takes great pride in.
"I've always been the one where pressure doesn't faze me," Tyler said. "I love getting a bunch of pressure being put on me because I seem to thrive when I get pressure put on me. That's when I perform my best."
Todd said Tyler has shown leadership by quickly admitting and correcting mistakes and by absorbing and applying advice. After getting his first win, Tyler has grown more confident he can do it again. While the expectation is to always come in first, making true on that goal is easier to envision now.
"I'm always trying to go out and win," Tyler said, "but now that we've been able to, it's a little easier to go in there and think I can go out there and get another one every week."
Be the first to know
Get local news delivered to your inbox!