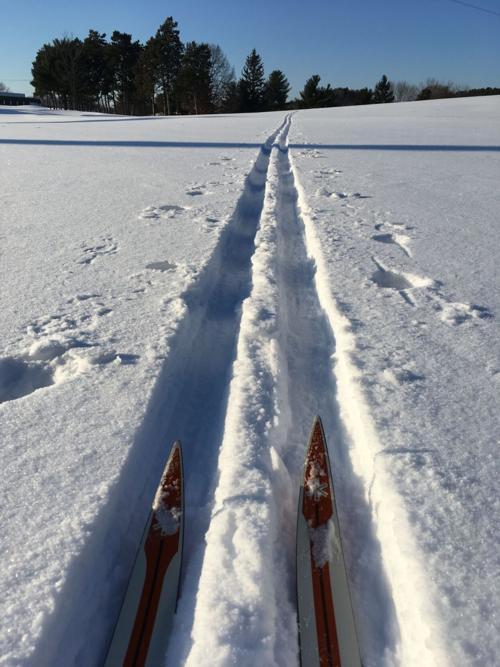 It's triggered by sound, as once you lock your boots onto those long narrow skis it's a queue that you are about to enter a different world. One with gripping views, solitude and relaxation.
It might seem contradictory, but a great workout can be totally relaxing when you're riding on a pair of cross country skis. The speed you travel, the hills you climb, the distance you cover are totally dependent on your mind and your legs.
Let's just say my mind and legs don't always agree, especially early in the season.
I'll admit to getting into the sport on a whim, as I saw a pair of old cross country skis at my sister's yard sale six or seven years ago. They were ones that my late brother-in-law used, and the bamboo poles made them a must-have. A friend of mine tracked down some boots, which was no easy task considering these skis were at least three decades old.
I was all set for what my family members believed would be a one-shot ride, maybe two, kind of experience for me. I am not an impulsive person, but I do like to try new things. The consensus was these would end up in the corner of the garage alongside some other seldom-used items (the Nordic Track ski machine is not mine!)
I did a number of test runs on our property, which is as flat as Nebraska, in order to see if I could do it, and more importantly, if I liked it. Turns out I not only could do it, but thoroughly enjoyed it. The more I made quarter-mile loops around our land using the classic style, the more I knew I had to expand my course above and beyond something so easy.
Being in close proximity to Drugan's Castle Mound Golf Course, I found out that Mike and Mary Drugan not only allow cross country skiers to use their golf course at no cost during the winter months, but also have groomed cross country ski trails (classic style). It's an awesome place to ski, enjoy the beauty of 18 snow-covered holes without worrying about a double bogey, occasionally see some wildlife, and get some exercise to boot.
Be sure and check ahead before you go, however, as not all ski trails are open as limited snowfall and above average temperatures have made conditions less than ideal so far this winter.
Not surprisingly, there is a spike in the popularity of cross country skiing, which may be directly related to the COVID-19 pandemic. When you are stuck inside, as many of us have been, there comes a time when you have to simply go outside where it's easy to social distance.
"It has been crazy, absolutely crazy. Sales are off the chart," said Scott Hauser, co-owner, along with Dave Enos, of Northland Golf & Ski for the past 30 years, when asked about cross country skiing. "People want to get outside and recreate. They are sick of being cooped up inside."
Hauser said 95 percent of their cross country ski sales are for classic style skiers, while the other 5 percent comes from the skating style. Northland Golf & Ski also sells downhill ski equipment, and repairs for all types of skis. Hauser said you can purchase a cross country ski package (classic style) for around $300, and push that to $500 or more if you want the top-of-the-line equipment.
And once you have the skis, there are a lot of options on where to test them out.
A little online research reveals a number of great places to cross country ski in this area, even in the heart of La Crosse, as Hixon Forest and Forest Hills Golf Course provide excellent places to ski, regardless if you prefer the classic style or high energy skating style (shockingly, I am a classic ski guy myself).
If you want to venture out and prefer a bit more remote area, the Coulee Experimental State Forest features 12 miles of groomed trails, all done by volunteers. The Coulee Experimental State Forest, which is 3,000 acres located 15 miles east of La Crosse just off Hwy. 162, is a great recreational area for hiking and cross country skiing.
But please don't do both on the same path. There are separate trails for hiking and snowshoeing, and for cross country skiing. Trying to cross country ski on a trail that's been walked on, or packed by snowshoes, makes for a long day and unhappy skier.
If you want to find out more, including a trail map, jump on the internet and check out specific web sites as they typically list trail conditions, groomed or not, and what to expect. A very helpful website is skinnyski.com as this will give you a wide range of cross country ski areas and information about each.
And while I have upgraded my equipment from those garage sale, but sentimental, pair of skis, the experience of cross country skiing remains the same. I've gone from circling my property to cutting through the snow on area trails to cruising across the frozen lakes of northern Minnesota.
It's a terrific way to keep in shape during the winter months while also enjoying the great outdoors.
ANY IDEAS: Know of anyone who has been a longtime cross country skier, perhaps skied the Birkebeiner, or has an interesting story involving cross country skiing? Send me a note at outdoorstrib@gmail.com
Jeff Brown, a former longtime sports editor for the Tribune, is a freelance outdoors writer. Send him story ideas at outdoorstrib@gmail.com