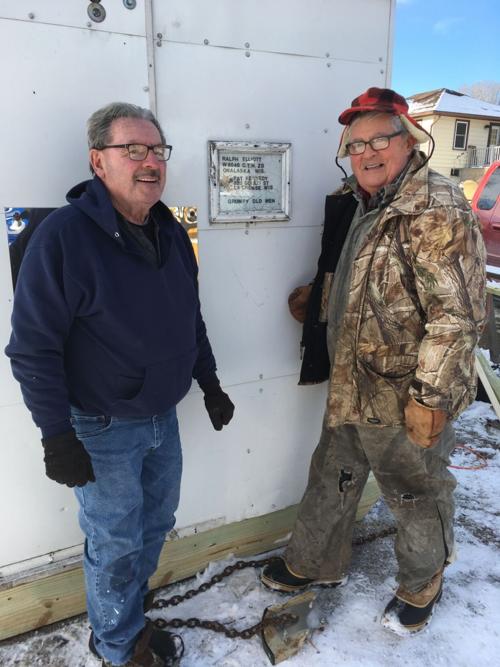 Seemingly countless topics are tossed around, chewed on, and sometimes resolved during their daily rendezvous in the dead of a Wisconsin winter. A disagreement is rare amongst these two, who have been fast friends for 60 years, give or a take a year.
They chat about family, retirement, sobriety, politics, stimulus checks and, of course, fishing.
Yup, in the bitter cold of winter, they make their way to a small shack atop the ice near Lake Onalaska's Rosebud Island four or five times a week, six or seven hours a day.
"That's what retired people are supposed to do, isn't it," quipped Ralph Elliott, a 76-year-old who lives nearby on Brice Prairie.
It's hard to argue with that, so his longtime buddy, Pat Kennedy, also 76, doesn't.
"A lot of the world's problems get solved right here," said Kennedy, smiling, then pointing to the 5-foot wide by 10-foot long by 8-foot high shack.
It's hard not to look at Elliott, especially when he wears his plaid lumberjack cap, ear flaps down, and not think you're sitting next to Walter Matthau, one of the stars in the highly popular 1993 movie "Grumpy Old Men." Look over the other shoulder, and there is Kennedy, who has a striking similarity to Jack Lemmon, the other star of the movie which was based on the longtime friendship of two crotchety old men, and set in the small Mississippi River town of Wabasha, Minn.
In fact, the pair have a sign on the outside of their shack that lists each of their names, and addresses, then has "Grumpy Old Men" beneath it.
These two, however, are anything but grumpy.
Longtime retirees, Kennedy, of La Crosse, and Elliott are enjoying their golden years while doing something they love — fishing — in an ice shanty many anglers would die for. This shack, built by former longtime Red Sails owner and operator Red Edmunds, was being used as a storage shed by Tony Christnovich and Chad Knapmiller – former and current owner of what is now called Schafer's River Rentals.
Along came Elliott and Kennedy, who had an idea. Shocker, huh?
"We bought the shack from Chad; it was just sitting and being used as a storage shed. We bought it three years ago, and have done some work to it," said Kennedy, who was a carpenter for 38 years for an outfit out of Holmen. "The day Ralph and I met Chad (Knapmiller, who bought Schafer's four years ago), we hit it off right off the bat."
While the shack is built like a fortress, that's not what sets it apart. Seconds after opening the vault-like door, and you'll know why this ice shack is one of a kind.
Whoooosh, a wall of hot air hits you.
This so-called shack has a miniature wood-burning stove that keeps the place hotter than your grandma's oven during bread-baking time. It takes up to 10-inch long sticks, which last for about 20 minutes, and features a stove-top like area where the two have fried fish and venison many a time.
It was a $100 investment that is the envy of many an ice angler who stops by. The only downfall, at least in Elliott's mind, is it does get a bit too toasty sometimes.
"It gets a little too hot sometimes, but I just keep fishing," Kennedy said. "I tell him to open the door if you're hot… and he does. He still says, 'Geez, Pat, it's hotter than hell in here.' So I put a little fan on the ceiling."
It takes about 36 five-gallon buckets of wood per season, they said, but finding wood is not an issue. They have 24 buckets sitting at Schafer's River Rentals, and another 30 buckets at Elliott's house. And if they need more, they simply go to a broomstick building company in Onalaska that gives them wood scraps for nothing.
Keeping warm is a key to ice fishing, but so is catching fish. The duo do their fair share of that, too, thanks to years of experience. Oh, and Kennedy happens to have a fish locator. Typically you drop a tiny camera down a hole through the ice, then monitor fish by viewing through a small screen.
Kennedy and Elliott, however, don't do anything on a small scale. That's why the fish finder is hooked up to a TV size monitor that sits on one wall of the shack. It's on the same wall as a big battery that supplies power to the TV monitor, and lights for the shack.
The battery is kept fully charged, of course, by a solar panel that sits atop the shack.
"Ralph doesn't like to use the camera. Me? You get addicted to watching it, watching them (fish), see what they do," Kennedy said. "You see a northern lay right down in your hole, and you know there won't be no fish for awhile."
Elliott admitted he does glance at the TV screen once in a while, but says it's more of an irritant than anything else.
"Yeah, I do (watch it). I am fascinated by all the fish that go by and I can't get one to bite," Elliott said, almost expressionless.
That exchange pretty much sums up a friendship that began when Elliott's and Kennedy's families were next door neighbors in Onalaska. Elliott's family, which consisted of nine children, moved to La Crosse for a bit, then back to Onalaska where Elliott and Kennedy were reunited their junior year at Onalaska. The two graduated from Onalaska High School in 1962, then four days after graduation, they joined the Air Force on the same day.
"I married a girl from Grand Forks, North Dakota, and lived there for seven years," said Kennedy, who has two daughters, Kris and Jennifer. "In '85, I came back here."
Elliott, a longtime diesel mechanic who worked for a number of companies and eventually retired from Fort McCoy in 2006, then returned to work part-time until 2018, and his wife Sandra, have two daughters, Michelle and April.
Elliott and Kennedy often talk about their families, and how the kids have grown up so fast.
"Geez, Ralph, we used to make fun of older people," Kennedy said, "and now we're there and they are making fun of us."
One thing neither pokes fun at is their longstanding sobriety. Both Kennedy and Elliott are recovering alcoholics, and both are rightfully proud of their years of sobriety — Kennedy has been sober for 41 years, and Elliott for 33.
"My wife and children said either sober up or say goodbye," Elliott said of his decision to undergo treatment in 1987.
"I think we would have been friends anyway, but we would have been dead as much as we drank," Kennedy said.
Instead, they chose a different path that has led to a lifetime of positive memories, of a friendship that has survived the test of time. And, of course, has an unbreakable bond called fishing.
"We have been out there fishing when it has been 20 below," Kennedy said. "A couple years ago, when it was two weeks straight where it never got above zero, we were out there. The only thing is when the Packers are on TV, I don't fish."
Jeff Brown, a former longtime sports editor for the Tribune, is a freelance outdoors writer. Send him story ideas at outdoorstrib@gmail.com