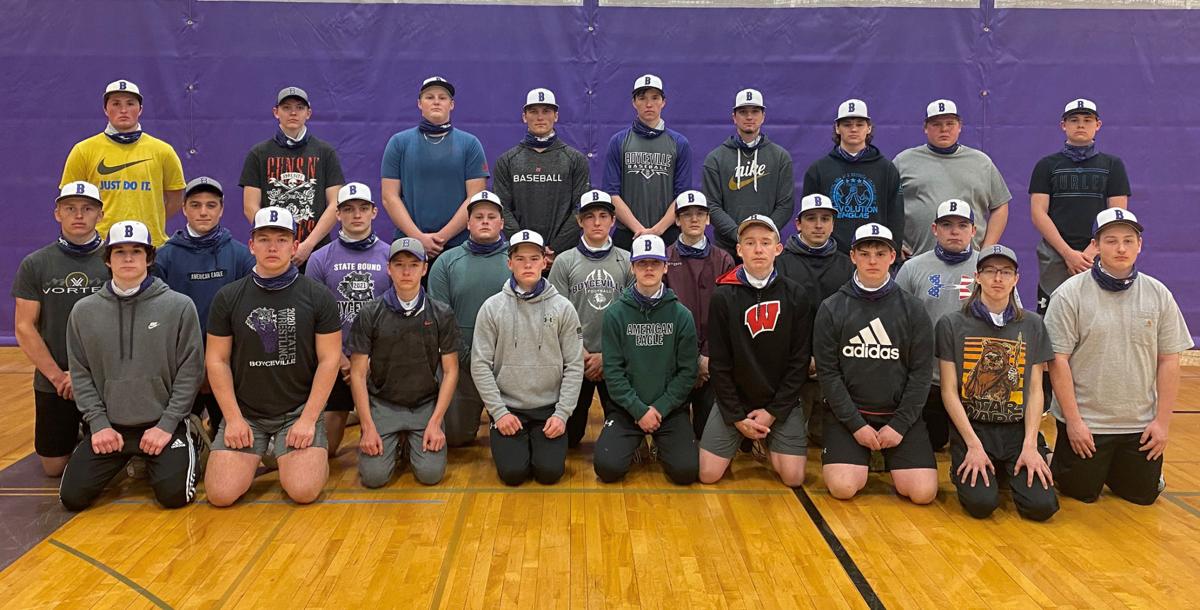 The last time the Boyceville baseball team was on the diamond for a game, the Bulldogs were battling against the state's best at the Division 3 state tournament.
Last spring's canceled season meant many of those players didn't get the chance for an immediate follow-up to that historic campaign but the Bulldogs do return many high-caliber players this spring in their pursuit of another strong year.
Four players with All-Dunn-St. Croix Conference accolades from two years ago are back to lead the Bulldogs including a trio of first team honorees. Trett Joles hit .328 with four home runs, 26 runs batted in, 17 stolen bases and 27 runs scored as a sophomore to go with his work behind the plate. Walker Retz had a .380 batting average with 27 runs batted in and 12 steals at the plate to go with a 7-3 record, 78 strikeouts against 33 walks, two shutouts and one save on the mound and will see plenty of time on the hill and at shortstop. Connor Sempf will also work on the mound and infield after hitting .309 in 2019 with 16 RBIs and six steals while logging a 9-1 record and 1.51 ERA with 52 strikeouts and a pair of shutouts.
Joles is heading to Indiana State to play baseball and Retz will be playing at St. Thomas and they may not be the only Bulldogs to continue their baseball careers at the next level.
Trevor Hollister was a second team all-conference honoree in 2019 when he hit .387 with 26 runs batted in and 10 stolen bases and threw 31.1 innings with a sterling 0.45 earned run average with 46 strikeouts and two saves and should see plenty of time on the mound and at first base.
As freshmen Jacob Granley and Ira Bialzik earned starting spots in the state team's lineup in left field and at designated hitter, respectively, and will be leaned on for more production while seventh-year coach Michael Roemhild added there will be plenty of competition for playing time among the 30 players in the program this year.
"This year will be no different than any other," Roemhild said. "We are looking to be competitive and win each game we play, but we are not looking ahead. If COVID has taught this team anything, it is not to take a single game for granted. After making it to state two years ago with seven out of nine starters (returning), everyone was really looking forward to last year.
"Now we are looking forward to each day that we get to step on the field, because none of us know when the last time will be. My group of seniors are excited, determined and hungry to compete this year."
Roemhild once again expects the Dunn-St. Croix Conference to be a competitive league to play in as teams like Spring Valley, Mondovi and Elk Mound look to be strong again this spring. The Bulldogs opened the season by hosting Durand on Tuesday and are at Glenwood City on Thursday.
April—27, Durand; 29 at Glenwood City.
May—1, at Baldwin-Woodville; 3, Elmwood/Plum City; 6, at Colfax; 10, Spring Valley; 11, Grantsburg; 13, at Elk Mound; 17, Mondovi; 20, at Amery; 21, at Durand; 24, Glenwood City; 25, at Elmwood/Plum City; 27, Colfax.
June—1, at Spring Valley; 4, at Mondovi; 7, Elk Mound.