In an age of offense, the Menomonie boys hockey team looks to have an old-school approach this season.
The Mustangs have young defensive core but third-year coach Matt Ellis knows if Menomonie hopes to improve upon last year's winless Big Rivers Conference record it will need to solidify its defense.
"The biggest thing for us is to take care of our defensive zone. I mean it goes back to old-time hockey that a lot guys aren't used to playing or seeing right now," Ellis said. "I think a lot of it is about offense and we have to be fundamentally diligent in the back end."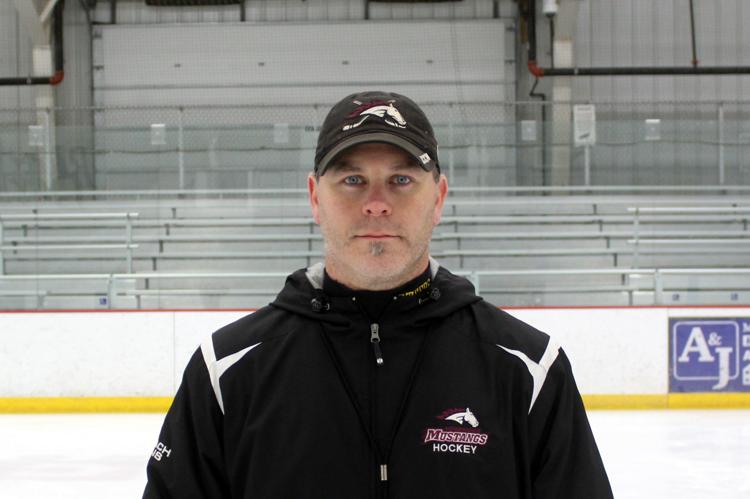 Ellis is assisted by Mike Sullivan, Logan Miller and Skyler Christopherson for the Mustangs this season.
Menomonie was 6-16 overall last year and 0-11 in the Big Rivers. The team returns 16 letterwinners as it looks to move up the standings in what is among the strongest conferences in the state. With the addition of a second division in boys hockey this year, Menomonie will drop down to Division 2 when the postseason begins.
Gone are graduated senior forwards Cole Mensing, Carter Davidson and Ryan Sisko. Defensemen Adam Wilson and Blake Paulsen along with goalie Jackson Schutt also graduate. Mensing, Davidson and Sisko were three of the top five point earners last year. Schutt had a .836 save percentage as the teams starting goalie a year ago.
Back for the Mustangs is Big Rivers All-Conference honorable mention Kaleb Miller. Miller led Menomonie with 35 points. Zach DeMarce, Tanner DeMarce, Cedric Yukel, Grant Imsande and Austin Stokes return to form an experienced forward group.
"They put in a lot of work in the summer, a lot of work so far at practice," Ellis said of his returning forwards. "I think that's just going to help us be mature, know what we have to do to get the job done."
On the defensive side of the ice Menomonie brings back Trent Weber and Clasen Cook. Ellis said it's important for the two seniors to lead in the back line as they each have considerable varsity experience.
Sophomore Thomas Isenberger and senior Justice Szotkowski will be battling to earn time in the net. Isenberger played in varsity game last year and Szotkowski is back playing hockey after three years away from the game.
"It's just important that all that whole group really takes care of the back end and makes sure we solidify that area," Ellis said of the team's defensive core.
You have free articles remaining.
Keep reading for FREE!
Enjoy more articles by signing up or logging in. No credit card required.
Less experienced defensemen Jaxson Platter and Dominic Hendrickson will look to help solidify the Mustangs back line of defense along with Weber and Cook.
Forwards Colby Lee, Jace Gilbertson Evan Sisko, Dieter Heim and Cooper Gorecki will see increased roles offensively.
The Mustangs opened the season on Tuesday with a dominating 12-2 win over the co-op of Eau Claire Regis/Altoona/Chippewa Falls McDonell. Menomonie scored seven goals in the first period as both Hendrickson and Imsande recorded hat tricks for the Mustangs.
In a blowout to start the season Ellis was looking for his team to maintain a similar approach whether it held a big lead or was in a close game.
"It doesn't matter where you sit, you still got to play the same game and not run around and not get point heavy and point excited," Ellis said.
The Mustangs are back on the ice on Tuesday as they open Big Rivers play at home against Eau Claire Memorial before a home contest against Chippewa Falls on Thursday.
Menomonie then plays at DeForest on Friday and Waunakee the following day.
Ellis has seen a lot of growth from his upperclassmen since last year. They put in significant time into the offseason dedicated to getting stronger and improving their skills, he said.
While the Mustangs returns a solid group of forwards ready to give Menomonie a scoring punch, Ellis knows a quality defense is what is needed to be competitive in the always challenging Big Rivers Conference.
"That's kind of going to be our mainstay, defensive first and hopefully that will create our offense," Elllis said.