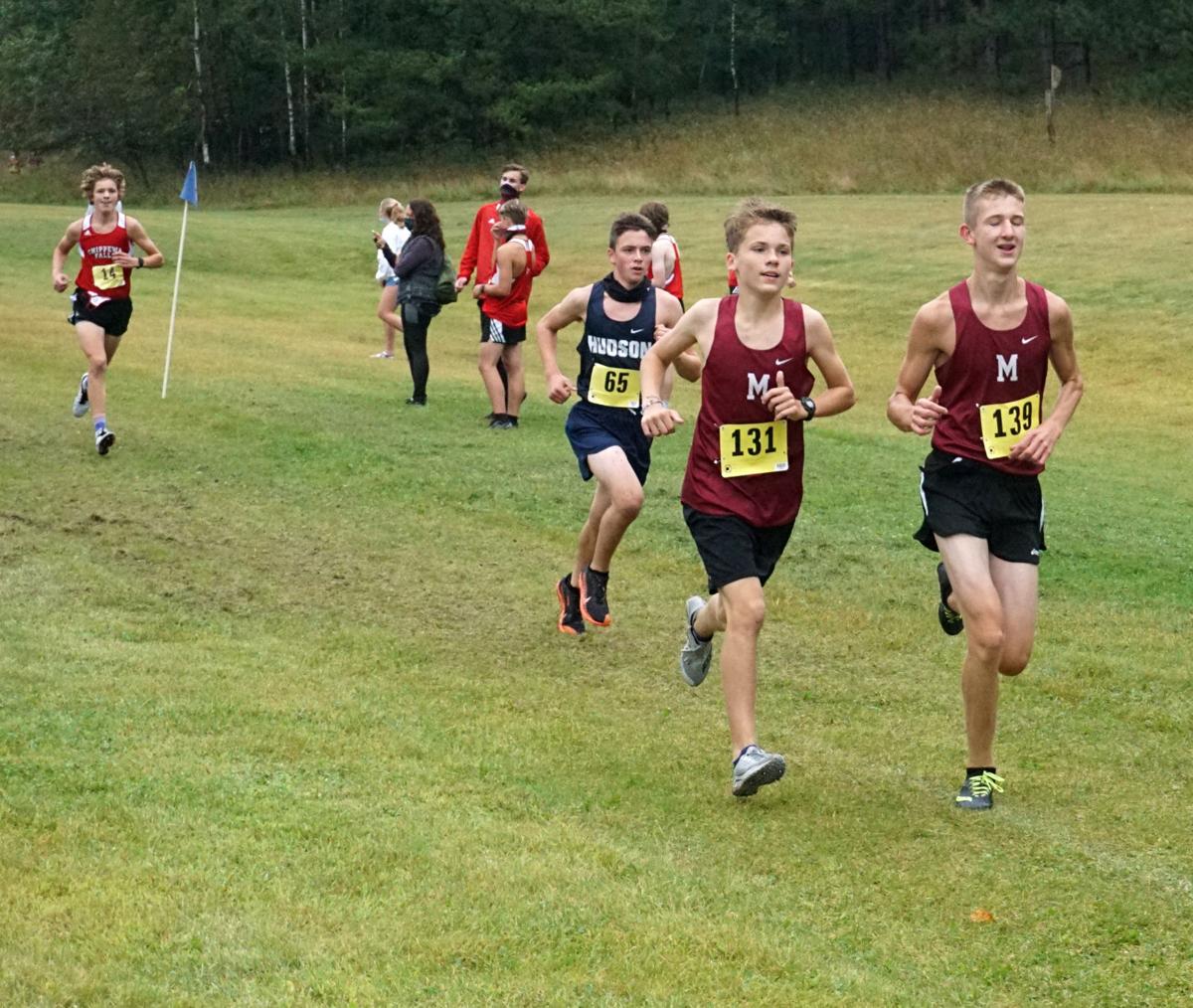 The Menomonie boys cross country team put forth a strong effort on its way to a victory at home in the Menomonie Relays on Saturday.
The Mustangs had an average time of 17 minutes, 31.3 seconds to win race by more than 20 seconds over Hudson (17:53.0). The boys team's victory was fueled by having five of the top-11 finishers in the race, led by Patrick Schwartz in third place with his time of 16:51.0. Morgan Selchow was sixth at 17:29.2, Connor Norby came home seventh in 17:34.2, Jude Ogden timed in tenth place at 17:50.9 and Ethan Phillips rounded out the scoring runners by taking 11th with a time of 17:51.1.
Joel Anderson and Logan McCoy also finished near the front as the sixth and seventh scoring runners for the Mustang boys, taking 18th and 26th respectively.
"Another race in during a pandemic. Every time we get to lace up the racing shoes is a gift right now," Menomonie boys cross country coach Adam Topper said. "We have new issues to work through each week. This week we were allowed no spectators and had to devise a live stream to get the action out to our parents and fans from around the BRC. It was nice having all the competing BRC schools there. We certainly got a good look at how we stack up. It looks pretty good for the Mustangs right now. Hopefully we can make it to October so that we can compete in some championship style events to end the season.
"This group has worked hard and things are finally coming together for them. Our top five was pretty impressive today. Patrick struggled up front, but the other guys came through for him and ran exceedingly well. We ran smart and we ran fast."
The race was divided up by runner groups and Ogden and Phillips were second and third, respectively, among the fourth, fifth and sixth runner group. McCoy was fifth fastest among the seventh/eighth/ninth/tenth runner group while Carter Davis and Graham Haldeman were eighth and ninth, respectively.
River Falls' Grant Magnuson had the top individual time in 16:27.2.
The Menomonie girls team was second in team competition with an average time of 21:44:4 with Hudson edging the Mustangs by less than a second at 20:43.7.
Isabella Jacobsen led the charge for the girls team with a time of 19:31.4, good for second best overall. Madeline Palmer was one position behind in third (20:07.5), Ali Ruch was eighth (21:07.6) while Helen Chen (21:27.6) and Brooklyn Hoff (21:27.8) were 11th and 12th, respectively. Emma Mommsen was 18th and Paige Anderson came home 19th to round out the first seven runners for the team.
"Bella Jacobsen and Maddy Palmer continued to progress, finishing second and third against the rest of the BRC field. It was a great day for both girls on the hilly course," Menomonie girls coach Craig Olson said. "I was really impressed with Ali Ruch, Helen Chen and Brooklyn Hoff rounding out our top five. They ran very well as a pack and were all able to all finish in the top 12."
Be the first to know
Get local news delivered to your inbox!