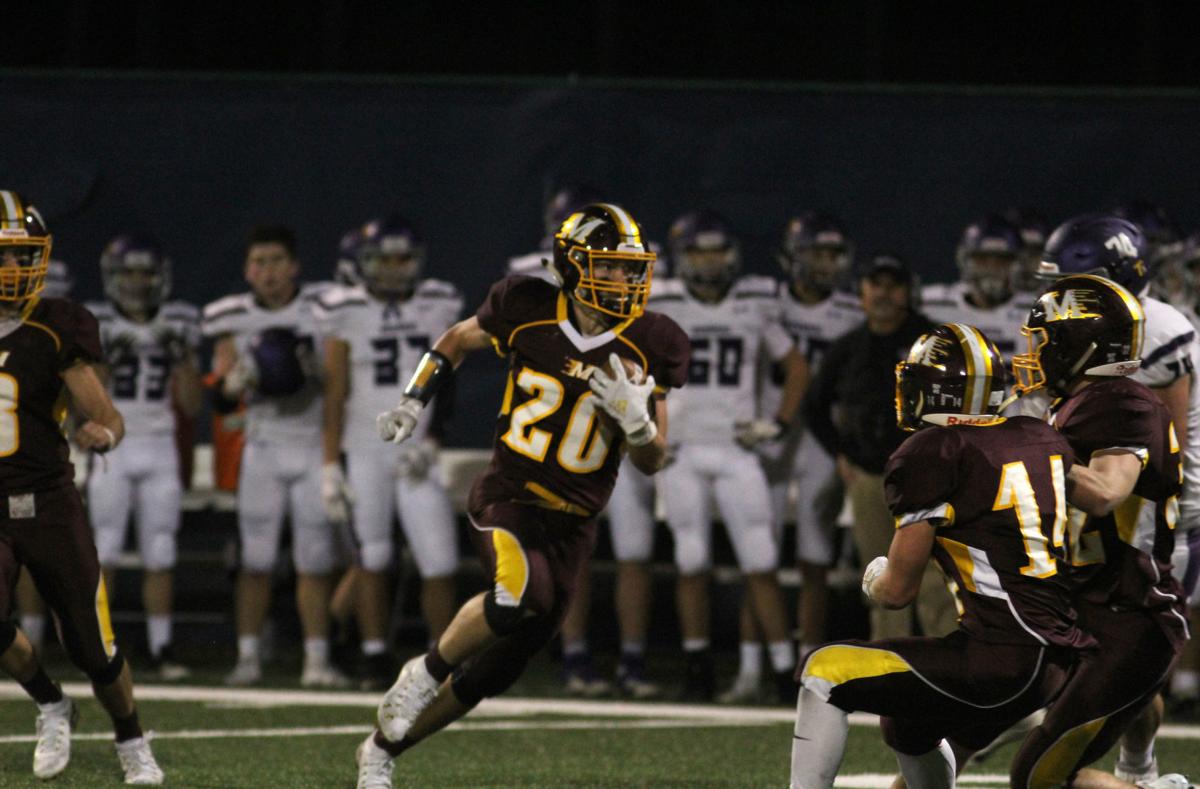 Down at halftime and struggling offensively the Menomonie football team came out of the break with vengeance.
The Mustangs scored 21 points in a seven-minute span in a 28-14 victory over Eau Claire Memorial on Friday at Don and Nona Williams Stadium.
The victory gives Menomonie a Big Rivers Conference championship. Menomonie and River Falls both finished 6-1 but the Mustangs defeated the Wildcats 21-7 on Sept. 13.
"The thing I was most pleased about was our kids never panicked," Menomonie coach Joe LuBuda said. "Even at halftime that's what a lot of our kids were saying 'don't panic, respond, respond' and our kids really responded in the second half."
Facing third-and-nine at the Eau Claire Memorial 25-yard line, Menomonie quarterback Tyler Werner found receiver Davis Barthen in the left corner of the end zone to tie the game at 7-7 with 6:40 left in the third quarter.
The Mustangs quickly forced a three-and-out. After a short gain and incomplete pass Menomonie was again facing a third and long. Werner dropped back and got plenty of time to find Barthen gaining separation from one-on-one coverage along the right sideline. Werner hit Barthen in stride and he raced 61 yards for another score to give Menomonie the lead.
"He made some great shows. He really showed a lot of touch, really threw the ball well," LaBuda said of Werner. "It came down to, we had guys open in the first half but we didn't give him time to throw. In the second half we gave him time to throw."
Two big runs — a 41-yard carry from Thomas Poplawski and a 32-yard gain from DeVauntaye Parker — put Menomonie on the door step as the third quarter ended. On the first play in the fourth Poplawski crossed the goal line from a yard out to give Menomonie a 21-7 advantage.
Kaleb Miller intercepted Eau Claire Memorial quarterback Bryson Johnson on the next possession and Werner added his third touchdown pass of the second half from 13 yards out to Dylan Boecker as the Mustangs took a 28-7 lead with eight minutes to play.
"We played a heck of a first half and to beat a team like this on their home field you can't just play one half," Eau Claire Memorial coach Mike Sinz said. "You have play all four quarters, all 48 minutes."
Menomonie held the Old Abes to 106 yards in the second half with 78 of those coming on Eau Claire Memorial's final drive, which Easton Tok ended with a 4-yard score with 2:43 to play.
"Our defense did a really good job all night. I thought our defensive coaches had a great plan," LaBuda said.
Eau Claire Memorial grabbed a 7-0 lead as Johnson capped a 13-play drive on a 3-yard touchdown run with a little more than four minutes remaining in the first quarter.
Menomonie struggled to generate offense in the first half as penalties stalled promising drives. The Mustangs drove into the Old Abe 24-yard line before negative run play and back-to-back penalties pushed Menomonie back. After a sack Menomonie faced a third-and-32 and following an incomplete pass were forced to punt.
The Mustangs had just 32 offensive yards in the first half.
"Menomonie is so good at being the first team to get that first punch in. We talked about let's see if we could get that first punch. How about we get that first punch,' and we were able to that," Sinz said of the first half.
Werner ended the game 7-for-15 for 125 yards and three touchdowns. He was 0-for-5 in the first half passing.
Poplawski led the Mustangs with 64 yards rushing on 11 carries. Parker added 36 on five attempts with Will Ockler getting eight carries for 29 yards.
LaBuda said the Big Rivers title didn't happen because of just what happened in season but was the result of dedication by the players throughout the summer and early fall practices.
"This conference championship was won by what these kids did during the summer and then what they did once we started practice," LaBuda said.
Menomonie (8-1) is the top seed in its 8-team region and hosts No. 8 Lakeland (6-3) on Friday at 7 p.m. Lakeland tied with Rhinelander for third place in the Great Northern Conference during the regular season, winning its last three games of the regular season.
The winner of the matchup moves on to face the winner of No. 5 Mosinee (6-3) at No. 4 New Richmond (7-2) in the second round.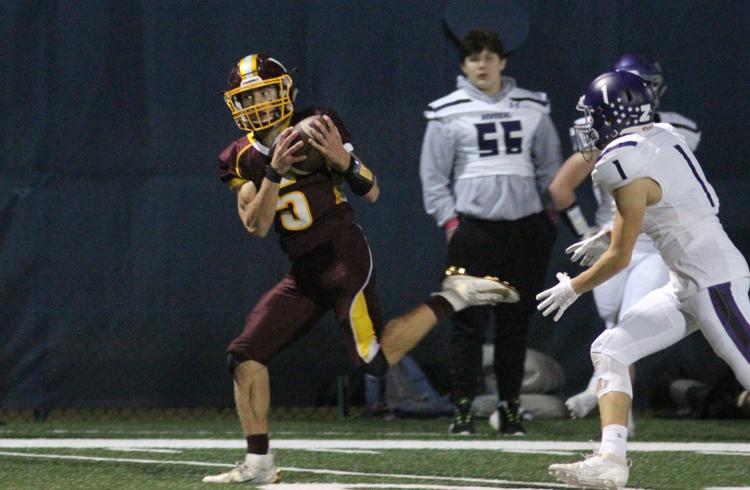 Be the first to know
Get local news delivered to your inbox!