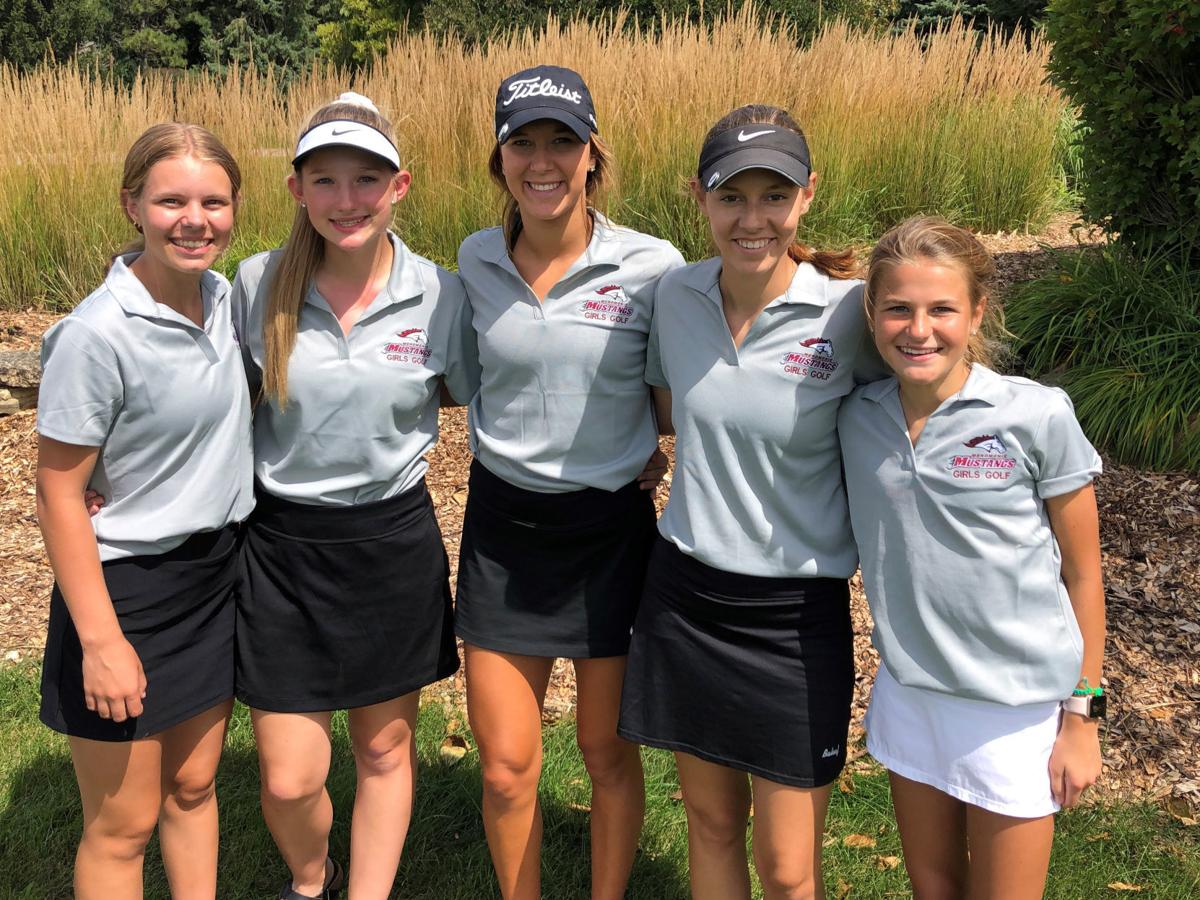 After a strong season a year ago the Menomonie girls golf team is in the midst of a rebuild.
The Mustangs lost their three top golfers from 2018 pushing a group without any varsity experience into the lineup next to the team's two returning seniors.
Through four meets and a golf scramble to open the year in Barron Menomonie coach Jim Nelson has seen some good things but the Mustangs aren't where he would like to see them yet and it will take some time to develop.
"We have a lot of work to do," Nelson said. "We're hitting some good shots but we just need to keep working to try to get some consistency."
Menomonie is led by seniors Olivia Steinmetz and Carli Dahms. They have taken over as leaders following the departure of all-conference first team member Mackenzie Maguire, second team member Taylor Bistodeau and Hailey Gilgenbach. Steinmetz is a four-year varsity golfer while Dahms is in her third season playing at the varsity level.
Nelson said Steinmetz has used her experience to become a vocal leader.
"She has a lot of experience so she's very helpful with helping the girls feel comfortable first of all at meets," Nelson said. "Just telling them what to do, how we warm up. I don't have to worry about anything because I know that Olivia will take care of it."
While Steinmetz takes an active role leading the younger players Nelson said Dahms approach of being a leader by example has proven to be just as helpful.
Joining Steinmetz and Dahms is sophomore Lauren Kado, junior Kira Nevin and junior Lauren McNally. Kado led the team in its most recent invitational on Monday at Eau Claire Memorial and Nelson said the sophomore has shown a lot of growth early on this season.
"She has consistently gotten better every meet and so she looking to the future, down the road this season, she's only a sophomore so the next couple of years she's going to be the leader," Nelson said of Kado. "She has really stepped up."
Nelson said Nevin has had solid start the season while McNally is out for golf for the first time. As McNally gets more experience on the course Nelson feels she could make major strides this season.
"She's got a lot of desire and lot of drive so I expect her to once she figures this whole competitive golf thing out to get a lot better too," Nelson said of McNally.
Menomonie is back in action Sept. 5 as the Mustangs open Big Rivers Conference action with meet at Hudson. The following week the Mustangs have meets on three straight days beginning Sept. 10 at Eau Claire Memorial, then at Superior and ending at River Falls. Menomonie hosts a conference meet Sept. 16 at Tanglewood Greens in Menomonie.
With some time off to fine tune their games prior to beginning the Big Rivers slate of meets Nelson has his focus on each of his golfers improving their short game. Early on this season scores have risen because of an inability to finish off a hole. Nelson looks for improvement in that area to have a significant impact on individual and team scores.
"So many extra strokes given away to chipping and putting, where we chip it short, chip it over the green, take a few too many to get out of the sand trap, lots of three and four putts," Nelson said.
Nelson thinks his two seniors can compete within the top 15 in the Big Rivers standing with an outside chance to challenge for a top 10 spot. For the younger players Nelson is looking for them to build confidence so they can be leaders down the road. Facing some turnover in the fourth year of the girls golf program at Menomonie Nelson still see a lot of value in this rebuilding season.
"I want them to enjoy what they're doing," Nelson said. "I want the younger girls to have a good time so that they will be more likely to golf next summer and then come out again in the fall and seniors I want them to finish strong, play their best golf of the year now in the month of September."
Be the first to know
Get local news delivered to your inbox!